DIY Tiny House Workshop: Design, Build, Transition
$99.00
Description
25% OFF with Code: HoHoHo
Have you dreamed of lowering your housing payments and getting out of the rat race? Do you envision building your own tiny house and saving 50% or more?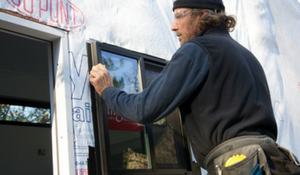 Our tried-and-true curriculum will get you there quickly, all while having fun!
Our 16+ hour Digital Tiny House Workshop, filmed at one of our live events, is your guide to a safe, fun, and fulfilling build. Apply the techniques taught and save thousands of dollars AND weeks off your build, even if you have no previous construction experience.
Developed by Andrew and Gabriella Morrison, founders of TinyHouseBuild.com.
BEST TOOLS FOR TINY HOUSES
Save time and money by learning which tools you need on your build (and which ones you can live without).
Start your build outright with a design that matches your needs and wants and provides a safe and secure structure.
TRAILERS & ROAD RESTRICTIONS
Learn how to choose the right trailer for your build and the best practices to safely and legally tow your tiny house.
With all the recent changes in tiny house legalities, learn the details of tiny house codes and zoning.
Understand alternative options if you're on the fence about building your tiny on a trailer.
Learn to frame a tiny house wall system whether it's with wood studs, steel frame, or SIPs.
Keep your tiny house moisture & mold-free with proper ventilation and window/door installations.
Discover various roofing options and how to frame, sheath, and attach them securely.
PLUMBING, ELECTRICAL & GAS
Create safe installations of major utilities by learning tried and true techniques used by the pros.
Learn how to finance and insure your tiny home and how to navigate through the options.
Learn everything you've always wanted to know about composting toilets.
MAKING THE MOVE TO TINY LIVING
Prepare yourself for the changes that come with living tiny. Learn how to create your freedom!
Included with Each Digital Workshop:
54 bite-sized and engaging episodes (which you can watch as many times as you want and at your leisure)
Downloadable follow-along booklet to take notes in
Over $300 in FREE bonuses upon checkout (see below)
A digital Diploma upon full completion of the course
30 Day Money Back Guarantee!
$300 worth of FREE Bonuses:
Testimonial:
"I recently bought your Digital Tiny House Workshop. With your insightful instructions and unbelievably gracious resources, I feel so much more secure and grounded in my dream of building my own home.  As a young woman, doing this by myself has been at times a bit dissuasive, especially since I don't have a lot of support from my family for this.

But, after listening to your encouraging lessons, I look back at how much I've learned and how far I've come in the last nine months–learning how to use SketchUp, learning how to make my own solar system, learning how to do my own plumbing, learning how to determine what size truck I need to pull a trailer, how to uproot my life and find a community that fits my dreams and not just settling–and I realize not only how important having a home is, but how much bigger this dream of mine actually is.

I just wanted to send you a heartfelt thank you for all your incredible work.

Cheers, Aedra"