Tiny House Events
Stay informed about upcoming events all over the US & the world!
Tiny Home Festivals, Film Screenings,  Advocacy Meetings, Workshops & MORE

The Box Truck at the Hope Street Summer Block Party
August 6 @ 11:00 am

-

5:00 pm

Free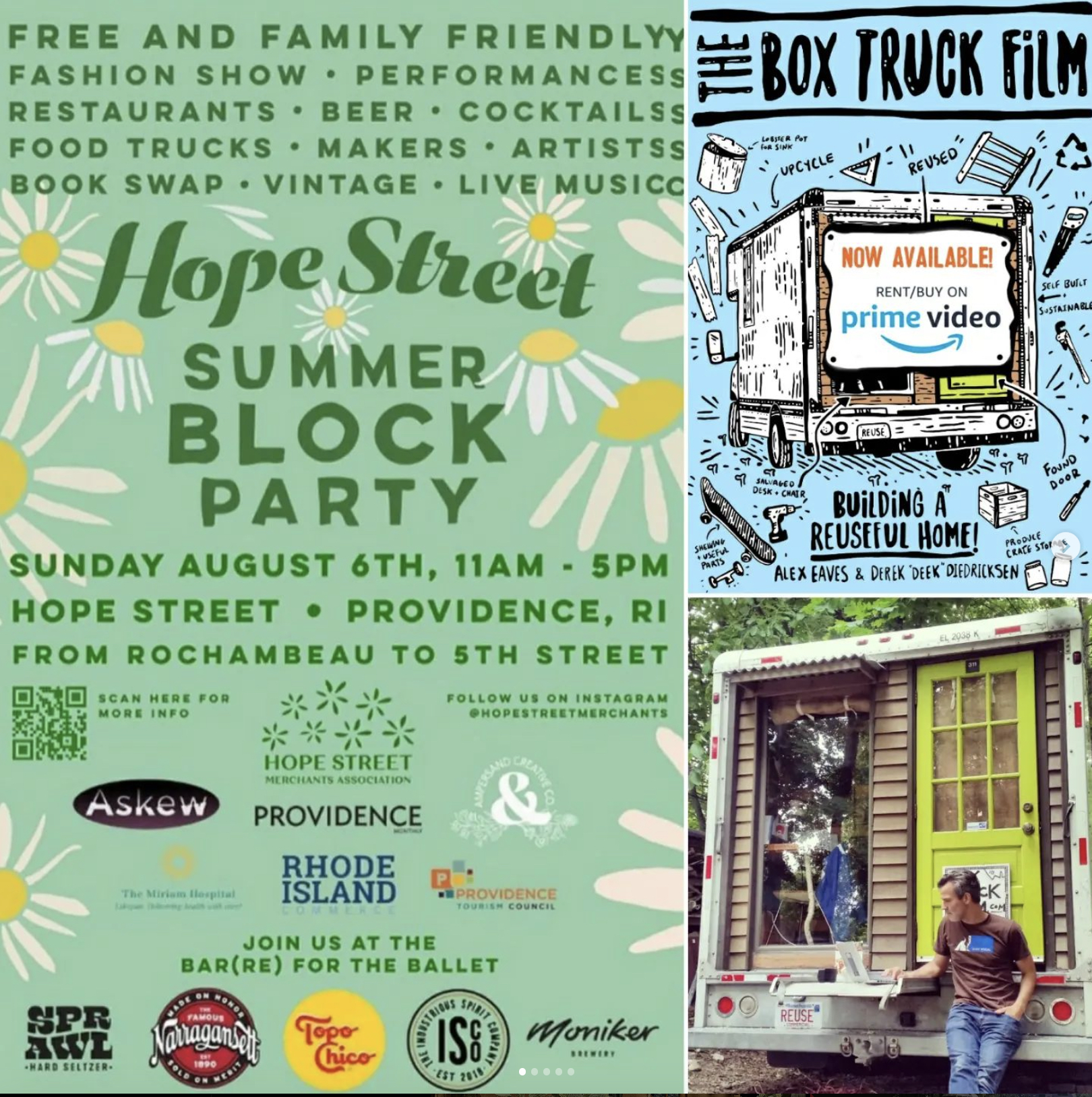 Come see the transformation from a basic old moving truck to a 98 square foot tiny house in person at the Hope Street Block Party in Providence!
Take a tour inside the truck and see all kinds of unique ways to reuse everyday items for things you need and want; all while saving money and the planet. Outside the truck, you can check out the reuse art gallery featuring reclaimed art by co-builder @deekdiedricksenart and @stayvocal reuse apparel by co-builder @reusealexeaves.
The street will be lined with pop-up vendors offering a wide variety of artisan, vintage, and hand-crafted goods, along with food trucks, a beer and cocktail garden, live music, and roving entertainment.
Alex will be there along with tiny house speaker, @amy_henion.eet. And before the event, watch the The Box Truck Film.
About the Reuse Life
Our mission is to bring together the benefits of reuse to encourage individuals to reduce waste in their daily life; sustainable solutions that save people money, improve people's lives and enhance the quality of life for our planet. We provide reuse solutions for needs and wants to prevent wasted resources, opportunities, money, and time. These come in the form of a variety of media, edutainment, products, and events that showcase the benefits of reusing for people, planet and wallet. We show people how reusing is effective, easy, fun, and it's for everyone!
The Reuse Life was created by reuse edutainer Alex Eaves, who began leading a passionate "reuse life" in 2008. Eaves is the owner of the green certified reuse apparel brand, STAY VOCAL and also the director of the award winning documentaries, REUSE! Because You Can't Recycle The Planet and The Box Truck FIlm: Building A Reuseful Home.
The Box Truck Film
Showcasing both their joys and frustrations, the film delivers the entire process of the box truck metamorphosis; from its initial design phase to Alex's three years of living and traveling through the U.S. Throughout this largely self-documented journey of converting a 17-foot moving truck into a 98-square foot tiny house, you will witness the endless benefits of and approaches to the reuse lifestyle, which are often implemented in very creative (and even comical) ways. In their virtual "triumph over junk," Alex and Deek were able to reuse for every step of the construction process; from the truck and building materials to the decorations and mere screws. Ultimately, "The Box Truck Film" stands as a mission to prove that almost everything we need to thrive in our daily lives already exists in abundance.