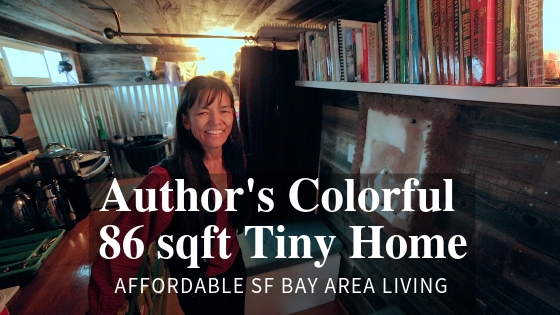 Author's Creative Tiny House Parked in SF Bay Area, Only $300/mo
Meet author Amanda Kovattana, who built out and customized an extra-tiny house shell with many salvaged materials, the ultimate test of her professional organizer skills.
Amanda's 8'x14' tiny home is only 86 square feet. So everything must be multi-functional. The feel is warm, and the style colorful. As a result, it feels like a nesting doll-like, Zen simple living art gallery. She proves that tiny living is about crafting your space around the essence of who you are, with the things you most love or need.
Her custom DIY tiny house reflects her international upbringing with features like a bucket bath. Amanda was born in England, raised in Bangkok and lives in the San Francisco Bay Area. Through a friend, Amanda found an incredibly affordable tiny house parking arrangement in this insanely expensive housing market.
Amanda's THOW snuggly fits in her host's backyard, surrounded by a canopy of flowers and fruit trees. She pays $300/mo for her parking spot, plus 10 hours of gardening per month, as work/trade. It isn't a fully legal situation, but the neighbors don't mind.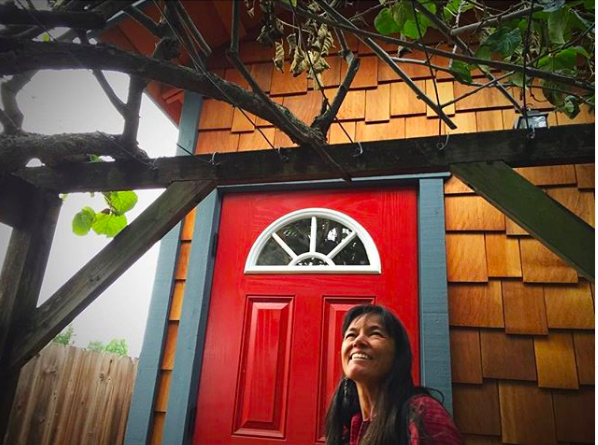 They are supportive because Amanda provides the neighborhood with a sense of security. Her tiny home is the only house on the block with eyes on the alleyway, which neighbors on a light industrial/commercial retail area. Importantly, Amanda thinks this is an example of the positive role tiny house dwellers can play in communities around the country.
"Downsizing into a tiny house gave me a fresh perspective on the work I do with my clients as a professional organizer. Why are people so attached to things? I often wondered. Why did they keep so much of so little value?

After 20 years of coaching others through the process, I got a taste of my own medicine. What I had ignored for years now had to be gone through, every drawer and toolbox, every storage box and zippered portfolio. A long and tedious process it was too. I found things that were long obsolete—airmail paper and replacement flashlight bulbs of another era. It all came up for review.

Familiar things that had been with me for so long they felt like a part of my identity, a part of what I called home. But through the lens of the tiny house, home had to be redefined."
-from Amanda's Living the Tiny Life blog
More from Amanda: Middle-Aged Musings In Interesting Times blog.
FEATURED Books from the Video: