Tiny House Events
Stay informed about upcoming events all over the US & the world!
Tiny Home Festivals, Film Screenings,  Advocacy Meetings, Workshops & MORE

Beloved Cabin Tiny House Homestead & Stay Off-Grid Workshop Winter Camp 2023
December 8 @ 12:00 pm

-

December 10 @ 5:00 pm

$198 – $346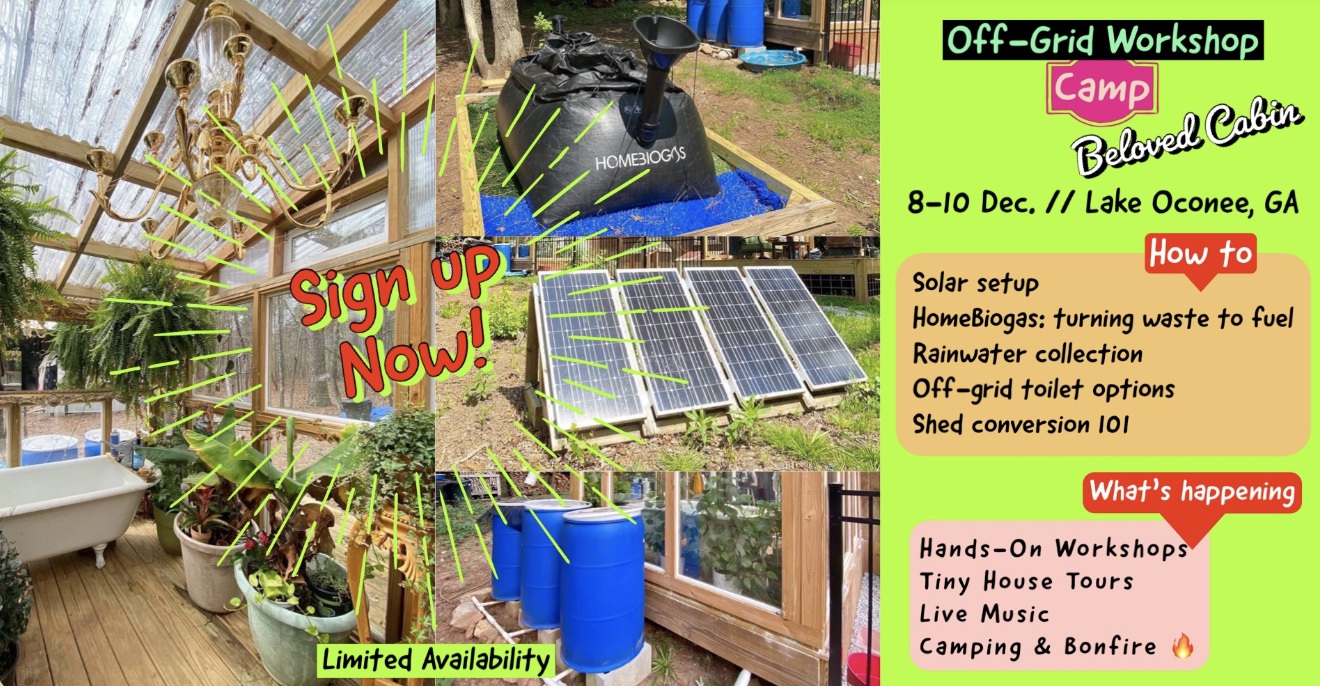 Off-Grid Workshop Camp Returns! United Tiny House Association (UTHA) and Beloved Cabin Tiny House Homestead & Stay are bringing back their Off-Grid Workshop Camp for a fifth time!
Interested in what living off-grid is all about? Do you enjoy sleeping under the stars? If so, then join John & Fin Kernohan for their 5th Off-Grid Workshop Camp, which is once again being held at Beloved Cabin Tiny House Homestead & Stay.
Get away, relax, enjoy, learn, have fun, be educated, share, and camp in the Georgia woods on The Kernohan's beautiful and secluded 16-acre homestead. 🥰
This 3-day retreat, which include camping, off-grid workshops & learning sessions, live music, and night-time activities… PLUS great fellowship & fun! 🔥
2023 Off-Grid Workshop Camp // Beloved Cabin 16-Acre Homestead // Eatonton, GA // December 8-11, 2023 a  3-day event with many new workshops and activities!
ADMISSION for this 3-Day covers ALL workshops, tent camping & activities!
Register HERE!
The weekend includes: 
~ FREE Camping: Please bring your tent and gear. Kitchen and full bathroom facilities available.
~ Discounted Tiny Home Rentals: Discounts for registered participants on our AirBnB Short-Term Rentals of 3 tiny houses on wheels, 1 yurt, 2 geodesic domes, and 1 short-bus conversion available. Email us at unitedt[email protected] for information and to make your reservation.
~ Workshops and Educational Sessions…
⚒️ Shed-to-Home-Conversion 101 Class: Learn how John & Fin created their DIY 12'x30′ Derksen Portable Buildings double lofted-barn conversion. Also, there will be field trip to a local Derksen Portable Buildings dealer to review and discuss what makes a quality structure to use as the basis fot your shed-to-home conversion… which will be your forever home.
☀️ Solar Energy: Learn about solar configurations from experts and help build a complete solar system. ☀️
🔥 BioGas: Learn how to create safe, clean, odorless methane gas for cooking fuel as a replacement for propane and natural gas.
🌧 Rain-Water Collection: Discover the benefits of safe and sanitary rainwater harvesting and its uses.  Also, build and add an additional 55-gallon collection drum to one of the existing rainwater collections systems.
🚽 Composting Toilets: See and learn how different industry composting toilets, such as Nature's Head, Separett, Laveo, HomeBiogas BioToilet, and DIY Composting Systems are used at Beloved Cabin Tiny House Homestead & Stay.
💩 Humanure Composting: Learn how to RESPONSIBLY turn black matter from composting toilets into organic soil through humanure composting instead of irresponsibly dumping the contents of composting toilets into landfills, garbage cans, along the roadside, or WORSE!
🏡 Tour Tiny Houses and Unique Small Structures: 3 Tiny Houses on Wheels, 2 Geodesic Domes,  1 Yurt, and 1 Short-Bus Conversion (Skoolie).
🎶 LIVE Music 
🔥 Bonfire, Potluck & Good Times on Saturday Night
SCHEDULE
Shed-to-Home-Conversion 101 Class: Friday, December 8 (12PM EDT/EST)
Meet-n-Greet: Friday, December 8 (6PM EDT/EST)
Event and Activities: Saturday & Sunday, December 9-10 (10AM-5PM EDT/EST)
Attendees will participate in building a complete solar system, adding a collection tank to an existing rainwater harvest system, create & use methane gas as a cooking fuel, proper sewage disposal & processing, reviewing & evaluating six different composting & waterless toilets, building with repurposed & salvaged materials, and more!
About the Organizers:
John Kernohan and Fin Davies-Kernohan have organized 29 of some of the World's largest and most successful tiny house events, including the six largest tiny house events in the Guinness Book of World Records, as a means of promoting awareness of the tiny house movement & affordable housing, and as a source of philanthropy to support great causes and charities in the communities where The Kernohans and the United Tiny House Association have held their events. Their organization, the United Tiny House Association, is one of the largest tiny lifestyle advocacy support groups with over 71K+ members World-wide and with hundreds of thousands of followers online.
The Kernohans have appeared on programs and news outlets such as A&E, HGTV, DIY Network, MSN, AOL, TODAY.COM, CNBC, USA Today, GAC, Airbnb, and Apple+; and programs like The Rachael Ray Show, JEOPARDY!, Tiny House Big Living, Living Smaller, TODAY, and MORE!