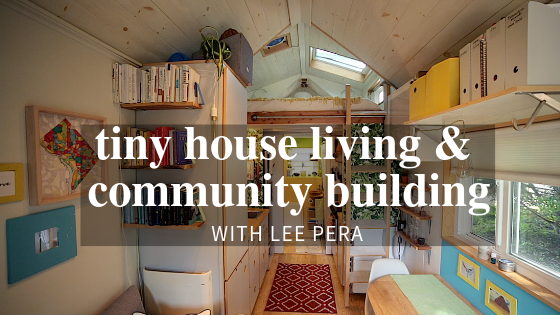 Urban Tiny House, Home to Community Builder & Advocate
Meet Lee Pera, an illustrious tiny house community builder, and geographer in Washington DC.
She built her charming 18' tiny house on wheels, in part, as a creative outlet to bring people together while exploring the meaning of home. The outcome: Boneyard Studios, the first of its' kind urban tiny house community showcase (2012-2014)—the spirit and mission continue through Lee's empowering work. She shares how both her community development projects and tiny home have evolved over time.
When we last met up with Lee, she kindly gave us a tour of her 18′ tiny house. It felt airy, without skimping on storage space including a sizeable book collection. I love how she achieved very efficient space utilization, with no built-in furniture. As Lee explains, this allowed her to rearrange the layout multiple times to better suit her needs.
During our visit, Lee was preparing to move to the backyard of her newly purchased traditional house, an opportunity to build a new community. Through her new project Kotierra, she is working on THOW zoning resources to help others share and learn what's happening around the country. Follow her to learn more about upcoming workshops and an in-development zoning map—a collab with the American Tiny House Association.
Other Ways of Find Community with Lee Pera:
As founding members of Boneyard Studios, Lee and Jay Austin, brought significant awareness to tiny housing with local city leaders, national press and at HUD, co-host of the Innovative Housing Showcase.
Jay was tragically killed last year. This video is dedicated to his memory.