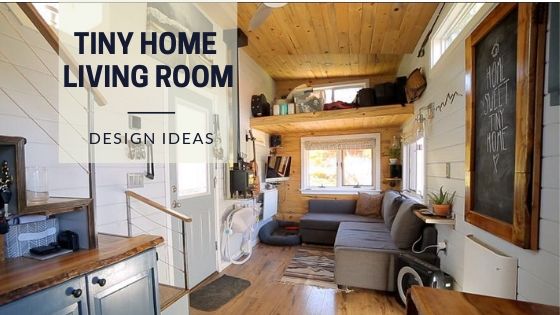 7 Amazing Small & Tiny Home Living Room Design Ideas You'll Love
Decorating a tiny living room is not easy but it's possible. Keep reading for 7 amazing small and tiny home living room design ideas you'll love.
According to this survey, there are two rooms in your house that people value above all else. As one of these spots, your living room is a shared area where the entire family can come together to spend time with one another.
To maximize the benefits of even the smallest living room, we have these seven amazing living room design ideas, just for you.
With these tips, you can make the most of your space and design the living room of your dreams. Let's get designing!
Let There Be Light
Don't deny natural light. Instead, letting this light pour in will make your tiny living room space appear airy and open.
When considering these small living room design ideas, turn towards your curtains first. Don't block out sunlight with dark, thick curtains.
Instead, try semi-sheer shades.
Lighter shades will maximize sunlight, even if you don't have large windows. Try to cover as little of your window as possible. Hang your curtains wide so the material covers the walls instead of the window frames.
That way, you're giving your tiny home a bright, spacious look.
Scale it Down
According to Statista, many people see purchasing furniture as an investment. In fact, 37 percent think spending up to $500 on a sofa is reasonable.
When you're investing in your own small living room's furniture, consider your space. You can even use the height of your walls to your advantage.
For example, a small size sofa can give you seating options without crowding the room with a massive piece of furniture.
Of course, you should leave some room in the corner next to your sofa for maybe a simple narrow shelf or a stylish tower fan like these ones, in case it gets hot and you want to keep that space functional.
Try hanging your TV on a wall, too. Keeping it off the floor or a stand will make your room appear open.
You can also add shelving units that hang off the floor and a gallery wall so accent pieces are closer to the ceiling. That way, items appear off the ground, drawing the eyes up.
Roll Out the Rug
While you're making a list of your favorite living room design ideas, try looking into a large rug with a bold pattern.
A rug can make the room feel bigger than it actually is. Instead of visually breaking up the floor, a large rug anchors your space.
It can also help draw the entire design of the room together with one central element.
Try pairing your larger rug with corner seating. That way, you're taking up less space than a longer sofa might without making the room appear cramped.
Make sure the front legs of any sofas or chairs are placed on top of the rug. When you're choosing a design, consider gray, greige, ivory, or beige. These colors can make your tiny room appear much larger than it actually is.
Cozy Up
Make the most of these small living room ideas by letting your tiny space work its magic.
Sometimes it works to lean into the smallness of your space. This can make the room appear cozy and intimate.
Try adding throw blankets and a plush, soft rug to the room. You can also push seating closer together in little paired off groups. This will make your tiny living room appear intimate and inviting.
Pick the Paint
Dark paint colors can make a tiny living room appear sophisticated. Painting the walls the same glossy color can add to the room's intimacy. Then, finish off the look with bright furniture and bold accents.
A buy now pay later option can help you get everything you need. That way, you can make your dream living room a reality today instead of having to save up and wait.
If you can't paint your white walls, embrace them instead.
Add pops of color and flares of texture here and there to give the room character. You can also add personality to your living room with wicker furnishings and thriving houseplants, which look great against white walls.
Work Awkward Angles
Sometimes, a tiny living room can leave you with a lot of awkward angles to work with.
With these living room design ideas, you can make sure these awkward angles work to your advantage. For example, you can turn a weirdly-sized wall into a focal point by using it as a photo gallery.
You can also add wallpaper to a single wall to give your room a center point. That way, even oddly shaped tiny living rooms can become an important part of your home.
You can also give these awkward angles a center point by positioning your sofa just right. Your wallpaper can help anchor your living room to tie different items and elements together for a finished look.
Make it Multi-Purpose
Your tiny living room has a lot more potential than it seems.
If you're unsure of what to do with your space, get creative and make the room multi-purpose. To accomplish this, create little micro-spaces within your living room. For example, you can use a bookshelf and a loveseat to create a book nook in one area.
Then, add a small desk and lamp to create a work area within the room as well.
Making your tiny living room a multi-purpose space can help give purpose to every item within the room. This can also bring multiple family members into your space at once despite your living room's size.
By making your living room multi-purpose, you're also making the most of the space you have.
That way, you have a living room, family room, home office, and even a game room all tied into one.
Small Room, Big Difference: 7 Living Room Design Ideas
Make a big difference to your tiny living room! With these seven living room design ideas, you can design the living room of your dreams, despite the size of your space.
That way, you can make the most of your living room as your main spot for a lot of family fun!
Explore the rest of our blog for more inspiration and tiny home ideas.