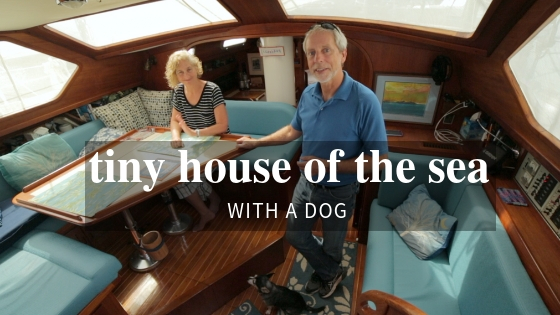 Couple's Tiny House on the Sea with Dog: Sailboat Living
There's much learn from sailboats about the efficient use of space.
In fact, you can clearly see the direct design inspiration in many modern tiny house designs, from the sleek carpentry, multifunctional features to the compact appliances. If you love the water, you may want to consider life aboard. Watch the video to see for yourself!
Couple, Greg and Renee found exhilarating freedom aboard their 1984 Freedom 39′ Pilothouse Schooner, the "Goodwind." It's their tiny house on the water. They live a "surf and turf lifestyle," split between their boat life and their tiny house on wheels. In the tour, Greg and Renee point at the many similarities and critical differences between the two small spaces.
The "Goodwind" is also home to Marley, their beloved Chihuahua. Not the typical boat dog, but she loves her pampered life aboard.
Could you live on a sailboat? Let us know in the comments below.
-Alexis & Christian, co-founders of Tiny House Expedition