Tiny House Events
Stay informed about upcoming events all over the US & the world!
Tiny Home Festivals, Film Screenings,  Advocacy Meetings, Workshops & MORE

Be a Pioneer of the Tiny Houses Brazil Movement – Tiny House Movement Week Class 2
August 30 @ 8:00 pm

-

9:00 pm

Free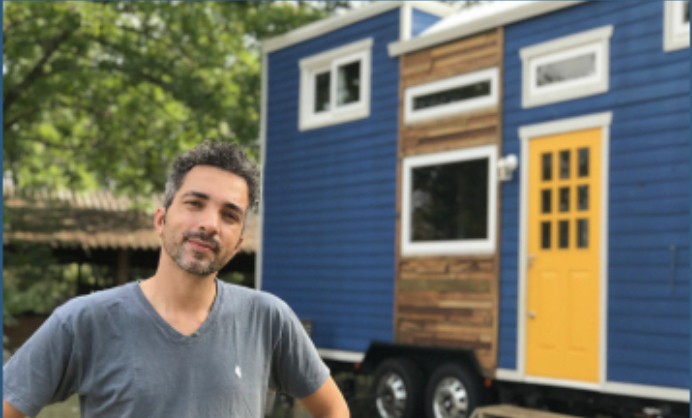 Discover all the ways you can have, build and undertake a simplified lifestyle free from Tiny Houses in Brazil, saving time and money. Join Robson Lunardi of Pès Descalços, LIVE on YouTube for this FREE three-part series!
These free online classes are for those who:
Dream of having your own home built by yourself
Want to build and sell Tiny House in Brazil
Want to provide specialized services as a designer or consultant
Want to invest in rentals in experience tourism such as Airbnb, Booking and others.
8/29 at 8pm – Class 1: Tiny Houses: The Liberty Lifestyle
8/30 at 8pm – Class 2: Strategies to save time, money and generate income
8/31  at 8pm – Class 3: The simplest and safest way to design, build and legalize a Tiny House
Register HERE.
Robson Lunardi
Robson Lunardi is the first Brazilian expert to teach how to design, build and legalize legitimate Tiny Houses in Brazil. His journey as an expert began in 2015, when he discovered, through minimalism and simplified living, these homes that are so unusual in this country.
He and his wife Bel Albornoz decided that they wanted to get to know the mini houses and, who knows, have their own, but they couldn't find what they were looking for with national manufacturers who, not only were unaware of the construction methods of Tiny Houses, but also charged a lot for " try" to do something similar. They decided to go to the United States to study and gather theoretical and practical knowledge directly from the source. It was there that they also had the opportunity to visit villages and factories of Tiny Houses, meet their residents, communities and manufacturers. They returned to Brazil, applying all their knowledge in their own Tiny House, the famous Araraúna. Then, building Toca Turquesa, managing to open a new path in the country by legalizing these two mobile Tiny Houses, the first two legalized in Brazil.
Robson and Bel had their lives transformed by the lifestyle that Tiny Houses offer, which led them to create Portal Pés Descalços and, later, to open the company Tiny Houses Brasil, where he consults, designs, builds and legalizes Tiny 100% national houses. Robson is involved in almost everything that is being developed in Brazil in relation to the Tiny Houses Movement, whether through consultancy, design, construction, laboratories or legalization. Practically, all legalized Tiny Houses on wheels that are being created in Brazil today are the result of his mentors or people who made contact with him to answer questions or request some kind of service. He is also a key player in social projects aimed at low-cost housing for people who dream of access to a first home, such as Projeto Colibri, and is internationally recognized as a trailblazer and voice of the official Tiny House Movement in Brazil.