Tiny House Events
Stay informed about upcoming events all over the US & the world!
Tiny Home Festivals, Film Screenings,  Advocacy Meetings, Workshops & MORE

THIA Thursdays! Virtual Member Meetup – Featured Presentation by Zack Giffin
June 18, 2020 @ 5:00 pm

-

6:00 pm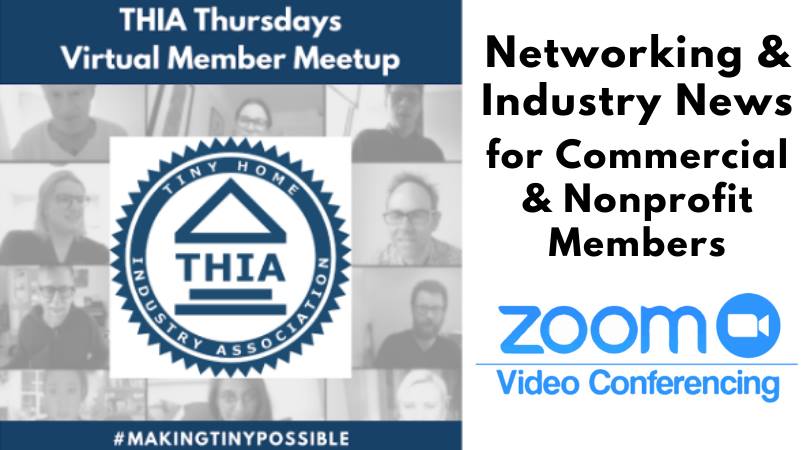 Become a Tiny Home Industry Association Commercial or Nonprofit Member to join us for MONTHLY business networking virtual meetups!
This is a wonderful way for us to support each other and the growth of our industry during this unprecedented time. See the details below. Zoom links will be emailed directly to all new Members.
June's Featured Presentation: Economic Realities & Where Tiny Homes Fit in by THIA Vice President, Zack Giffin
Did you know Zack is Tiny House Nation cohost and Operation Tiny Home spokesperson?
THIA Commercial & Nonprofit Membership Benefits Include:
Listed On THIA Resources
Blog And Newsletter Promotion
Facebook Promotion
We Are Advocating For You!
Virtual Member Meetups
THIA Zoom Meetup Format:
5:00-5:05pm PDT: Quick Hellos
30 min Member Presenter (topics like financing, insurance, etc)
10 min Q&A
15 min Resource Share – THIA updates AND Members share something specific that has helped then in their business OR support that you are looking for.
We at THIA wish you, your families, and all the families your business is supporting, the best during these challenging and uncertain times. Stay healthy and be well, we look forward to virtually meeting you!
Big thanks from the THIA Membership Committee:
-Lindsay Wood, Experience Tiny Homes
-Alexis Stephens with Tiny House Expedition