Tiny House Events
Stay informed about upcoming events all over the US & the world!
Tiny Home Festivals, Film Screenings,  Advocacy Meetings, Workshops & MORE

Unlocking the Potential of Accessory Dwelling Units: From Basics to Advanced Concepts Part 2
August 10 @ 5:00 pm

-

6:00 pm

$99 – $150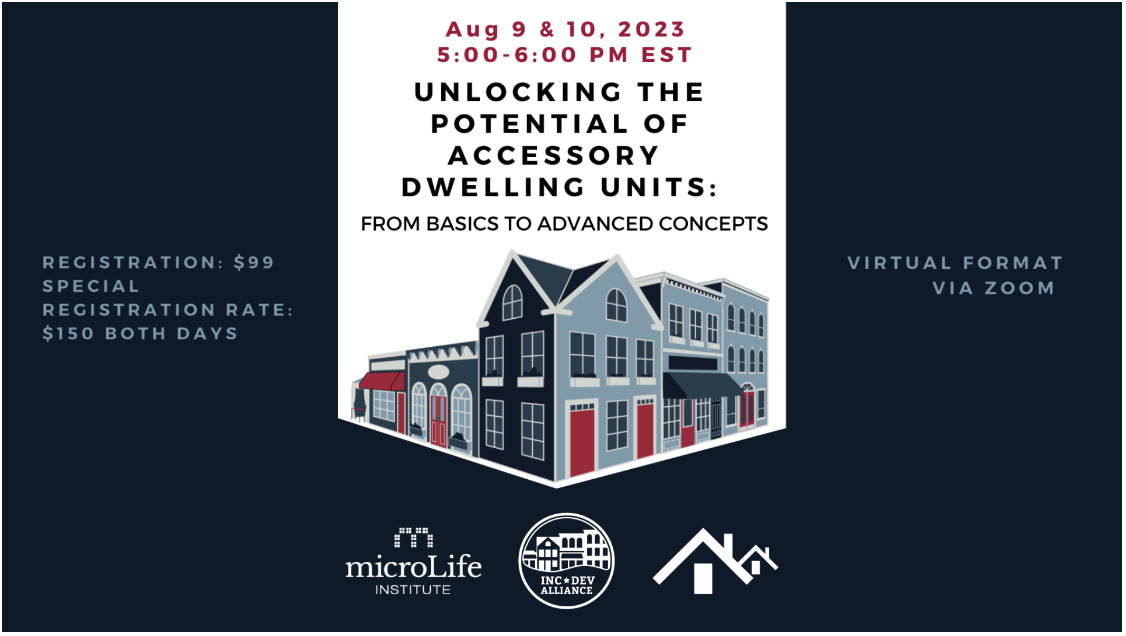 The MicroLife Institute has partnered with Incremental Development Alliance to bring you a two-part series all about ADUs. We'll cover ADUs 101 and dive deeper into ADU policy, how it's changing, and where it's going.
Guest faculty for the course will be industry professional Kol Peterson of Accessory Dwelling Strategies.
Join us this Wednesday and Thursday (August 9 and 10) from 5-6pm ET for the two-part series!
Register HERE.
About  The MicroLife Institute:
The MicroLife Institute is a national 501(c)3 non profit headquartered in Atlanta, GA. The Institute is a hub that connects community members, policy makers, and industry professionals. We build stronger communities through development projects and educational programming to elevate awareness of housing choice throughout the nation.
Vision – To connect communities by expanding housing choice.
Mission – To build inclusive housing to create diverse communities. We advocate for change through development, education, and community engagement, providing greater access to housing for all.
Kol Peterson 
An ADU expert based in Portland, Oregon, who has helped catalyze the exponential growth of ADUs in Portland over the last decade through ADU advocacy, education, consulting, policy work, and entrepreneurship. He is the author of Backdoor Revolution-The Definitive Guide to ADU Development. He is the owner of Caravan- The Tiny House Hotel, the first tiny house hotel in the world, and organizer of Portland's popular ADU Tour. He consults with homeowners about ADUs on their property, and teaches ADU classes for homeowners and for real estate agents in Oregon, Washington, and California. He edits and manages AccessoryDwellings.org, BuildinganADU.com, pdxadu.blogspot.com, and AccessoryDwellingStrategies.com. He served on the technical and rules advisory committees for Oregon's House Bill 2001 to overhaul municipal residential zoning standards to allow for middle housing throughout Oregon.
Kol developed and lived in a detached new construction ADU in 2011, and developed a basement/garage conversion ADU in 2018. He has a masters degree in environmental planning from Harvard's Graduate School of Design. Prior to his ADU work, Kol worked in the federal government for ten years in Washington, DC and Portland, Oregon.