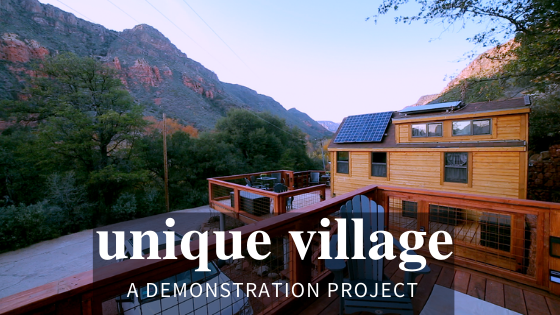 Striking Sedona Tiny House Village, Advocacy Tool + Getaway
A One-of-a-Kind Demonstration Project
TinyCamp is a tiny house village in stunning Sedona, Arizona.
While it is a relaxing retreat of short-term rentals, it's much more. TinyCamp is intended as an educational demonstration project for sustainable development and tiny homes in Coconino County. As such, it is helping to make living tiny legally a reality in this part of Arizona.
It features five houses in three different types: tiny houses on a foundation, and a tiny house on piers and a tiny house on wheels. All houses have been inspected and permitted. Four of these are student-built, by the Construction Careers Academy in San Antonio, TX.
TinyCamp is built on an existing vacant lot, showcasing how to best utilize small, difficult to build on lots. It was no small feat—building into a steep slope.
In addition to all the excellent research and legislative interest coming out of this village, it is also a stunning getaway. The goal, as creator Darin Dinsmore puts it, is to create connection with yourself, your partner, and nature. Oak Creek Canyon provides a magical backdrop.
Watch this to learn more about how the developer and urban planner, Darin Dinsmore created affordable teacher housing in Sedona with a tiny house: