Washington State Opens Public Comment for Amended Appendix Q
Live in Washington? Make a Public Comment by 9/27 on Proposed Appendix Q Changes
Back in May, Governor Inslee signed a historic state-wide tiny house bill into law, ESSB 5383.
Among other things, it mandated the state building code council (SBCC) to adopt tiny house building standards, including the IRC Appendix Q. Read all about the provisions and implications of the bill here.
In July, the SBCC's Technical Advisory Group (TAG) held a meeting to propose amendments to Appendix Q, described as:
"This proposal takes an important part of Appendix Q and incorporates it into the main sections of the IRC. It makes those sections available to all dwelling units that are constructed out of the IRC. Additionally, the proposal provides modifications to Appendix Q for tiny houses and addresses some energy code standards for these smaller spaces."
Now, the SBCC has opened the proposal up for public testimony.
To submit your public comment, follow these steps:
Review the suggested changes. Visit SBCC website here; see 7/31 meeting links. More background available on the Tiny Home Industry Association (THIA) blog.
If you would like additional guidance on testimony, reach out to THIA (email us to be directly connected) and Washington Tiny House Association (WTHA).
Submit written comments by email to

[email protected]

with the subject line: "Testimony on the Adoption of the 2018 IRC."
For guidance on tiny house building in Washington, the State Department of Labor & Industries (L&I) has created this guide with the help of local builder and WTHA advocate, Todd McKellips.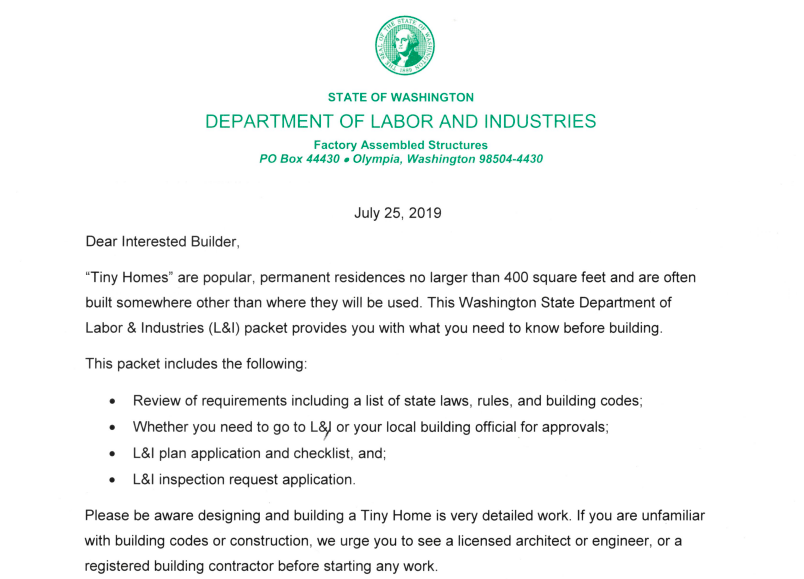 It's a diverse state agency charged with protecting the public from unsafe conditions by inspecting manufactured homes and other mobile structures. As of now, they now also inspect tiny homes that are built "somewhere other than where it will be occupied and used."
One big thing L&I clarifies in its tiny home guide is the difference between a THOW used as an RV, and a THOW intended for full-time dwelling. If you want to use your THOW as your residence, legally, it must meet state residential code and be attached to an approved foundation system.
Basically, they're considering tiny houses on wheels (THOW) as modular homes. But instead of using the state-adopted IRC modular code, a builder could use the tiny house specific code (a version of IRC Appendix Q) that will be adopted by the SBCC.
Likely, in the next few months, these building requirements will be further clarified on the L&I site after the SBCC completes the mandated tiny house building standards process.
Stay tuned for updates!