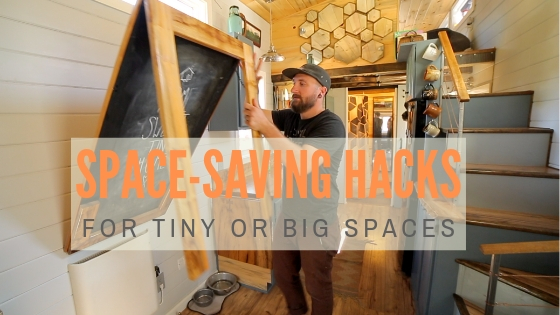 When Less is More: 6 Smart Space-Saving Hacks for Tiny House Living
When it comes to tiny house living, less is more. Here are six space saving ideas for a tiny house that can also be applied to homes of any size.
Most of the homes sold through mid-2015 were upwards of 2,700 square feet. That's changing, out of both of financial necessity and desire for simpler living. Those two things add up to smaller homes.
With the growing small and tiny home trend, people need as many space-saving ideas as they can get. When downsizing, it's hard to imagine how to fit everything you need in a smaller space.
Here are space-saving ideas for a tiny house that can also work for homes of any size.
1. Use Every Inch
Here's where you use your creativity. Look for odd little spaces that don't get used. A good example is under a staircase.
If it's an open area, add shelves. Is the area under the steps enclosed? Open from the top of the stair tread with hinged lids. Now you've got storage space hidden under the stairs.
Do you have a dusty corner that doesn't get used? Put a narrow corner shelf unit. Now you've got storage space for small books, knick-knacks, or essential items.
2. Use the Vertical Space
Lots of people have a ton of unused vertical space in their homes. Add shelving units on empty walls. Or put small cabinets and racks for hanging things on empty vertical space, from anything from shoes to outdoor gear, like a snowboard.
3. Build a Loft
Lofts are well-suited for tiny houses, but they work well in mid-size homes too. They are ideal for saving space and adding more function to a room.
Do you need a den but also a guest room? No problem. Build a loft and put a desk and computer work table underneath. Also, used for closet space, sleeping, and storage for bulky items.
4. Magnets, Magnets, Magnets
Magnets are also handy in vertical spaces. Hang thin strips of magnets in the kitchen for your knives. As a result, it frees up precious drawer space.
Do you like to cook with spices but don't have room in your tiny house? Think again!
Add a magnetic spice rack. Now your spices don't take up shelf space. And they also make a nice wall decoration.
5. Rolling Storage
Think of clever rolling storage ideas. Small storage ottomans on casters roll away under a table when not in use. Roll them out for extra seating and convenient storage.
6. Let Your Decor Do Double Duty 
String up elegant lights for a pretty look that also lights your way. For instance, string the lights in a creative pattern eliminating the need for table lamps; like the wall over the bed.
Another idea is to display a painting or charming chalkboard sign on the underside of a folding table, that stows away on the wall.
Try These Space-Saving Ideas for a Tiny House
There are lots of space-saving ideas for a tiny house. Use your imagination and have fun. Try what works for your little house, or even your big house!
Lofts work in any home, but they're especially great for tiny houses. And they're also perfect if you want more function in a single room.
Use every inch of space in your house and don't forget the vertical space! Use magnets, rolling storage, and let your decor play double duty.
Have fun being creative about getting the most out of your space.
And keep reading our blog for more tiny house advice!