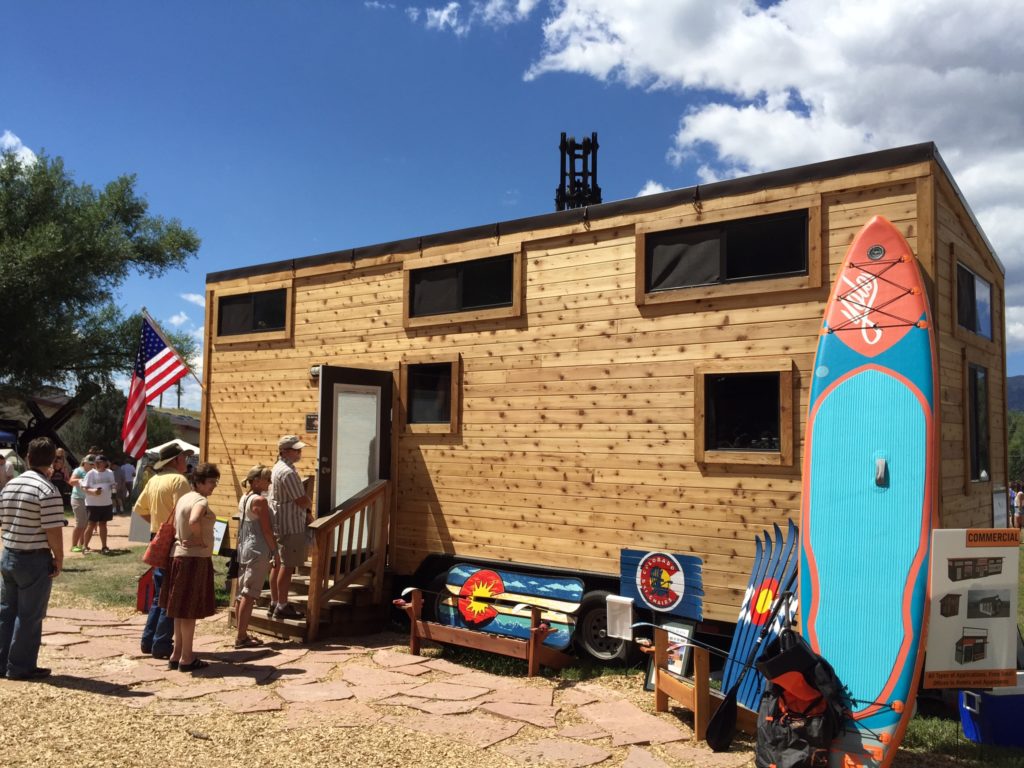 5 Inspiring Videos from the First-Ever Tiny House Jamboree
Experience the 2015 Tiny House Jamboree firsthand!
3 Days, 28 Tiny Houses, 18 Speakers
Over 35,000 attendees descended upon Colorado Springs for an epic weekend of tiny house community! The positive energy of the crowd was exhilarating. If there was ever any doubt about the vibrancy, breadth, and interest in the movement, it evaporated before the closing of day one. The event was an overwhelmingly wonderful experience. We had a blast capturing it all on video while sharing our tiny home with thousands.
Starting today, we will release five videos capturing the essence of this historic event. Including advice and insights from TH community leaders plus full-length presentations from tiny house luminaries:
Jay Shafer, the godfather of the modern TH movement and founder of Tumbleweed Tiny House Company
Andrew Morrison, the designer of the hOMe tiny house and co-founder of Tiny House Build
Zack Giffin, tiny house builder, and co-host of Tiny House Nation
Leaving the Jamboree, we felt even more passionate about our mission to document and share the movement with others. Read more about our incredibly inspirational experience at first-ever National Tiny House Jamboree here.
The Movement is Alive and Well! Here's the Proof:

Leaders in the tiny house movement share their tiny house and community building advice. Attendees make meaningful connections and share their dreams.
An Insider's Perspective on the Evolution of Tiny – a personal account from the tiny house pioneer, Jay Shafer. Full-length presentation from the National Tiny House Jamboree 2015.
Jay built his first tiny house on wheels in 1999. The modern tiny house movement owes a debt of gratitude to this tiny house luminary for leading the way. One tiny ripple of innovation and determination has contributed to a giant wave of change and inspiration. Thank you, Jay!
Zack Giffin speaks about Tiny: A Movement for the People, by the People. Full-length presentation from the National Tiny House Jamboree 2015.
Zack is best known as the inventive tiny house builder and co-host of the widely popular show, Tiny House Nation. Zack is incredibly humble and genuinely passionate about the tiny house movement.
The illustrious Andrew Morrison of the Tiny House Build speaks on: Create Your Freedom – living tiny is so much more than downsizing your dwelling. Full length presentation from the National Tiny House Jamboree 2015.
The illustrious Andrew Morrison is more than a builder. He's a dreamer and a doer, who inspires by example, guides & teaches others to craft a more meaningful, conscious life. You may have seen his TEDx Talk on the Tiny House Movement, and if you've ever Googled "tiny house", you've most definitely seen his beautiful tiny home, the hOMe house, designed and built by himself and his wife, Gabriella.