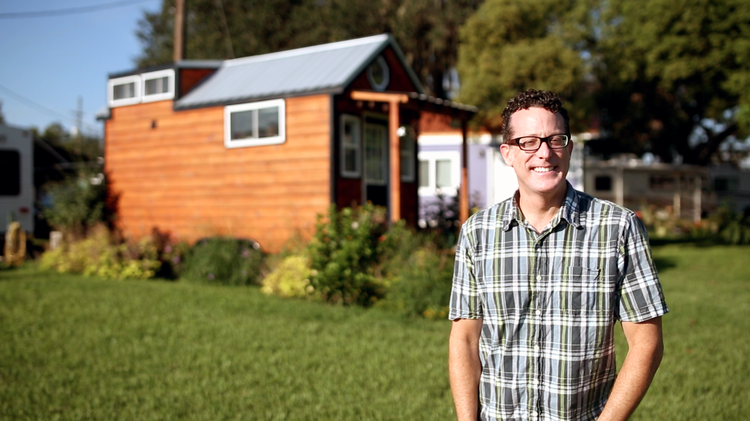 More than a Tiny House: Florida's Booming Movement
Inside Florida's Booming Tiny House Movement
Arriving in the Sunshine State last month, Christian's first observation was "it's not too bad." He was referring the infamous Florida humidity and heat, and believe me; he is not a fan, Christian much prefers snowy slopes to the steamy coast. Surprisingly it was easy to persuade him to make a last minute trip with me down south. Two delightful reasons, 1. tiny house movement history in the making, and 2. the chance to hang out with our new favorite buddies, James Taylor of The Company Store on Wheels and Kai Rostcheck of I Love Tiny Houses. So naturally, this led a tiny house party...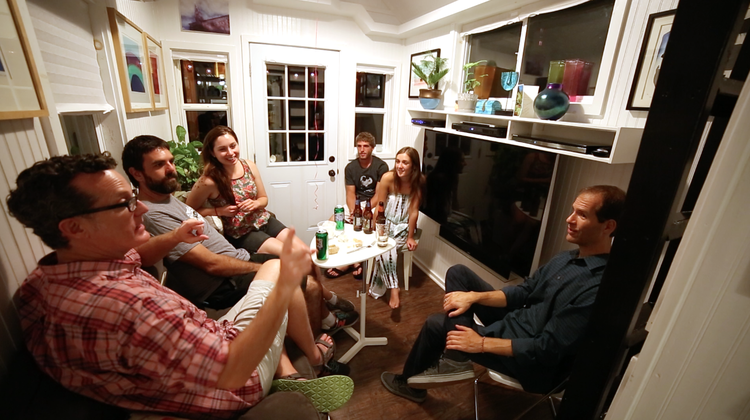 Our first stop and the primary reason for this trip, the town of Rockledge. A little confession, we flew there. I know, I know we are supposed to be traveling the country with our tiny house on wheels in tow. Well, sometimes we just have to make an exception, especially when you have the opportunity to witness and capture real-time history making. This small, forward-thinking town just passed some of the most progressive zoning ordinances in the entire US of A. Both tiny houses on wheels & foundation are legal inside the city limits within two zoning districts, including pocket neighborhoods. They are not just allowed in Rockledge; they are downright welcomed and encouraged.
With the city manager's encouragement and local tiny house advocates enthusiasm to build a TH community, as we speak, they are actively working with a couple of potential developers to create Rockledge's first TH pocket neighborhood. This incredible showcase of citizen/city official collaboration was all kick-started by the efforts of one lady, one determined lady who knew nothing about zoning, René Hardee, the Florida state chapter leader of the American Tiny House Association. More on this historic happening to come in my recent Tiny House Blog post, A Tale of Zoning Happily Ever After.
Stop number two, Cornerstone Tiny Homes, a new tiny house builder with major house building credentials, and a big heart. Bret Hiltbrand gave us the grand tour of his building facility in Longwood, FL, and three of his tiny houses on wheels, in varies stages of completion. Quality built, to the nth degree. Bret joked that he couldn't wait for a hurricane to come through because he was dying to prove that his tiny houses could stand the test of extreme weather. During the next hurricane, you can find him with football helmet on and a camera in hand, demonstrating the extra high-quality construction and safety of Cornerstone houses. Let me tell you what, between the look in his eyes and the innovative threaded rod system I saw in one of his houses (contact him to learn more), I'm a believer. What hit home with me the most during the tour was Bret's newly found passion to become a social good company. As our friend's at The Pollination Project would say, he seeks to seed the change. It is his sincerest hope that he can build a strong enough company, financially, to allow him to build one or more tiny homes for those in need of a place to call their own, each year.
A recent encounter with a prospective client, a leader of a hard-working family down on their luck, touched Bret. Despite the family's best efforts, both mom and older son working jobs to support the family, they could not afford a decent home. They were currently staying in a hotel. Unfortunately, Cornerstone does not offer financing as of yet, and Bret couldn't immediately help them. Bret recalled, his voice rich with emotion, that in an instant, out of frustration and a rush of love for this family, he became more than a businessman looking to make a buck. He knew he had to help them and others like them reach their potential by providing quality tiny homes, offering stability and chance to get back on their feet.
Our final Florida stop: Orlando Lakefront, a Tiny Home & RV Community. Cue heart fluttering. It's a growing grassroots community situated in a revitalized 1950's RV park, featuring a beautiful little lake & bird sanctuary. It's one of the first RV parks in the nation to transition to a "TH Park." The heartbeat of this lush tiny community, is James Taylor (not that one), the host with the most. He's a charismatic TH community advocate always looking for opportunities to help others pursue their tiny house dreams and build vibrant TH communities. James has been living in his adorable tiny home at Lakefront for less than a year. During that short time, he has actively worked to grow the tiny house presence from two tiny houses to ten! If you have ever had the chance to meet him, this is no surprise at all. James is a motivated, funny and all-around wonderful guy. Also, he has the best laugh-- super contagious. James (check out his blog, The Company Store on Wheels) put this fledgling TH community on the map, and tiny housers and tiny house curious have flocked like flies, flies who love the heat, to learn more and consider moving in. Adam Money, the owner of Orlando Lakefront, seeks to create both an aesthetically pleasing and warm, friendly community environment for all residents. He's in no rush to show traditional RVers the door, as many have been longtime residents in good standing. Adam sees a long term opportunity to transform his park, and he wants to do it on the up & up, no forced gentrification scenario here.
Keep scrolling for tiny house tours from the community!
During our whirlwind stay in Orlando Lakefront and in a tiny house no less (thank you, James, for being our gracious tiny bnb host!), we were immediately embraced by the tiny house residents we met. We shared stories of tiny living and our hobbies, laughed until our cheeks hurt. The sense of home we felt was unmistakable. We were ourselves not hindered by insecurities, filled with a comforting sense of belonging.
Yes, this was our tribe. 
Tiny house community means connecting over the common ground of tiny houses, but it's so much more. The house is the launch pad for a more connected, meaningful lifestyle.
Florida is truly on the forefront of the tiny house movement, now offering residents two options for living tiny, legally. The housing spectrum just got a little brighter and a little broader. Hats off to you, Sunshine State. Until we meet again...
Tiny House Tours
Our whirlwind trip to Orlando only gave us enough time for a couple of ambush tiny house tours. The lovely and gracious tiny housers, Cassie & Haley showed us their lived-in tiny homes. Enjoy!
Tiny House Community House
Meet Cassie, young vivacious tiny houser. She is a skilled hooper and hoops everyday outside of her tiny house. To pay her very limited bills, she waitresses. Most of Cassie's time is spent at the beach with her boyfriend, soaking up the rays and nourishing her soul. Her tiny is a rental and owned by the tiny house leader, Elaine Walker who spearheads the Tiny House Community online resource and blog.
Buddhaful House
Meet Haley, energetic, zen tiny houser. She is a yoga instructor and Ayurvedic practitioner. Haley is true believer in the power of community and that's why she decided to settle at Orlando Lakefront. "My neighbors are amazing. Everyone is so helpful with anything you need. I just got over the flu, and people are constantly bringing you things..everyone helps each other."