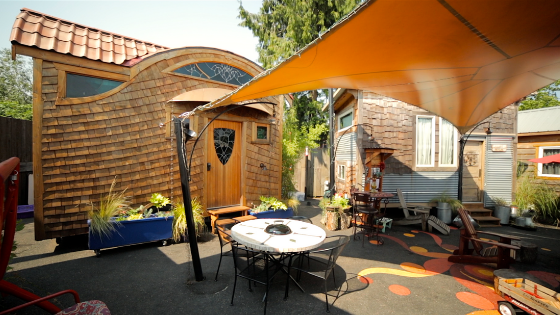 Caravan Tiny House Hotel Tour – Self-Isolate Here!
Short-Term Rentals Discounted for Self-Isolation Stays
Welcome to the 1st tiny house on wheels hotel in the world!
Caravan opened its doors back in 2013 in the vibrant Alberta Arts District of Portland, Oregon. Besides offering one-of-a-kind nightly rentals, the owners created the hotel to share benefits of environmentally-friendly downsized living and use it as an advocacy tool to champion small urban infill housing, like ADUs.
They're also passionate about supporting the local arts community, as seen in the decor in their tiny houses and in their summer event series. The Caravan Campfires concert series invites the public to enjoy good vibes, s'mores, and listen to local musicians.
A couple of times a year, Caravan hosts tiny house tours and city-wide ADU tour too.
In our latest video, we share an up-close look at their charming, custom tiny homes from local builders and their darling teardrop trailer rentals.
One of the five tours featured is of the Pacifica. It's 10' wide tiny house, and designed to be universally accessible to accommodate those who use a wheelchair for mobility.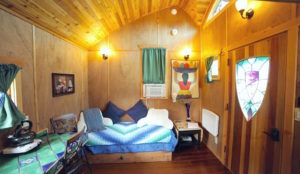 And like so many magical creations from one of our favorite builders, Zyl Vardos, the organic shapes mesmerize. From every angle inside, it offers a fresh view of the arched roofline and curvy stained glass windows.
"The billowing and undulating roofline and the concentric arcs of the cedar-shingled exterior reminds us of ocean waves."
Due to the COVID-19 pandemic, Caravan is now offering their beautiful tiny homes at greatly reduced rates as short term rentals for healthcare workers and others who need a place to self-isolate during this crisis.
Learn more and book a stay at Caravan Tiny House Hotel.
Want to learn more about accessory dwelling units?
Check out Caravan, co-owner, Kol Peterson's book, Backdoor Revolution, The Definitive Guide to ADU Development.
Watch a tour of Caravan owners, Deb & Kol's personal ADU home:
Exclusive Content
Monthly LIVE tiny living discussions with extended Q&A, plus BONUS content, like behind-the-scenes filmmaking and tiny home life insights.
Early Access
See new videos first, get first dibs on new online courses and more!
Exclusive Giveaways & Discounts
Win tiny living festivals passes, and more!
Join today!