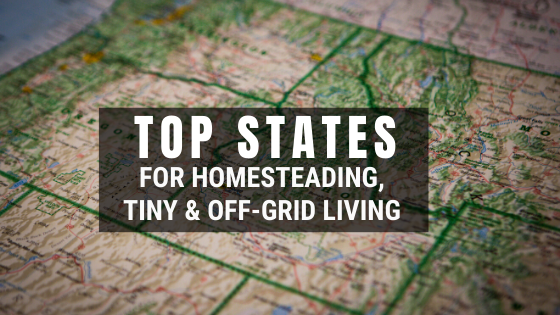 America's Off-Grid US Capitals Revealed on Instagram
There's something uniquely American about the idea of living 'off the grid', reliant on nobody but yourselves and your pioneering spirit.
It harks back to the way the country was born, but it also has the future very much in mind because it's often about trying to protect the planet's environment by combating climate change. By living off-grid, families can go carbon neutral as well as finding a healthier and happier way of life, but whereabouts in America are the off-grid capitals?
Not surprisingly, while living off the grid may mean adopting more traditional lifestyles (versus fully living off the land), and of course, many enjoy spreading the word about what they're up to via Instagram.
These posts tend to be grouped around three major trends:
#tinyliving - Downsizing for a simpler and greener life focused on experiences over things. Affordability is a huge factor too.
#offgridliving - The overall trend for cutting yourself off from the electricity grid and/or modern society in general
#homesteading - This is all about being self-sufficient, growing your own food, making your own clothes (for the extra dedicated) and generating your own power
The capitals of #tinyliving
The minimalist appeal of stripping your life back to living in a tiny home, whether to help save the planet, save yourself money or to cut the clutter from your life, #tinyliving has made a big impact across the United States. California is the state with the most posts, but it's hipster paradise Portland, Oregon that holds the title of tiny living capital, while the likes of Austin, L.A., New York (think micro-apartments), and Seattle are all also in the top ten.
The key states for #offgridliving
There's undoubtedly an element of the hippie ideal in the concept of off-grid living, so it's no surprise that the state with the most Instagram posts for this hashtag was again California, which has long been home to all kinds of hippies and surfers, who tend to feel a connection to nature and mistrust of society.
Many of the most popular states for it are amongst the warmest, which makes sense as living off-grid in a colder climate would require more energy to heat your home, which is less of a problem in California, Florida, Hawaii, Arizona and Utah. Meanwhile, though Alaska can certainly get very cold, it remains a wild and rugged place that is perfect for people who want to escape the world.
The most popular places for #homesteading
The distinction between #homesteading and other kinds of off-grid living can be seen in the types of states where it is most popular.
California may be at the top of the list again with Texas in second, but most of the rest of the top ten comes from the East Coast in traditionally more urban states, where the appeal of homegrown food is enjoying a resurgence for health and environmental reasons.
Have you been inspired to look into tiny living, homesteading or going off-grid?
If so, where in the USA would you choose to do it, now that you've seen where the hotspots are?
Digital Magazine Dedicated to Micro, Tiny & Small Home Living
Do you have more time at home? Enjoy some inspirational reading from Tiny House Magazine!
Discover different types of tiny houses from liveaboard boats to Alaskan yurts, converted school buses to high wall tents.
Try recipes from a tiny house kitchen. Each month we feature a recipe from the Tiny House Foodie. Learn to make it work and still cook like a pro.
Hear from those living with kids in a tiny house. What happens when you build for two but end up with four? Can it really be done?
Read excerpts from books on tiny houses, downsizing, and a host of other related topics.
Each month brings new topics and new, exciting articles!