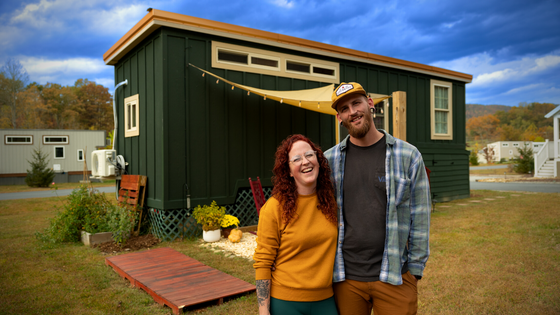 Charming Tall Man Friendly Tiny House
Meet Josyln and Dave, a rad couple who live in a 32-ft gooseneck home at the Acony Bell Tiny Home Village. At 6.5-feet, building a tall man friendly tiny house was a top priority for Dave. He is also an electrician and wired their home. Then he helped with framing; a local contractor built the rest.
Ironically, Josyln works as a decorator at America's largest home, the Biltmore Estate. Their tiny home is beautifully decorated with many antiques. It's a great example of how you can incorporate family heirlooms into your daily life.
"My mom, often in the beginning, was like, what am I going to do with all these family heirlooms? Where are they going to go? And I was like, I don't know. Maybe we'll put them in storage. Maybe we'll use them. Maybe we won't. But we do also have a few things throughout the house that are family heirlooms, like a clock and different pieces like that.

So we still used all of like our favorite things that were family, but they just weren't the massive chest that no one touches in the dining room. We just have smaller, more important things, rather than larger things that don't get used, and that was kind of appealing to us. It's a fun process to constantly seeing it evolve and see all the options and things we can add as life changes, and all of that. So it's fun."

-Joslyn, @adventuresoftinyannabelle
Inside their Tall Man Friendly Tiny House
Joslyn and Dave's tiny home is 32-foot long. They utilized the area under the gooseneck outside as a shed, wrapping it with siding, which disguises this area and blends in well with the rest of their skirting. While inside, they used the gooseneck for their bedroom to allow a standing-height space. Another tall man friendly tiny house accommodations include utilizing high vertical space in the bathroom as Dave's storage space, with Josyln's being lower on the wall.
In their living room, they made a mantel. Joslyn really wanted this area to decorate for the different seasons. So they created one from an old railroad tie and salvage wood mantel from a nearby whiskey distillery in Tennessee. For them, it feels like having a little bit of history that lives on with them.
Next to their fridge, they store a big beautiful folding table that their brother-in-law built for them. It is used as a dining table for Warhammer board game night with friends. Another flexible surface is their small rolling cart, used as extra counter space, kitchen storage, and another dinner table option.
Their bathroom has a lovely salvaged wood sliding door. It was modified to have little cutouts to fit snuggly around the stairs and create a cat-size "doorway." So their kitty Madeline can get underneath it, but their two dogs cannot. That was designed to keep them from getting into Madeline's litter box area—tucked in a cubby under the stairs but accessed inside the bathroom.
Their Tiny House Cost
"So our place cost $50,000, which was, we thought, a very decent price for the size and everything involved. We were a little nervous at first because we were trying to find funding for it, and it's kind of difficult to find funding for tiny houses a lot of the times. But we were told by a friend about LightStream, and so they do personal loans, and so we were able to get that and that made it easier.

We've almost got it paid off, which is exciting. In two years we won't have any debt, no cars, no house, nothing. So that was a big plan of ours, was to be able to have all of our debt paid off and to be able to travel, so we're almost there."

-Josyln & Dave, @adventuresoftinyannabelle
Watch the tour above for an in-depth look inside their charming tall man friendly tiny house!