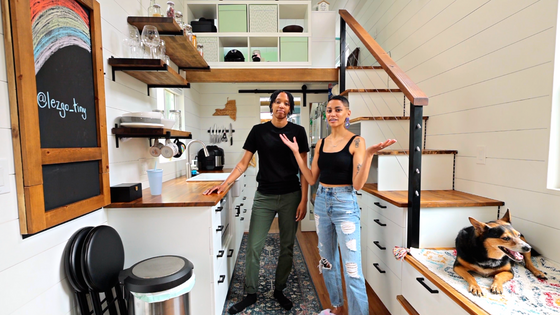 Couple's Ditches Rising Rent for Dreamy Tiny House
Meet Bri and Destiny, a newlywed couple enjoying house on wheels life after ditching rising apartment rent. And wow, what a dreamy tiny house they purchased! It was designed and built by high-end builders Tiny Homiez. Though, they bought it preowned just in the nick of time before their lease was up. Then they scored a legal parking spot nestled in the heart of Portland.
Importantly, Destiny and Bri proudly represent queer women of color in the tiny house movement to help others discover the beauty of alternative simple living.
"A lot of times, we don't see people like us in tiny houses…and that's what we needed to see when we were going through this journey. I'm really glad to be sharing the journey on social and teaching
people you don't have this large glamorous lives. You don't need a huge house. Sometimes we walk around, and we're like, how many people live in that huge house & why? Not that we're judging, but now we know the other side. You don't have a huge house; you're just paying for space you're not living in.

We wanted that at one point. We wanted the big house with the big yard and the fence; you know, the American Dream. But your dream can change. You can have your own dream."

-Destiny & Bri, @lezgotiny
Inside their Dreamy Tiny House
At 30 feet long, Destiny and Bri's gorgeous home, named Matchbox, provides 399 square feet of comfortable living. It's packed full of storage while maintaining an open and airy feel. Their kitchen alone features 36 drawers and cabinets! Additionally, the bathroom includes a 6-foot-long closet.
Upstairs, Bri and Destiny's sleeping loft can easily fit up to a king-sized bed. The secondary loft, on the other side of the house, is used as a home office. Impressively, it's a standing-height room that is large enough to fit two desks, storage, and open floor space. Underneath, the downstairs ceiling height is about 5.5-feet tall. The previous owner used that area for a bedroom, but Destiny and Bri use this as a living area, where they sit to lounge or watch movies. No standing needed!
Follow their tiny home life and budget vegan cooking on Instagram: @lezgotiny & @eatyodestiny.
Watch the full tour of their dreamy tiny house above!
Thanks to our video sponsor, Vessi!
Go to https://vessi.com/tinyhouse and use code TINYHOUSE for $25 off a pair of adult Vessi shoes--fully waterproof! Also, enjoy free shipping to CA, US, AUS, NZ, JP, TW, KR, and SGP.