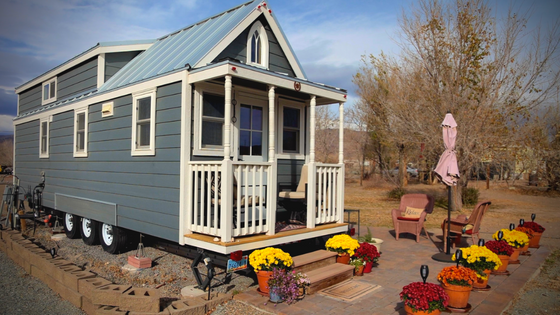 What Should You Ask a Tiny House Builder?
When it comes time to build a home on wheels, there are many things to consider. One of the most important decisions you will make is who to hire as your tiny house builder. This is a big decision, and you want to be sure to ask the right questions. By knowing what to ask, you can be sure that you are making the best decision for yourself and your budget!
In this article, we will discuss what you should ask your tiny house builder before signing any contracts.
Questions to ask a Tiny House Builder
1) Are you a registered or certified builder, and are you insured?
These are important questions to ask your tiny house builder, as it will ensure that they are registered with the necessary governing body or that their work is reviewed by either a local, state, or third-party inspector. Also, it's a great sign if they have adequate insurance in case of any accidents or damage during the build.
Depending on what building standard your home is built to will determine which governing body or certification company is reviewing the work completed. Did you know a movable tiny house (aka tiny house on wheels) can be built to RV, residential stick-built, or residential modular/factory-built standards? More about that here.
2) Are you the one actually building the tiny house?
Some tiny house builders subcontract out and white label their builds. Because if that's the case, you'll want to know who the subcontractor is so you can look into their reputation. Additionally, you should ask what quality control steps are in place to ensure who you are buying from is taking an active role in overseeing the build quality.
Tiny homeowners Maddy and Alec didn't find out that their home was mostly built by a subcontractor until they found a major water leak problem. Then they discovered that their warranty was through the other builder too.
3) Can we see examples of your previous projects and talk to past customers?
These are two more excellent questions to ask your home builder, as it will give you a good idea of the quality of their work. If they have a website, be sure to check out their photo gallery. However, if they're new, find out if the home images shown are actually theirs. It's not uncommon for a less experienced tiny house builder to use images from other professionals.
Further, talking to past customers will give you the opportunity to ask about their experiences. Inquire about how well the builder communicated with them throughout, if there were any mistakes, and how the builder handled remedying those. Also, check online reviews, including those on the Better Business Bureau,
Of course, they are always two sides to the story. But if you ask a tiny house builder about issues from negative reviews, and they get overly defensive, dismissive, or down-right irate, consider that a big red flag.
4) How will I be kept informed throughout the building process?
This is an important question to ask your tiny house builder, as you will want to be kept up-to-date on the progress of your home being built. Ask them how often they will communicate with you and what means of communication they will use. Some home builders prefer to communicate mainly by email, while others like to use calls or texts.
Make sure you are clear on how often you will be updated on the progress of your home being built. Also, inquire if you can visit the shop to review the building progress.
5) How will the quality of my tiny home's construction be managed?
It is important to ask your tiny house builder how the quality of home construction will be managed. Quality control is essential to ensure that your home is built correctly and meets your expectations. They should have a process in place for inspecting work at each stage of the build, as well as for correcting any deficiencies.
Importantly, make sure to ask your builder about their quality control procedures to ensure that your home is built to the highest standards. Because even tiny houses on wheels with a third-party inspection, like PacificWest Tiny Homes or NOAH, don't inspect every step of the process because they're not required to in order to issue a certification sticker.
You can also actively participate in the quality control process by inquiring if they would be ok with a third-party residential home inspection before final payment is made. Be sure to ask this upfront and get it up in the contract. This can of an inspector will review details an RV-inspection program wouldn't.
6) Can you give me a definitive price to build my tiny home?
This is an important question to ask your tiny house builder, so you know how to budget and if you need a loan. Some home builders may be able to give you a price right away, while others may need a little more time to determine the total cost based on materials and customizations.
You'll also want to find out if this price is locked, or if additional expenses can occur. Make sure terms are clearly laid out in your contract. By doing this, you'll avoid unexpected painful surprises.
After construction begins you want to make changes to your tiny home after you sign the contract. Most builders will allow you to do so for an additional fee. But you might want to know specifically upfront, how your builder handles change orders.
7) What kind of contracts do you utilize, and what exactly is included in the contract?
Many tiny house builders utilize standard contracts that cover the basic scope of work to be performed. However, there may be additional clauses or provisions that could benefit you as the homebuyer. It's important to understand what kind of contracts the builder is using and if there are any additions or changes that you would like to see made.
The more detail, the better!
It's important to understand exactly what's included in your contract. Ask your tiny house builder to go over the details of the contract with you, so you know what you're agreeing to. Make sure that everything you expect is included in the contract, including materials, labor, and delivery.
Lastly, if you can, have a lawyer review the contract.
8) What kind of warranty do you provide?
Many tiny house builders now offer a 1-2 year warranty on labor and materials. However, some offer 5- or even 15-year warranties on the work they do. It's important to ask yours about the warranty they provide, so you know what's covered.
Another bit of advice from tiny homeowners Maddy and Alec: if the tiny house builder is out-of-state, find out what happens if there is a warranty issue. Will they send someone out to do repairs, or will they require you to pay to send your home on wheels to them? Depending on the distance, it could cost $2,000-$10,000+ to hire a professional tower for a roundtrip relocation.
9) How do I know your business has financial stability?
Builders are a vital part of the home-buying process. Not only do they construct the home, but they also help you design it and choose materials. It's important to ask your tiny builder some key questions before you start construction. One question you should ask is how stable the builder's business is because some have been know to go out of business mid-build. Then tiny homebuyers, like The Tiny Home Lady, are left with a DIY project on their hands or looking for another professional who can help. 
Maddy & Alec share their advice for hiring a tiny house builder based on their experience:
Have you ordered our book yet?
Learn the history of the modern movement, get a breakdown of tiny home styles, and meet the passionate tiny community. The Beginner's Guide to Tiny Houses also discusses the pros and cons of micro-living―is a tiny house right for you, right now?
What people are saying:
"Most books about tiny homes are really just about the fantasy, with beautiful pictures in far-off places, but they don't tell you how to get from point A to point B. That's where this book comes in and fills in all the gaps!"