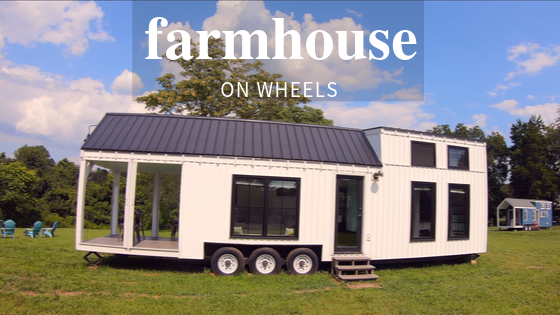 Family Builds Amazing 36' Tiny House, a Farmhouse on Wheels
The Roost36 tiny house is big and beautiful with a whooping 3-bedrooms.
It exudes farmhouse charm, inside and out. One of the impressive features is the 8' fully screened-in porch. Not a composting toilet fan? Roost36 has an off-grid flush toilet. But perhaps, the coolest feature: the downstairs is wheel-chair accessible!
It was built by Perch & Nest Tiny Home Company and is located on their lovely farm in North Carolina. They live, build tiny houses, and host Airbnb THOWs there. Roost36 is one of their rentals, and most importantly, it's their family vacation house.
One day, it will be their retirement home. In many ways, it is a reflection of their charming current home, a traditional-size farmhouse.
Watch tours of their other tiny house rentals on their farm in Tiny Getaways, Episode 2.