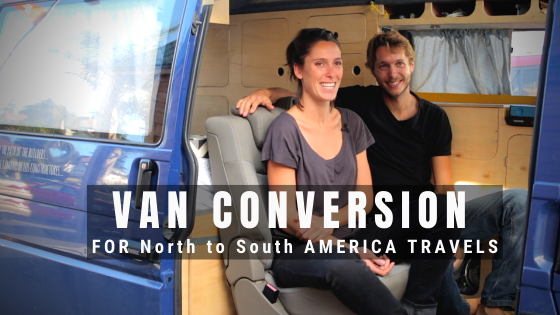 French Couple's Camper Van Conversion for Tour Across the Americas
Throwback to a few years ago, early in our tiny house travels, when we met up Camille and William, an
 extraordinary van life couple,
They parked next to our tiny house for the day at the Santa Cruz Beach Boardwalk. Just a couple months earlier, Camille and William shipped their DIY camper van conversion from France to Canada.
From there, they took off for an epic road trip across North and South America, as part of their Project Cap'A.
As an architect and engineer, they were interested in exploring a variety of sustainable architecture projects along the way.
"Cap'A is above all an irrepressible desire to hit the road and roll into the unknown.

Go on an adventure, set course for Architecture, to discover techniques, local know-how and meet the builders of yesterday, today and tomorrow."
Over the previous year, they converted a beautiful T4 VW transporter van into a DIY camper back in France. They made the interior layout to feel homey and optimized the space to meet their minimalist living goals over their planned epic road trip. 
Ultimately, they did an impressive job with clever, simple van conversion. And after a year-long expedition, beginning in Montreal, they made it all the way to Argentina!
Watch the above video for a tour! For added clarity, turn on closed captions (bottom right corner of the viewer).
Also, to see more of Camille and William's van life adventures and the projects they visited, visit their Instagram page here.
Like us, Camille & William explored SuperAdobe architecture in California.
Exclusive Content
Monthly LIVE tiny living discussions with extended Q&A, plus BONUS content, like behind-the-scenes filmmaking and tiny home life insights.
Early Access
See new videos first, get first dibs on new online courses and more!
Exclusive Giveaways & Discounts
Win tiny living festivals passes, and more!
Join today!