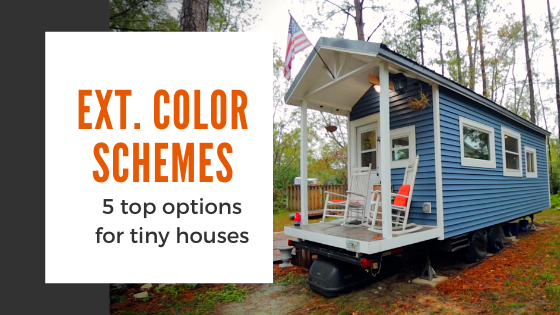 5 Exterior Color Schemes For Your Tiny House
Building a tiny house? Interested in changing the paint scheme on yours and need inspiration? Here are some tiny house exterior color schemes that are popular in 2020.
"A little bit goes a long way" is certainly true when it comes to tiny house exterior colors. And not just because the house is small!
Since your tiny house takes up such little space, the colors that you choose can complement the space around you. They can also stand out, adding your personality to your surrounding environment.
And it's no secret that colors can affect things like your mood and performance. So, it's important to pick something that you absolutely love.
Whether you're hoping to blend into your outside space or add personality in contrast, you won't be going wrong with anything from the below list of color schemes.
The Basics
What are the basics? These are your classic black, white, and grays.
The monochrome look in black or grey offers a sleek and modern look to your tiny house exterior. White adds a homey and classic look to the outside of your tiny home.
However, you can also combine these colors without worrying about going wrong since the three already look good together.
The Forestry Palette
The first color that comes to mind when the word "forest" is brought up is green.
Green itself, no matter the shade, adds a calming effect anywhere you are. It's hard to go wrong with a deep forest green, olive, or just plain old green.
Playing around with a monochromatic green look with different shades is sure to produce an anxiety-reducing impression on your tiny home.
Staying Cool 
Cool colors, you might recall from school, include green, blue, and purple.
Right now, the combination of cool colors isn't as neat as the way that these colors work on their own. Particularly, blue.
The different variations of blue are doing especially well in the exterior color scheme department. From Robin's Egg to Aqua, blue is ironically hot right now.
This is a color range that also works especially well with a variety of accent colors. This can make for a fun project whether you're looking to awaken your inner artist, or thinking of hiring a painter.
Blush 
Blushed looks on tiny house exterior color schemes are also a popular choice in 2020.
The tones of light orange and peach generate a gentle and welcoming space. These colors also appear to complement any environment, no matter the color scheme, because they are less bold in choice.
That being said, the look is still original and a great choice for something that stands out without being harsh.
Warmth 
Similarly to the cool colors, warm colors aren't getting left out of adorning the outside of your tiny home.
However, rather than straight yellow, orange, and red, these colors play more on the neutral side. That means tan, brown, and more neutral versions of yellow, orange, and red.
These colors mimic the concept of wood, adding a more natural look to your tiny house.
Add That Pop of Color to Your Tiny House Exterior
So what are you waiting for? It's time to start looking at color swatches and putting together your next vision board for your tiny house exterior!
From paint, stain to vinyl siding, there's a vast range of available options.
If you liked this post, be sure to look through our blog for more insight, and check in again soon for more tiny living guides and ideas!
Digital Magazine Dedicated to Micro, Tiny & Small Home Living
Do you have more time at home? Enjoy some inspirational reading from Tiny House Magazine!
Discover different types of tiny houses from liveaboard boats to Alaskan yurts, converted school buses to high wall tents.
Try recipes from a tiny house kitchen. Each month we feature a recipe from the Tiny House Foodie. Learn to make it work and still cook like a pro.
Hear from those living with kids in a tiny house. What happens when you build for two but end up with four? Can it really be done?
Read excerpts from books on tiny houses, downsizing, and a host of other related topics.
Each month brings new topics and new, exciting articles!