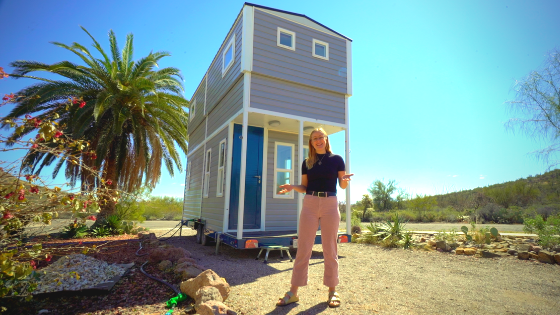 Full 2-Story Tiny House with Lifting Roof
Wilderwise Modular Tiny House with Lifting Roof
Meet CEO Arya Mazanek; she and her team developed the Wilderwise tiny house with lifting roof to solve a key pain point for tiny house on wheels design, crawl-in lofts. The innovative roofing system raises from 13-feet 3-inches to an impressive 17-feet when parked.
"Loft bedroom: I think is one of the biggest factors that inhibit people from going tiny. They love the idea of minimalism; they love the idea getting rid of all their things, living in a small space, and having that mobility. But when they go upstairs and see a 3-foot loft, it's just and immedidate, "no, I could never do this." That's where this design concept of a lifting roof and a full second story came into play.

There are so many design considerations that went into it, and laws around how vehicles are made, and the standards we have to follow. So for it to be considered an RV and follow all the safety rules, it has to be 13.5-feet tall. That's the law. In order to have more than just a loft, and enough headroom downstairs, there has to be some kind of engineered component to lift the roof."

-Wilderwise CEO, Arya Mazanek
Inside the Prototype 2-Story Tiny House with Lifting Roof
Wilderwise recently unveiled their prototype full 2-story tiny house with lifting roof. It's built onto a 21-foot long trailer. When the roof is raised to its full 17-foot height, it has about 295 square feet of living space, upstairs and down. Also, the dry weight of the flagship model is just 8,000 pounds. This is due to the lightweight but durable SIPs panels and framing—95% aluminum and 5% steel.
Beyond maximizing portability, Wilderwise sought to achieve a tiny house on wheels with maximum flexibility for layout and placement options by making their model fully modular. A backyard is a common legal THOW parking option. However, many yards don't have large enough access lanes to maneuver a tiny home into them.
The Wilderwise house comprises modular components that can be assembled and disassembled to fit into tight spaces. Additionally, this creates an opportunity for redesign. Replace a section of your tiny house, as desired, or add on something extra like an outdoor deck.
Wilderwise CEO Arya and her partner Laurence are currently traveling around the US to various events to showcase their prototype. Meanwhile, they're working on refining their model to integrate the roof lifting mechanism better. More layouts and customizations are also in the works.
Watch the tour to see more of this full 2-story tiny house with lifting roof!
Thanks to our video sponsor, Skillshare!
The first 1,000 people to use our link will get a 1-month FREE trial of Skillshare: https://skl.sh/tinyhouseexpedition12211
Our NEW Tiny House Book!
"Alexis and Christian are great people and when they write a book about tiny houses, you can have confidence that it will be jam-packed with valuable information. This book delivers all the info you could possibly be looking for regarding tiny house living. Target for this book is someone that is feeling a bit overwhelmed and isn't sure what they need to consider as they embark on their tiny house journey. This book will provide the info they need and should help anyone in this position. Well done. Well written. 5 Stars."