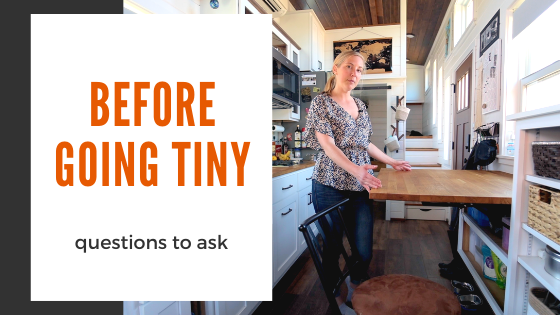 Questions to Ask Before Buying a Tiny Home
Congratulations! If you've arrived here, you've taken the first step toward potentially investing in a tiny home. Regardless of its type, buying a house can be a stressful experience. Drastically downsizing into an alternative dwelling comes with specific needs. Before you make any decisions, there are a few things you should ask yourself.
Start here when considering building or buying a tiny home:
What is a Tiny House?
So you're considering buying a tiny home, but what type best suits your needs? Let's start by exploring what is a tiny house exactly.
Tiny houses are independent structures that can be either mobile or permanently attached to a foundation. They are typically between 100 and 400 square feet in size, whereas the average American home is about 2,400 square feet.
Some can be designed and built by the owner, while others are bought or built from a kit.
In addition to the traditional tiny house styles, like on wheels or cozy cottages, there are numerous nontraditional types like conversion homes—buses, vans, containers, etc.
Not sure which option you prefer? In our book, The Beginner's Guide to Tiny Houses, we walk you through the many small space home types and the associated pros & cons.
How Much Does a Tiny House Cost?
While mortgage payments can burden many Americans, tiny houses offer a lower cost of living, especially the movable kind. The average price of a self-built tiny house on wheels is $30,000 to $45,000, with pro-built homes costing between $60,000 and $100,000+.
Your tiny home's actual cost will vary depending on where you build it, its size, the type of materials you choose, and the level of customization.
Are you interested in placing it on your own land? You should also consider the development and permit costs in your area and accessibility to utilities.
How Can I Pay for a Tiny House?
Like any typical home, there are plenty of ways to pay for a tiny house. Research your options, such as personal loans. Do you already own a house? You'll want to look into what is a cash-out refinance. Also, you could put it on qualifying credit cards because it is lower in price than a typical home. This isn't recommended. Fortunately, many tiny house builders now offer financing options for 10-20 year loans.
Do You Have a Lot of Things That You Can't Get Rid of?
Can't bear the thought of parting with Grandma's old baby grand piano? If you have many personal items that you can't say goodbye to, a tiny house probably isn't for you right now. One in four Americans have a clutter problem, and living small is all about curating your belongings to the bare necessities. These are things you absolutely need and what you most cherish (that can fit in 400 square feet or less). Downsizing is essential to embrace simplicity and find contentment in your limited living space.
Where Can I Place a Tiny Home? Where Can I Park a Tiny House?
Tiny homes aren't allowed everywhere due to local building and zoning restrictions. For instance, some municipalities have minimum square footage requirements that prevent the placement of houses under 600 sqft. Contact your city planners to find out what is allowed.
Foundation-based tiny homes, modular or site-built, are more widely accepted than those on wheels. However, they require land—either a new purchase or built on a property with an existing home, making it an ADU. Accessory dwelling units, basically backyard homes, are a commonly accepted parking option for tiny houses on wheels.
Otherwise, you can place a tiny house in a community setting.
A breakdown of the 3 main types of tiny house parking:
Is It Possible Where I Live for Tiny Houses to be Safe & Sturdy Against Extreme Weather?
An obvious question you should ask is if you have a place in mind to live in your tiny home that is prone to extreme weather. And let's face it; it's becoming increasingly difficult to escape this no matter where you are. If your house is built following International Building Codes, it's just as storm-proof and safe as a traditional home.
Most tiny houses on wheels are built to meet or exceed both RV standards and the International Residential Code, inclusive of Appendix Q. This ensures good structure and support. Also, tie-downs provide additional precaution against high winds. Depending on the kind of extreme weather event, like wildfires, you can hitch up your THOW to evacuate to safety.
But getting good insurance is essential, no matter the kind of tiny home you decide on.
Can Families Live in Tiny Houses?
If you have a family, living in a tiny home may seem a little wild. Many families are happy to live in tiny houses, especially those with one or two kids. A lot of it has to do with thorough design planning to ensure you can meet everyone's needs now and as the children grow.
Privacy is the most common concern shared by those families exploring the idea of living tiny. Professional designers/builders have developed creative layouts to accommodate fully or semi-private bedrooms to address this. Families also need a comfortable living room, ample kitchen/dining, and plentiful space storage.
It's totally doable, but achieving all of that requires creative custom solutions and a larger tiny home. As a result, the price tag will likely be on the high-end.
If you can afford it, your family can construct a cluster of tiny houses. One house for all of the bedrooms, for example, a second house for the kitchen and communal living area. Alternatively, one structure could be for the children, another for the adults, and a third for the shared space.
This kind of arrangement could be appealing for teenage children. Creating something like this is ideal for a homestead. So, existing family-owned property or a land purchase would be needed.
Before Buying a Tiny Home
Making any type of large purchase can be nerve-wracking, especially if it's a home. Downsizing to a tiny house can also be intimidating, but if you can declutter and afford it, you may possibly have the adventure of a lifetime.
Learn more in our book, The Beginner's Guide to Tiny Houses.
Digital Magazine Dedicated to Tiny Home Living
Do you have more time at home? Enjoy some inspirational reading from Tiny House Magazine!
Discover different types of tiny homes from liveaboard boats to Alaskan yurts, converted school buses, and more.
Try recipes from a tiny house kitchen. Each month we feature a recipe from the Tiny House Foodie. Learn to make it work and still cook like a pro.
Read excerpts from books on tiny houses, downsizing, and a host of other related topics.
Each month brings new topics and new, exciting articles!