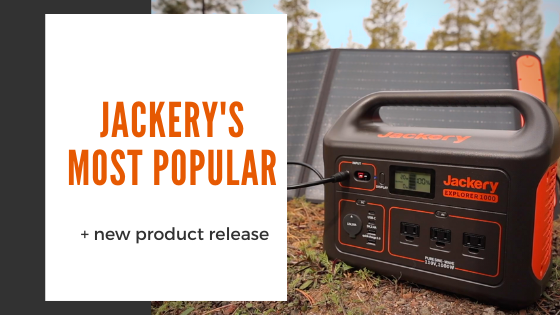 2022 Jackery Solar Generator 1000 Review
Tiny Stuff! Simple & Tiny Living Gear Review Series
In our latest Tiny Stuff product review, we try out the Jackery Solar Generator 1000. It's their most popular option.  We previously reviewed one of their early models, the Jackery 500 and folding 100W solar panel. They've created a power station with double capacity but only a few inches larger in just a couple of short years. Mind-blowing.
So what do we mean by a solar generator? It is an all-in-one electrical system that includes a battery, charging system, inverter, and AC/DC outputs.  With that said, the Jackery Solar Generator 1000 is actually composed of 2 primary components: the Explorer 1000 Portable Power Station and SolarSaga 100W Solar Panel.
These two units contain a built-in inverter and MPPT charge controller. Importantly, it has a 1002Wh lithium-ion battery capacity (21.6V, 46.4 amp) with 1000W Rated Power.
Currently, the Solar Generator 1000 is considered the best value Jackery model because it provides excellent flexibility due to its compact size, substantial power capacity, and faster solar recharge times. We tried it out to see how it holds up.
Watch the review above to see the Jackery Solar Generator 1000 in action!
Additionally, we share its top benefits and limitations. For instance, the lifespan of the portable power station is at the top of the line compared to other lithium-ion-based competitor models. But that's just a fraction of what's available from lithium-polymer battery options (LiPo) and stand-alone battery systems.
Will the Jackery move to LiPo technology? Find out on Jackery Day, May 12, 2022, at 8 pm PDT.
Watch worldwide live stream product release on their official website and social media here.