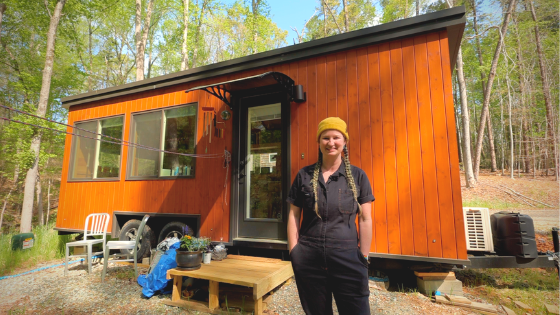 Her Single Level Tiny Home for Authentic Living
Meet Tyler, a new single level tiny home dweller. During the pandemic, she reevaluated and shifted her lifestyle priorities. She uncovered a yearning for simple, authentic living. So Tyler returned to her previous tiny homeownership dream with a preowned house in her budget. Fortunately, she secured one of the seven available legal parking spots at the new Cranmore Meadows. Living in a supportive community of like-minded individuals helped her fulfilling embrace being herself.
"I'm finally in a space where I'm discovering who I am or what I'm about. Because most of my life, I think I've been doing the things I thought I was supposed to do and now actually doing the things I feel drawn towards like this is the life I should be living.

The work that I was doing prior to this did allow me to save up the money I needed in order to buy this place, which I'm very thankful for. What I was also able to realize, 2020, the pandemic, a lot of priorities shifted for a lot of people, and that was the same for me as well. Where I was like, "hold a second, what's going on".  And it even got to the point where I was like this environment wasn't a healthy environment for me to be in.

So I had to take a pause from that. The first step was shifting my mindset from, "ok, I'm gonna buy a house and do these things; it's not working out." I had put several offers in, and I couldn't really compete with any of the offers that were coming in, in the areas I was looking to live.

I think it all played out the way that it should. It allowed me to stop for a second and pause and say what are the things I really want in a home. And this really has everything I would want in a home."

-Tyler
Inside Her Single Level Tiny Home
Tyler's first discovered her single level tiny home on Tiny House Listings—the Vista Boho model by ESCAPE. The previous owners planned to use it as an Airbnb but changed their minds. Fortunately, they allowed Tyler to spend a night in it before making her final decision. She fell in love, of course.
Her ESCAPE tiny home has a 22-feet long living space by 8.5-feet wide and 10-feet tall. In total, it's about 187 square feet. It feels surprisingly open and airy for such a small single-floor house. This is largely thanks to its many huge windows. Additionally, the layout is quite efficient with allowing ample room for comfort and storage.
With help from her dad, Tyler customized her tiny home to better suit her needs and her cat, Niles' needs. For instance, she added a folding shelf above her cooktop. A air fryer/toaster oven fits perfectly (what she uses most for cooking). And for Niles, Tyler added a kitty loft with a heated pad. He absolutely loves it!
Watch the tour of her single level tiny home above to see more!
Thanks to our sponsor, Skillshare! ​The first 1,000 people to click here will get a one-month FREE trial of Skillshare.
Tyler's Neighbors at Cranmore Meadows