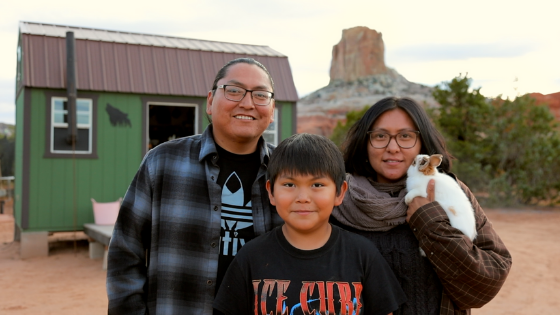 Off-Grid Shed Tiny House in Navajo Nation
A return to the old ways for more fulfilling life
Meet Vernita and Travis, Navajo homesteaders in northern Arizona living in an off-grid shed tiny house. They returned to the Navajo Reservation to seek a life filled with experiences and family overworking just to pay the bills after moving away and struggling. A tiny house documentary inspired them to pursue a simple lifestyle on historic family land. However, Vernita points out that this isn't a brand-new concept—many Natives live tiny and without power or running water.
"It felt like most of our time that we had was just working. We would try to keep up with bills is what what we were working for; we weren't living. And now that we live this way, it's like most of our money is going towards things we want to do, traveling, things we want, or things our son wants to do like events.

There was a time in our life where it was really stressful, and we did only have $10 to our name for dinner and gas and stuff. It was just nuts. And it felt like we were going to go homeless if don't keep paying stuff. I'm glad she saw that documentary.

Now, this just feels right for us. It feels like we were groomed to live this way. It's like a lot of weight off our shoulders right now from the way we lived before."

-Vernita & Travis, @our.tinyhouse
Inside Their Off-Grid Shed Tiny House
Travis and Vernita converted a 10-ft x 16-ft shed into a 160 square foot tiny house. Turning the shell into a full-functioning home cost them less than $10,000! However, it doesn't include a bathroom. They opted for an outdoor shower and outhouse. After growing up this way, indoor bathrooms feel strange to Vernita.
Everything inside their off-grid shed tiny house is handcrafted. Flexibility to adjust the layout, as needed or desired, was a top priority for them. So all their living room and kitchen can be completely rearranged. Wheeled counters make it easy. The two ladders situated in the center of the home lead to the sleeping lofts. Their opposing installation ensures that no one gets trapped, which happened in the past when they only had one!
Watch the tour above to see her off-grid shed tiny house in detail!
Follow Travis & Vernita's tiny home life on Instagram, @our.tinyhouse, and their small business here.
Thanks to our video sponsor, Kamikoto!
Get $50 OFF their Japanese steel knives with code: TinyHouseExpedition at https://Kamikoto.com/TinyHouseExpedition
Have you ordered our book yet?
Learn the history of the modern movement, get a breakdown of tiny home styles, and meet the passionate tiny community. The Beginner's Guide to Tiny Houses also discusses the pros and cons of micro-living―is a tiny house right for you, right now?
What people are saying:
"Most books about tiny homes are really just about the fantasy, with beautiful pictures in far-off places, but they don't tell you how to get from point A to point B. That's where this book comes in and fills in all the gaps!"