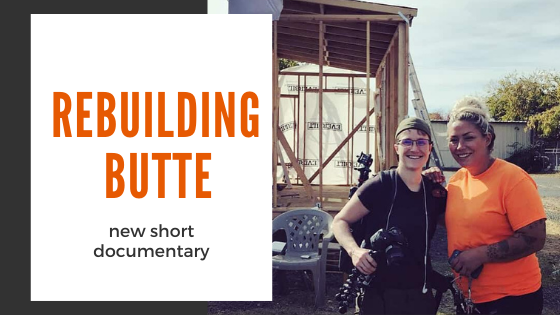 "ReBuilding Butte" – A Short Tiny Home Documentary
Featuring Tiny Homes for Fire Survivors
Rebuilding Butte filmmaker Amanda Lipp spent years documenting the amazing heartfelt tiny house building project in response to the deadliest fire in California history in 2018, The Camp Fire, that destroyed Paradise and surrounding Butte County communities. Her short documentary follows Alyssa Nolan-Cain, a local resident and mother of three who learned how to build tiny homes by watching YouTube videos. The build site became a place for recovery and community when it was most needed.
Alyssa's brave and bold effort to build tiny homes for fire survivors spawned a nonprofit Tiny Pine Foundation for disaster relief and emergency housing initiatives across the Pacific Northwest.
Keep scrolling to learn more about the upcoming virtual premiere!
Rebuilding Butte is dedicated to all those who experienced loss from fire.
"When I first learned about Tiny Homes for Fire Survivors, I volunteered as a builder. This evolved into a two-year filmmaking journey and discovering that tiny houses have become a "tiny but mighty" solution around the world in response to major social and environmental issues we face today – like homelessness, reducing our carbon footprint, and families navigating displacement from wildfires. I'm fascinated by trauma and how people persevere at all odds. My goal as a filmmaker is to tackle tough topics in a hopeful and uplifting tone."

-filmmaker, Amand Lipp
Join the virtual premiere of
Rebuilding Butte
on November 8 at 6pm PST. Before watching the film over Zoom, the filmmaker will host a short program to hear from our guest speakers from Tiny Home Magazine, Clif Bar, and Chegg.
Virtual Premiere Agenda:
Welcome from Filmmaker, Amanda Lipp
Guest speakers: Tiny House Magazine, Clif Bar, Chegg
Watch the film together over Zoom! 25 min.
Thanks to our crew and donors
Update from Alyssa Hofman, Founder of Tiny Homes for Fire Survivors
Audience Q&A
Have you ordered our book yet?
Learn the history of the modern movement, get a breakdown of tiny home styles, and meet the passionate tiny community. The Beginner's Guide to Tiny Houses also discusses the pros and cons of micro-living―is a tiny house right for you, right now?
What people are saying:
"Most books about tiny homes are really just about the fantasy, with beautiful pictures in far-off places, but they don't tell you how to get from point A to point B. That's where this book comes in and fills in all the gaps!"