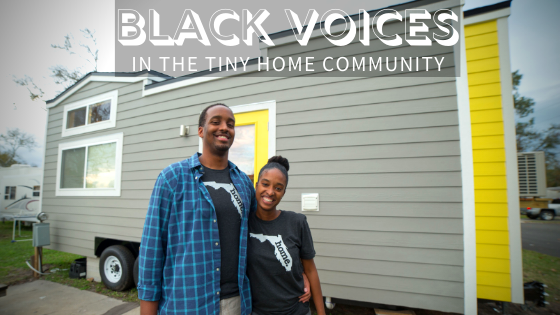 Sharing Black Voices in the Tiny Living Community
We have lived as nomadic tiny dwellers for many years. One thing we never really experienced in our travels is fear— definitely not fear of police harassment because of the color of our skin.
But unfortunately, for People of Color, that's not the case. Fear is all too normal.
Black skoolie dweller and yogi, Iana Sundari Leufray, describes a fearful overnight parking experience in her compelling new blog post.
Though we will never understand, we hear you Iana and stand with you. We stand with all Black Americans, Indigenous and People of Color who continue to be oppressed by systemic racism.
Black Voices in the Tiny Living Community - Follow Them & Get Inspired!*
*A small selection of many wonderful voices
Living Tiny with the Bushes
Ko & Marek paid off $125k worth of debt in 24 months! Subscribe to their YouTube channel and follow them on Instagram for financial advice, insights in their tiny living experience, and some delightful silliness.
Today they released a powerful, moving, and frankly heartbreaking video. They share their thoughts on the murder of George Floyd. Please watch for an important perspective.
"Black Lives Matter Too. Black Lives Matter Also. Black Lives are part of All Lives. However you prefer to read it, we pray to God that people would start acknowledging it. Another unarmed black man, killed by police. This HAS to stop. Our prayers go out to George Floyd and his family! May God rest his soul and comfort his families hearts in this unbelievably tragic time."

-Marek & Kothney-Issa, Living Tiny with The Bushes
Off the Grid With a Kid
Bionca and her 11-year-old son, Carter, have embraced van life as way to explore the world while pursuing their passions. Learn more here.
"Our van is not just our vehicle and home on the road. It's is a symbol. ❤️ A symbol of freedom, diversity, connection, healing, and peace.
🌍
We want to thank you all for supporting a small business that started and is primarily ran from this van.
❤️
With every sale, we are showing proof that people in several communities can come together economically to support a bigger journey we all can't see right now. My mission is to get to philanthropy. I'd love to see our brand get to a point where we can rebuild and financially support our nonprofit @bullybarricade."
Elizabeth Singleton, founder of nonprofit Build Us Hope and Tiny House Developers Inc.
Elizabeth is a longtime advocate for the homeless, disabled, and mentally ill. Over the past few years, She has led various tiny home community projects for the housing insecure. For example, V13 is a tiny home pocket neighborhood for veterans in need of stable, affordable housing.
Additionally, Elizabeth and her team are active tiny house advocates in Arizona and on the National level.  Learn more about her work here.
Siri Lorece - Self-Care & Sustainability
A tiny home dweller and true Renaissance woman! Siri is an urban gardener, registered yoga teacher, podcast host, singer, and eco-conscious brand ambassador.
We got connected with her through LATCH Collective in LA. And we're so happy we did! She is an amazing source of daily inspiration on all the avenues mentioned above and generally being contagiously joyful.
"Though I have enjoyed performing at major music fests like River Roots live in the Midwest, to B.B. King's blues club in Memphis, nothing brings me joy like kickin' it with my 3-piece family as we plan and cultivate our urban family farm."

-Siri Lorece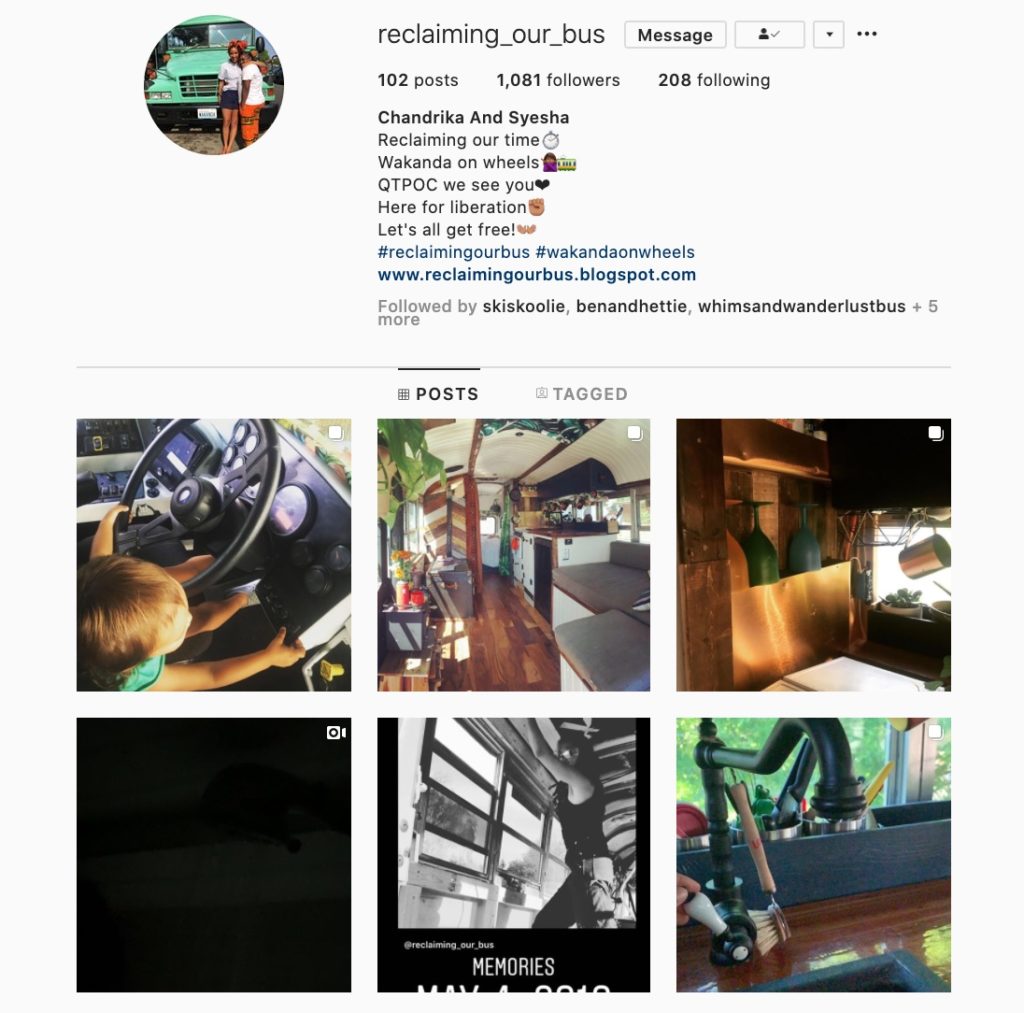 Reclaiming Our Bus
Chandrika and Syesha converted a school bus into a gorgeous tiny home. Together they've explored, reunited with old friends, and made new friends. Of the beauty they've experienced, they have also experienced prejudice.
"Alright ya'll.  We've had a lot of happy go lucky posts (because lets be real, this sh*t is awesome) but time to talk about the underbelly of #buslife.  Get your snack of choice and get comfortable.

For us, it's not the mostly minor inconveniences that surface when living in a small, mobile space.  Sadly, the real downside is increased interaction with bigots and the systems that uphold their inability to see other people as humans.  It's this reality that had many of our elder Black family members hesitant and fearful for us to take on this journey.

The identity of being both woman and Black (and though it's not as visible, lets not forget queer!) has us constantly interacting with people who are willfully blind to our humanity.

This is nothing new.  However, by choosing to live on a bus, we are now part of a community that is also often seen as less than human (read, homeless).

It isn't until someone sees the inside of our bus or talks with us that they realize we have a higher income and higher education (read, we have relative power). The change (or lack of change) in their demeanor and level of respect is deeply revealing.

When property rights are more important than basic humanity, then there's a 100% chance that the three musketeers - the patriarchy, white supremacy, and capitalism - are up to their antics again.  Genocide, slavery, and land theft were all committed without a second thought in the name of property rights of white men.  Few things are more holy in this country.

So what does this mean when you're occupying a body that was once seen as property, and occupying a bus that is parked on property you don't individually own? How do systems of oppression show up in #buslife?  Keep reading.

"February: We stopped at the local post office for 10-15 minutes to pick up mail.  A man comes rushing up to our bus, gives us a once over and pauses, unsure how to proceed. "Oh, I thought maybe you were…It's just we've had some problems around here.  It seems like you're fine though, never mind." And he trots off to wherever he came from.

So much unsaid, yet the message was clear. 'I thought you were homeless, so I was going to harass you.  Now that I see you are not homeless, I will treat you like any other human being who is minding their business not breaking the law.'

August: On our California trip we stayed a night at the Malibu RV Park.  An expensive, squished, but conveniently located RV park overlooking the Pacific Ocean.  On the morning of our second day, we were bombarded by an aggressive, dismissive, and downright rude manager who demanded that we leave because "conversions weren't allowed" there.  He suggested we try parking along the highway (read, with other riffraff). Never-mind that we are registered (and legally recognized) as an RV, or the van conversions in the lot, or that we were the only Black people in a two mile radius.

September:  Today I drove my bus to work where I teach swim lessons.  With 8-10 businesses tucked in a mostly residential area, the lot is never full. Four hours later I came back to find the bus towed.  I faced both a $627 bill, as well as argumentative, dismissive, and you guessed it, downright rude property manager and owner.  Never-mind that I work there, or that the lot was nearly empty, or that I got no written or verbal warning or request. Never-mind that if I was who you thought I was when you called the police (read, poor), this ticket would have ruined my life, rendering me completely homeless.

There is so much more to unpack here than can fit in an Instagram post, but two of our biggest remembrances while being black, woman, queer, and living the #buslife.

We. Need. To. Get. Our. Own. Land. The spaces where you're treated like a human are the spaces you have privilege. Use it."