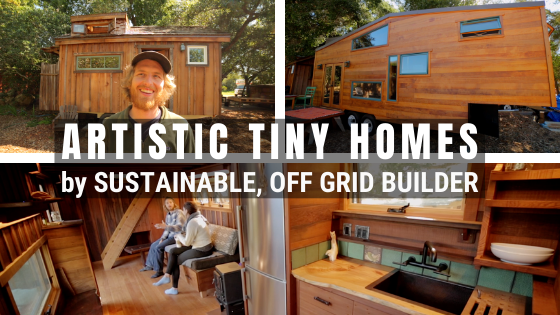 Two Stunning, Artistic Tiny Houses by Off Grid Builder
We share a throwback video to our visit with a sustainable tiny house builder Ryan O'Donnell in Ventura, California.
He is an incredibly talented artisan yet down-to-earth, like his business name Humble Handcraft. In our latest tour video, we share two of his artistic, handcrafted tiny houses.
They're infused with a stunning mix of salvaged materials, reclaimed wood, and artisan-made fixtures. He also uses non-toxic finishes.
What also makes Ryan's work so fascinating is that it's built entirely off-grid. He uses solar power and a backup biodiesel generator to power the entire tiny house construction process.
This all part of his Green Initiative:
"Our philosophy starts with an attempt at full-circle sustainability in building. By using ethically sourced materials and supporting solar energy, we minimize our carbon footprint."
Featured Tiny Houses:
Los Padres gooseneck tiny house, 238 sqft - 28'x 8.5' x 13.5'
Chiefs Peak (the OG Humble Handcraft, 170 sqft - 20'x 8.5' x 13.5'
Exclusive Content
Monthly LIVE tiny living discussions with extended Q&A, plus BONUS content, like behind-the-scenes filmmaking and tiny home life insights.
Early Access
See new videos first, get first dibs on new online courses and more!
Exclusive Giveaways & Discounts
Win tiny living festivals passes, and more!
Join today!