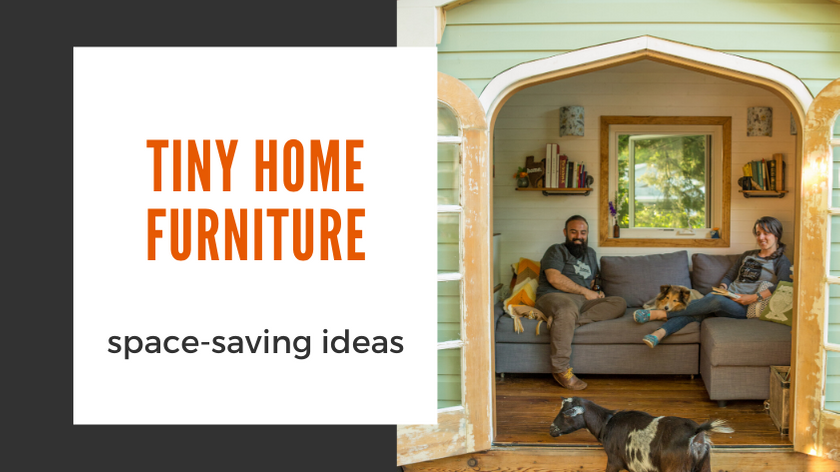 Space Saving Furniture to Get the Most of Your Tiny Home
Space-saving furniture can make a tiny home feel plenty large enough, all while making sure you live in comfort.
Having a small home doesn't mean that you need to sacrifice pleasures in the interior of your home. Instead, all it means is that you're just going to have to be smarter with the way that you use the limited amounts of space that you have.
In this article, we'll teach you how to do exactly that. We'll introduce you to a few specific kinds of space-saving furniture that you can leverage in your tiny home. You'll be able to set up the functional, lovely interior that always dreamed of with even the most limited of spaces!
Keep reading for tips and ideas!
Custom Built-Ins
The very best way to maximize your tiny home efficiency is through custom built-ins. Firstly, your open floor space is typically between 120 and 400 square feet (excluding any lofts). Then divide that up into the living area, kitchen, and bathroom.
Each room is now 40-133 square feet each, assuming you have a sleeping loft. Now mentally furnish these spaces. It seems almost ridiculous to imagine how you could fit everything you need into such micro footprints.
With completely custom tiny home space saving furniture, you more easily meet your needs with tailored solutions. 
That's what we did in our 130 square foot tiny home. Every inch maximized via our built-ins, like our couch. It provides a comfy seating area and is prime storage space.
Underneath the seating area, it features two deep drawers, perfect for linens and off-season clothes, as well as an open compartment for dog supplies.
Though, there are downsides to built-ins.
For starters, furniture building for a tiny house can require fine carpentry skills. So unless you're an experienced carpenter, you might want to hire out, which can be more costly than store-bought furniture.
When it comes to tiny house seating, the expense is two-fold: the structure and the cushions. To give you a better idea, we were just quoted $800 for upholstered, high-density foam cushions for our built-in bench seat couch. Ouch!
That's as much as or up to 3 times more than what's on the market.
Searching for Space-Saving Tiny Home Furniture
Most readily available furniture in physical stores just won't work in a tiny home. Online shopping is your friend!
Fortunately, there are more options than ever before. Search for "small space furniture" or "small apartment furniture," many of which will work for a tiny house.
Ultimately, you want an attractive, cozy space to enjoy daily living functions, like chilling, eating, and sleeping. The goal is to accommodate these needs while minimizing any storage sacrifices.
For example, don't want to have to choose between a plush couch and having enough clothing storage.
Maximize the efficiency of your tiny home with multi-functional furniture.
Importantly, when it comes to tiny home furniture, compact design is the name of the game. Also, look for any opportunity to save space with transforming pieces.
Convertible Sofa
The piece of furniture that often takes up the most square footage is the furniture that you sleep on. If you're looking for a bed solution that is both comfortable, chic, and space-saving, then you need to check out using a convertible futon.
The convertible sofa can be laid out in a full bed. But in just a few seconds, it can be folded into a space-saving couch. This easy transformation will be sure to save a bunch of space in your bedroom.
Staircase Drawers
Staircase drawers are an essential bit of transformation furniture that you can get from brands like Kor-Pak. With this type of furniture, you turn the underside of each stair in your staircase into a drawer.
Storage compartments can be hard-to-reach but by making them into drawers it becomes much easier to access.
Storage space is always hard for houses with lower square footage. With this furniture idea, you'll be saving space without having to sacrifice storage.
A how-to guide for under stairs storage drawers for small spaces:
Fold-Out Dining Table
Another great idea to save space with your furniture is to use a fold-out dining table that is mounted on the wall. When not in use, the dining table just lies against the wall with its weight supported by a hinge.
But when mealtime rolls around, all you need to do is fold out the dining table and put a structural support underneath to help hold the weight.
And presto! You have a full-size dining table that can be tucked away neatly.
The only downside here is that it does occupy limited available wall space. To minimize the sacrifice, look for multi-functional options that can also have storage built-in or can serve as a desk.
Make the Most of Your Interior with Space-Saving Tiny Home Furniture
There you have it — now that you know some different space-saving furniture options available to you, all that's left is for you to go out there and pick out the right choices for your tiny home!
The right small space furniture can totally revamp your interior without requiring any kind of additional space.
If you're looking for more home improvement advice, then you're in the right place! Check out the rest of our blog for more tiny home articles.
Find Your Perfect Plans for Your Dream Tiny House!
Browse this amazing, growing directory of tiny house plans—all on sale for a 5% lower price than other places on the web.
Plus, every plan comes with over $200 in FREE bonuses, including a comprehensive how-to build a tiny house digital workshop!