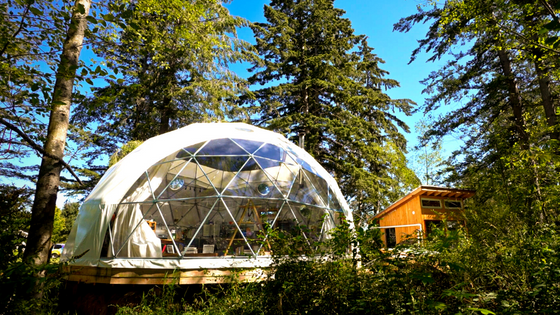 Their Enchanting Dome Home in Woods
Meet Evan and Sam, who live in a 30-ft geodesic dome home on a wooded homestead in northern Washington. For them, this kind of small space home felt like the best of both worlds. It's an alternative affordable homeownership opportunity like a tiny house on wheels, but with more room for all their hobbies. While they learned some hard lessons from their first winter in their geodome, they love their simple lifestyle close to nature.
"Alternative living, for me, is kind of being more in tune with nature and being closer to the land, and being in the dome, we are hyper-aware of nature, what's happening outside. When it rains, it's very loud in here but also very meditative to get that beautiful ripple sound and the way that we just kind of have to interact with the land.

We have to think about it more than you would in a house. And I really love that.

Early relationship, we went camping and hiking all the time, and that has just kind of evolved with us. And now, like when we were building a dome, it was like being two steps away from camping. Like, we're in a tent kind of, but we have all of our stuff, and we're comfortable.

Yeah, and some people would just say glamping."

-Sam & Evan, @ebog.arts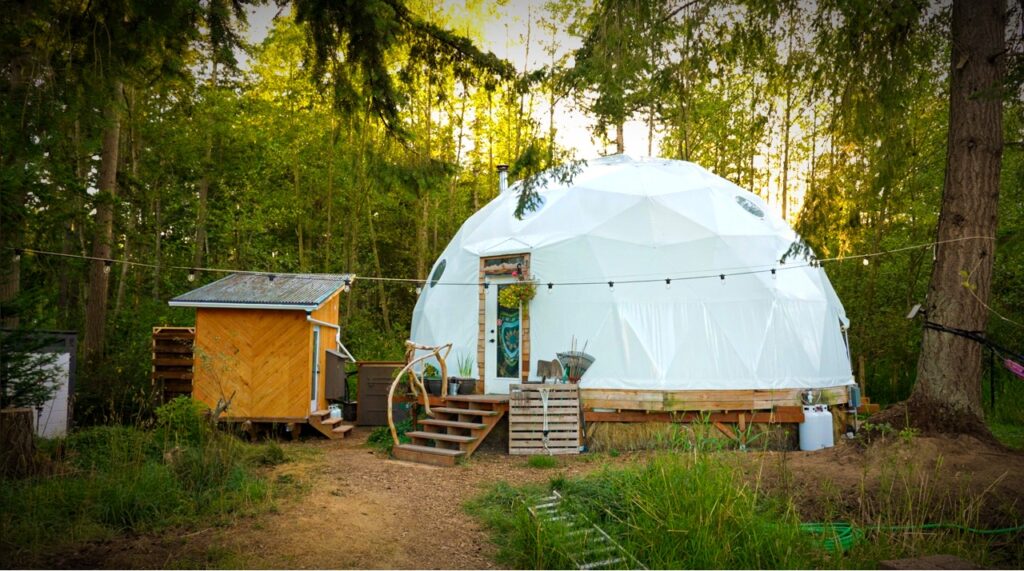 Similar to tiny houses, where to put their dome home was a concern, especially because purchasing land wasn't a financial possibility for them. So Evan reached out to a friend with rural property to ask about renting space. Fortunately, he was immediately into the idea.
"We pay $500 a month here for our space. We help with chores around the property when needed, like taking care of the chickens and the ducks, putting away the goats at night."
Inside their 30-foot Dome Home & Bathhouse
After much research, Sam and Evan chose a 30-foot geodome kit from Pacific Domes. It comes to about 700 square feet with 15-foot ceilings, big bay windows, and a huge skylight. After clearing an overgrown corner of their friend's property, they built it on a post and beam platform made out of treated lumber.
But first, they built a vaulted outhouse for easy bathroom access during the build process. Next, the dome kit went up with the help of friends. After finishing out the interior, Sam and Evan built a luxurious bathhouse next door. Inside their dome home, they enjoy running water for the kitchen sink but have no indoor bathroom facilities.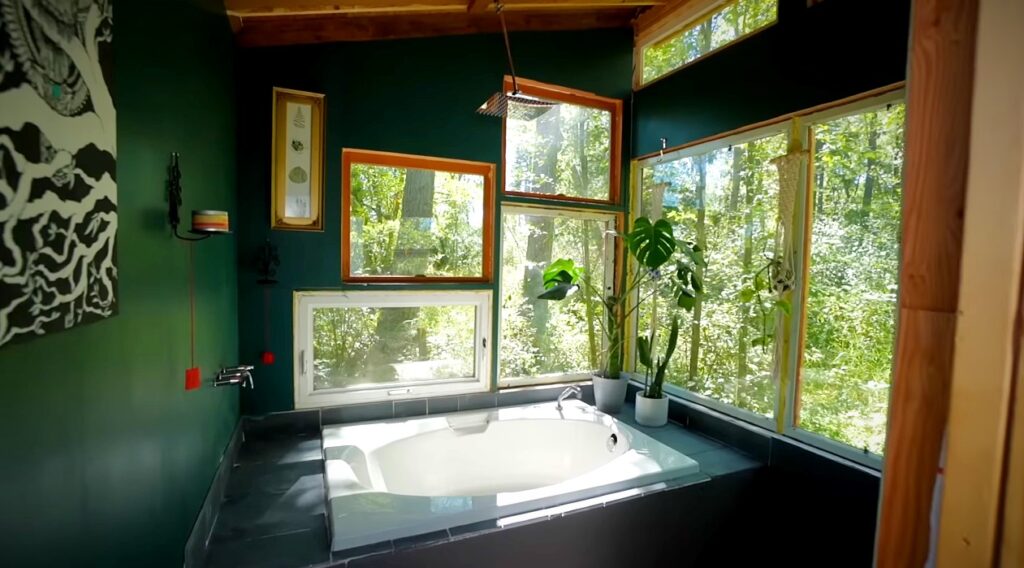 Due to the circular nature of their dome home, the interior is laid out like pizza slices. They established zones for different "room" functions. No walls or barriers make it feel very open and airy. The main living space is the center of the geodome with a giant half-circle window wall offering an enchanting view into the woods surrounding their home.
Evan and Sam changed their primary heat source to a large pellet stove. After struggling to keep up with their wood stove heat last winter, this is a low-maintenance welcome change. They can load it with a 40-pound bag of pellets, which will burn for up to 17 hours on the low setting. If on the high, it'll burn for roughly eight hours. This is one of the many lessons they learned from their first year in their dome home.
"I've said it 100 times, but instead of trial by fire, we got trial by ice.

So we hadn't insulated our floor, and we didn't get the insulation kit that Pacific Domes offered because we couldn't afford it at the time. So we're like, well, we'll just get a really big wood stove.

And so we did, and it was just hard. We have 16-foot ceilings. All the heat kind of goes out the ceiling, so heating, yeah, I agree, was probably the biggest disadvantage, and it's fixable. It's something we're learning and working on. We have a plan."
Watch the tour above to see more of their enchanting dome home!
Thanks to our sponsor, VANKYO Leisure 470 pro, the world's smallest native 1080P projector! Save $20 off with code: TinyHouse: https://bit.ly/3rDEq7A.