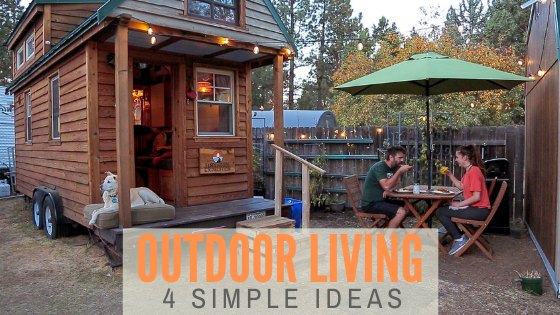 4 Simple Ways to Transform Your Tiny Home Outdoor Space
Expand your living space & enjoy more sunshine in you tiny home outdoor space with these tips.
The tiny house movement has been gaining traction across many parts of the world. In the U.S. alone, there are more than 10,000 tiny houses. The appeal of a cozy, affordable home with a smaller carbon footprint and a minimal mortgage is too strong to ignore.
Despite this rising phenomenon, many people are still skeptical about switching to a tiny home. One of their biggest concerns is how they will adjust to living in limited space after staying in lavish homes all their lives.
What if you start feeling restricted and suffocated after living in your tiny house for a few days? How would your kids adjust to the idea of having less space to play and move around? Can you manage to invite your friends and extended family for a hearty meal during the holiday?
If these questions have been racing through your mind, we've got you covered.
Here's the thing - living in a tiny home comes with a few limitations and setbacks. But clever utilization of the available space can go a long way to ensure that you continue to live your life the way you used to.
While you'd focus on maximizing space inside the house, it's a good idea to take a thorough look at the outdoors. The space outside your tiny home offers immense potential for transforming the property into an oasis of joy and comfort.
How, you ask? In this blog, we'll discuss a few simple techniques to utilize the space surrounding your house.
Let's get started on transforming your tiny home outdoor space.
Get the Basics Right for Your Tiny Home Outdoor Space
Before you start revamping the outdoor space, you need to understand why you're doing it. Do you want to add a touch of greenery to your living space? Or are you looking to create a place where you can enjoy picnics and parties with your loved ones? How about making some space to show your top-notch culinary skills?
Your answers to these questions will determine the type of space you should create outside your tiny house. For instance, if you'd like to feel closer to nature, adding a vertical garden would be a great idea.
This is also a good time to consider the type of furniture you'd like to get for the outdoor space. The key is to get space-saving furniture items that can be used for multiple purposes. For instance, a nested oak table would be great for laying out a wholesome Thanksgiving spread. Or you could use it to hold the pots and planters in your container garden.
Now that this is out of the way let's explore a few ideas to create a more habitable space outside your tiny home.
1. Add a Vertical Garden
So what if you don't have acres of empty land around your house? It shouldn't deprive you of the joy of creating a picturesque garden on your property. A bit of creativity and some hanging planters are all you need to start building your own vertical garden.
Apart from flowering plants, you could try growing vegetables, such as peas, beans, and bottle gourd, that can grow upward on walls. Ensure you choose an empty wall, fence, or any other vertical surface that receives ample sunlight.
2. Create a Container Garden
If you can be slightly more liberal with space, building a container garden is a great idea. It ensures that you can move your plants around the property based on the season or when you wish to relocate. As with a vertical garden, you can try growing your own fruits, vegetables, and herbs as well.
3. Take Your Kitchen Outdoors
Is the constricted countertop of your tiny kitchen limiting your culinary prowess? You can always flaunt your chef's hat with an outdoor kitchen. All you need is a tabletop and a few kitchen appliances. Try using a barbeque grill or even a pizza oven to light up your family meals with some lip-smacking food.
4. Build a Dining Space
Of course, you've got a dining table inside your home to accommodate your family. But what happens when you want to enjoy a three-course meal with all your friends? An outdoor dining space is just what you need. Also, it's the perfect companion for your outdoor kitchen.
All you need is a couple of benches, tools, and a folding dining garden table. You could even try adding a few lounge chairs or other garden furniture sets to let your guests soak up the sunshine.
Have you used any other techniques to expand your tiny home into the outdoors? Share your suggestions in the comments section below.
Digital Magazine Dedicated to Tiny Home Living
Do you have more time at home? Enjoy some inspirational reading from Tiny House Magazine!
Discover different types of tiny homes from liveaboard boats to Alaskan yurts, converted school buses, and more.
Try recipes from a tiny house kitchen. Each month we feature a recipe from the Tiny House Foodie. Learn to make it work and still cook like a pro.
Read excerpts from books on tiny houses, downsizing, and a host of other related topics.
Each month brings new topics and new, exciting articles!