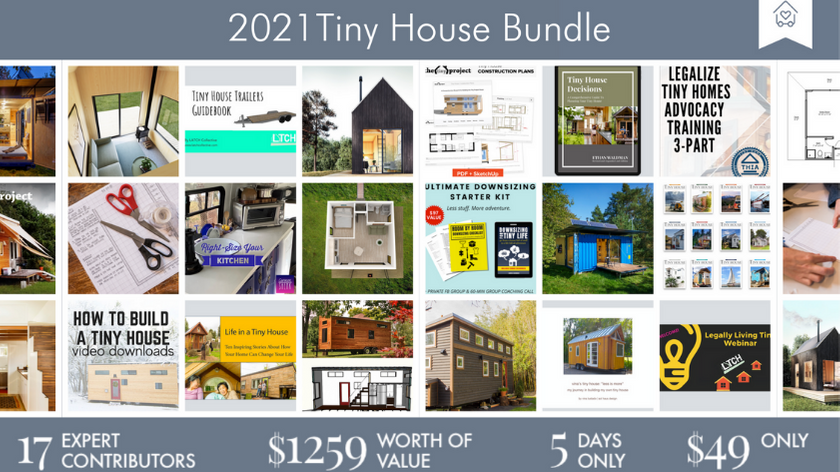 World's Best Bundle for Planning, Building, and Living Tiny is Now Available
Do you dream of living the tiny house lifestyle? Want to build a tiny, reduce your monthly expenses, and finally own your own home?
With all the craziness happening in the world today, you may be feeling even more motivated to pursue your tiny living goals. The 2021 Tiny House Bundle might just be what you need to help you achieve your debt-free and simple living dreams.
It's a collection of 28 Tiny House Plans, eBooks, and Courses worth $1,250, available for the next five days for just $49.
With the Tiny House Bundle, you get an unbelievable discount on numerous high-quality tiny house products, but it lasts 5 days total, with no exceptions. To be exact, the tiny house bundle ends on April 10, 2021, at noon EST. No exceptions.
Let's dig into what's included!
Here's the complete breakdown of what's included in the 2021 edition of the Tiny House Bundle:
e-Courses:
How To Build a Tiny House Video Series by Andrew Morrison
Legally Living Tiny Webinar by Latch Collective
The Ultimate Downsizing Starter Kit by Chris and Melody DiCroce
Right-Size Your Kitchen by Carmen Schenk
1 Year Tiny Home Industry Association Membership
Tiny House Plans:
Hikari Box by Derin Williams, Shelterwise
The Den Classic Tiny House by Den Outdoors
Gaia Container House Plans by Joshua Woodsman
Tiny House Construction Plans by Tiny Project
Stuga Plans by Shawn Dehner / DYGS
24' hOMe Digital Plans by TinyHousePlans.com
eBooks:
12 issues Tiny House Magazine by Kent Griswold
Tiny House Decisions Guide v2 by Ethan Waldman
Tiny House Design Exercise by Kenton Zerbin
Tiny House Trailer Guidebook by Latch Collective
Life in a Tiny House eBook by Billy Ulmer, PAD
Photo eBook for Vina's Tiny House by Vina Lustado
Altogether, that's over $1250 worth of tiny house courses, ebooks, and plans… and you get them all for only $49!
But this all goes away in just a few days. Get your 2021 Tiny House Bundle here!