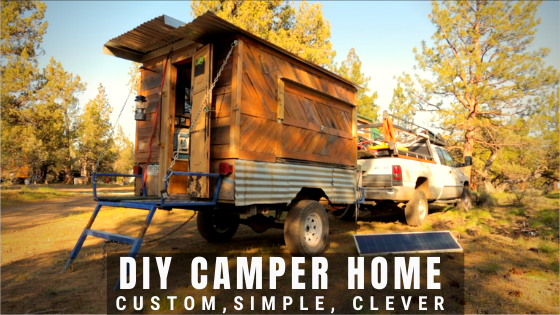 Nomadic Carpenter's DIY Custom Camper Home
Meet Keith, a nomadic carpenter who built a rad DIY custom camper home. We first met him when he parked next to our tiny house a couple of years ago. Then, he'd been traveling in his creative home on wheels for about a year. His cozy tiny home has a simple charm, mixed high and low tech.
DIY Custom Camper
Space efficiency is maximized with clever solutions in Keith's tiny home. For example, he made a multifunctional pull-out table. Keith enjoys doodling and writing down notes on the framed whiteboard. 
Keith's custom home on wheels is his ticket to outdoor adventuring between carpenter jobs. For him, life is best lived outdoors. Nomadic travels have also introduced him to many wonderful open-minded tiny dwellers and travelers. Follow his adventuring and new tiny house conversion business: @KeithCo
Exclusive Content
Monthly LIVE tiny living discussions with extended Q&A, plus BONUS content, like behind-the-scenes filmmaking and tiny home life insights.
Early Access
See new videos first, get first dibs on new online courses and more!
Exclusive Giveaways & Discounts
Win tiny living festivals passes, and more!
Join today!