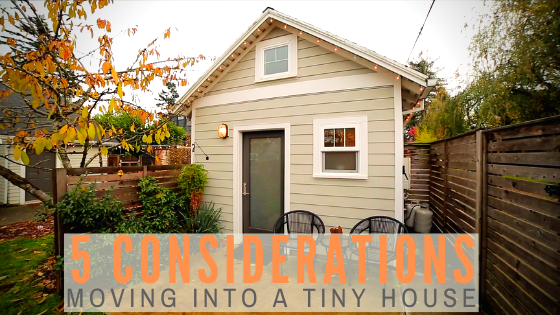 5 Things You MUST Consider Before Moving Into a Foundation-Based Tiny House
Key considerations for buying to transitioning into a foundation-based tiny house.
Tiny houses are getting a lot of popularity these days. Every day, you will see more and more people looking to move into one of these compact houses. While the idea of doing so is not bad, people often face difficulties when they first move into their new tiny home.
To help you understand what it is like, here are five things you should consider before moving into a foundation-based tiny house.
#1 Are you ready for the change?
If you are moving from one tiny house to another or have experience living in one at some point in life, adjusting to your new home will not be a problem. However, if you are moving into a tiny for the first time in your life, things can get a bit difficult, especially when you have to start making adjustments.
In comparison to your usual houses or apartments, a tiny house will offer very little space. You might have to let go of a lot of your stuff since you cannot make room for them all. You also have to learn how to arrange all your furniture such that the small space does not make you feel congested. If you want to move into a tiny house, you should prepare yourself for all these changes and a lot more down the road.



#2 Checking the local weather
Whenever you plan to move to a new location, you should always take local weather and temperature into consideration. You should also check the location's Air Quality Index (AQI) to understand whether or not the air over there is suitable for you. Moving into a tiny house without checking the local weather is something you should avoid.
When you check the weather, take a good look at how the seasons behave in that area. For instance, note down how hot it gets during the summer and how cool it feels when it is winter. Try to learn whether there is any chance that a storm might hit the place anytime soon or whether it is prone to any other natural calamity. Given the usual sizes of tiny houses, you should not take any chance with heavy rainfall, snow, or any other tough weather condition.
#3 Going for a minimalist interior design style
The interiors of tiny houses cannot be designed in the same way as you would design a normal house or flat. Given their compact look, you have to approach their interior in a minimalist manner. While it may sound boring, you can do a lot with a minimalistic interior in a tiny house.
The minimalist design will allow you to reduce the amount of furniture you need in the house, for starters. It will then help you accommodate all your stuff in storage areas placed throughout the house. A minimalist design also means that your tiny house will have just enough space not to make you feel congested. While designing the interior, be sure to take inspiration from other tiny houses. You can also share your ideas with the designer to see what they think and whether it is possible to comply with it or not.
#4 Have access to necessary supplies and facilities
No matter how great the deal or house is, there is no point in moving if it does not have reasonable access to necessities, like groceries and medical care.
Before buying the tiny house, check its location and see how convenient it is for you to pop down to the nearest grocery shop from your tiny house. While you are at it, you should also check how close the place is located to the nearest emergency room, police station, and other facilities that you might need.
#5 Visiting the site in person
It does not matter whether you are buying a tiny house or a regular one. You should always inspect the site in person before making the purchase. Not only is it a good practice, but it also allows you to understand what you are signing up for and how much renovation might be required.
When you visit the site, you should take a checklist with you to ensure it meets certain criteria. Firstly, the house and the site should have legal paperwork. Next, check the weather and nearby facilities around the place. Then you should look inside the house to see its condition and take note of places that might require some fixing.
Once you have all this information noted, you can go back home, think things through and then decide whether or not you want to make the move to a tiny house.
The Port Townsend EcoVillage's Hosts 2 Legally-Permitted Tiny Houses on Skids
Digital Magazine Dedicated to Tiny Home Living
Do you have more time at home? Enjoy some inspirational reading from Tiny House Magazine!
Discover different types of tiny homes from liveaboard boats to Alaskan yurts, converted school buses, and more.
Try recipes from a tiny house kitchen. Each month we feature a recipe from the Tiny House Foodie. Learn to make it work and still cook like a pro.
Read excerpts from books on tiny houses, downsizing, and a host of other related topics.
Each month brings new topics and new, exciting articles!