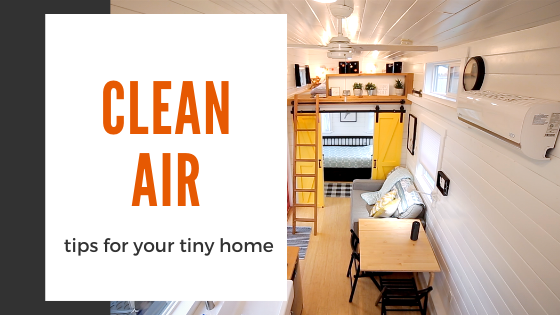 How to Ensure There's Clean Air In Your Tiny House
Don't underestimate the need for clean air in your tiny house.
Tiny homes are becoming increasingly popular these days, and are especially common for people who want to go green, reduce energy use, and minimize their carbon footprint to the environment. One of the biggest benefits of tiny homes is that they are relatively inexpensive, compact, and easy to maintain.
However, quality indoor air is important to tiny homes as much as it is for conventional houses. Whether you are living in a tiny house on wheels, RV, or an accessory dwelling unit, it is important to ensure you have quality air circulating inside.
To ensure a healthy and comfortable interior, here are some tips for how to ensure there's clean air in your tiny house.
1. Invest In Air Conditioning
Living in a tiny home without proper insulation, heating, and cooling solutions can be a terrible mistake. You will need a way to protect yourself and your family from the extremely chilly and hot days of the year. The good thing is that there are many air conditioning systems for tiny homes to choose from. The options range from fans to mini-split systems, window ACs, and roof-mounted systems. Whatever you choose, make sure it is efficient in keeping your home cool and fresh.
2. Open the Windows Regularly
Even with a reliable ventilation system in place, you can't sideline the importance of windows. They promote air circulation by letting fresh air from outside into your tiny home. This helps prevent foul smells, dry air, and dusty air. However, make sure the windows are not letting pollutants inside your home alongside fresh air. On top of these, installing a range hood in your kitchen will also go a long way in removing the unpleasant smoke and kitchen fumes from your tiny space.
3. Avoid Dampness
To prevent the growth of mold and mildew, you will want to minimize dampness at all costs. This means air-drying your fabrics and upholstery outside or using a dryer. It also means ensuring no leaks, cracks, fissures, and other points where water could be trapped. Dampness is a common cause of foul smells, especially in smaller spaces.
Check out this guide about getting rid of window condensation that can also cause moisture problems in your tiny home.
4. Ensure Regular Cleaning
Finally, you will also want to ensure regular cleaning in your home. It helps keep air pollutants such as dust, smoke, dirt, and carpet mites at bay. This also applies to cleaning furniture, upholstery, rugs, and other items. The folks and Emerald CC in Dublin, Ireland, recommend working with an experienced carpet cleaner for the best results. Professional cleaning not only helps you get rid of stains and dirt but also helps eliminate odors that could have built up over the years.
Don't forget to follow a regular tiny house cleaning routine as well.
Clean Air in Your Tiny House
Good indoor air quality is among the most important things you can have as a homeowner. Tiny houses tend to even need it more. Luckily, the few points above can help improve your small dwelling's air quality, ensuring a healthier and more comfortable space.
Digital Magazine Dedicated to Tiny Home Living
Do you have more time at home? Enjoy some inspirational reading from Tiny House Magazine!
Discover different types of tiny homes from liveaboard boats to Alaskan yurts, converted school buses, and more.
Try recipes from a tiny house kitchen. Each month we feature a recipe from the Tiny House Foodie. Learn to make it work and still cook like a pro.
Read excerpts from books on tiny houses, downsizing, and a host of other related topics.
Each month brings new topics and new, exciting articles!