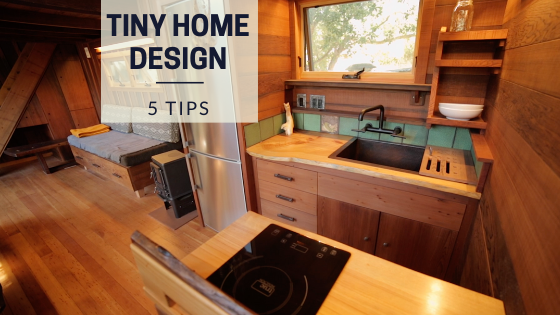 5 Unique Tiny House Design Tips Perfect for Your New Home
Sharing Well-Rounded Tiny House Design Tips & Considerations
The tiny home movement is taking the world by storm. More people are looking to a minimalistic lifestyle to find more substance out of the things that truly matter. While it's easy to get caught up in "keeping up with the Joneses," this lifestyle typically leads to unhappiness and indebtedness.
Living in a tiny home allows you to save money, travel, and live life differently. Tiny home living, however, is not without its difficulties. For one, there is a lot of downsizing that needs to happen.
For two, not many people know much about tiny home design. We're here to help you with this second obstacle. Keep reading for our top five tiny home design and decor tips.
Get Creative With Storage
One of the biggest issues about moving into a tiny home, as mentioned above, is finding space for all of your stuff. Obviously, a significant amount of downsizing needs to take place for the average homeowner, especially if there are multiple people in your family.
But don't worry, studies show that the average person only uses about 20% of their wardrobe. The same can be said about most of our other items as well.
However, even once you've downsized your possessions to the bare minimum, you can still have trouble finding a place for it all. This is why you need to get creative with your storage solutions in your tiny house design. You don't necessarily have the luxury of giant closets, garages, and attics to store extra stuff.
Creative Solutions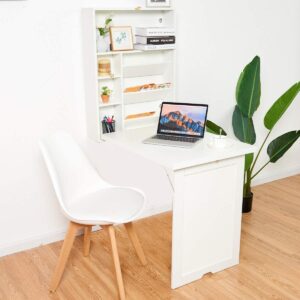 For things like tables, chairs, and desks, we recommend finding some unique fold-down options. While these items aren't in use, they should be easily folded up onto or into the walls.
If possible you should also try to use as much verticle or wall space as possible. Here you can hang shelves, build recessed drawers and cubbies, and more. In the kitchen, use this method for hanging things like pots, pans, mugs, and utensils.
Finally, consider custom building or buying multi-purpose furniture and other items. If an object can serve more than one purpose, it can eliminate the need for multiple items.
Don't Sacrifice Luxury and Comfort
One of the most important factors of tiny home design is learning how to live in a smaller space without giving up simple luxuries and comforts. For example, most people like winding down from the day or spending free time watching TV. Therefore, make sure your tiny home decor includes a comfy couch and a reasonably sized TV.
Speaking of electronics, you're going to want to make sure you find a reliable source of electricity. For off-grid flexibility, we recommend installing a solar system large enough to meet all of your energy demands.
Additionally, remember that the average person spends about 23-29 minutes a day in the bathroom. Though this room is mostly utilitarian, is still needs to be comfortable. Make sure you shower and/or bath area isn't overly cramped.
Finally, your tiny house design should include a warm and inviting bedroom, whether it's in a loft or downstairs. Create a sanctuary with warm lights and ample windows. Basically, avoid any cave-feel.
Consider Temperature Control
Temperature control is incredibly important when it comes to tiny home design ideas. While it might feel odd to hear that, functionally is a key part of small space living.
If you live in a more moderate climate, like parts of Washington and Oregon, you wouldn't have to worry too much about extreme temperatures. However, for your own comfort (and perhaps safety) you need to find ways to keep your tiny home cool and warm.
If your tiny home has a lot of windows and they're positioned in the right direction, you can heat your home relatively efficiently using the sun. However, you'll of course want a heating system such as a wood stove or other tiny house heaters.
As far as cooling is concerned, if you choose blinds or shutters with an insulation factor, it can help keep the heat out. You may also want to invest in fans or an air conditioner, like a multifunctional mini-split.
Once again, you need to think about how those things will be powered and how much space they'll take up.
Think About Convenience and Space
One mistake many tiny homeowners make is forgetting about convenience and the overall feeling of their space. For example, tiny homes, by nature, are quite small.
However, tiny house design shouldn't feel cramped or claustrophobic inside.
Try to maximize your headspace and keep the layout uncluttered to give the impression of openness. You should also limit the number of walls or barriers you put up. Additionally, use light colors on your walls, floors, and ceiling.
Your space also needs to optimize convenience. For example, don't store items you use daily in hard to reach places. Believe us, it gets old quick. Finally, make sure utilitarian areas, like the kitchen, provide plenty of room to move around and work.
Consider the Many Home On Wheels Styles
Lastly, if you're looking for an adventure, consider custom-building a tiny home on wheels. You have several options here, like converting an old school bus, renovating an old RV, or a van build-out.
While these options come with their own set of design hurdles, there are also many benefits to a tiny home design that's capable of travel. You could travel the world with your family without ever leaving your home behind. With solar systems, propane stoves, composting toilets, and other off-grid items, you could be free to park wherever is legal.
A van may be too small for you, especially if there are multiple people. However, a large school bus or RV can provide at least 270 square feet of living space. Though for a nomadic tiny house on wheels, think smaller and lightweight because fuel costs can add up quickly!
Ultimately, it depends on your goals and reasons for wanting to live in a tiny home.
Want More Help With Your Tiny Home Design
Living in a tiny home can have multiple benefits. You can save money, reduce your impact on the environment, and gain more freedom. However, we recommend doing your homework and taking your time when it comes to tiny home design.
If you're looking for more help, be sure to check out some of our other articles before you go. Our blog was designed to help people just like you trying to downsize their homes and upgrade their lives.
Browse our tour playlist for tiny home design inspiration for days!
Find Your Perfect Plans for Your Dream Tiny House!
Browse this amazing, growing directory of tiny house plans—all on sale for a 5% lower price than other places on the web.
Plus, every plan comes with over $200 in FREE bonuses, including a comprehensive how-to build a tiny house digital workshop!