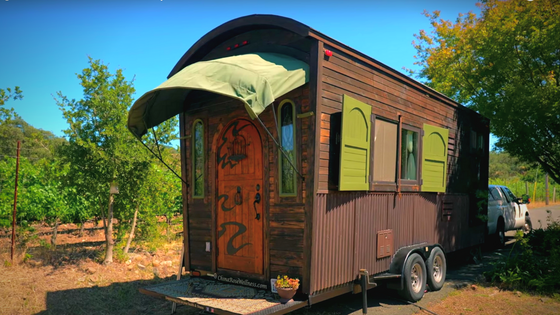 Artist Nomads' Vintage-Style Tiny House
Meet China Rose and AJ, nomadic traveling medicine women living in a Vardo-inspired, vintage-style tiny house. Their home on wheels offers them the freedom to live life on their own terms, grow their China Rose Wellness business, and the ability to express themselves as artists in their handcrafted abode. Over the past six years, they've traveled all over the US with their THOW. They host events, participate in festivals, and contribute to small farms through Workaway. Notably, that is their go-to resource for finding tiny house parking wherever they go.
"Aesthetics are very important to both of us. We're both artists. We love to create. And in terms of the vardo's style, I think as soon as AJ mentioned, yeah, and we can make it look however we want to, my ears perked up as like, I've always loved this old world vato, traveling medicine woman aesthetic, and very much into the art nouveau time period, in terms of using aspects of nature to inspire, shape.

And form and color influences, being very earth tone and warm. And having a lot of plants in our space was important to me. So something about it, it's almost like past lifestyle. Like I feel at home in this style.

Yeah, and I feel like, too the fact that we didn't want a bunch of chemicals, and we wanted to make sure it was made with sustainable materials. And it also goes with the aesthetic.

It just all works together.

That was the other thing. I'm just so glad we went for that rustic look. Because the first month you're out on the road, like dings happen, scratches happen. Like it's a part of living tiny and living mobile.

It looks like it's supposed to be there."

-China Rose & AJ, @chinarosewellness
Inside their Vintage-Style Tiny House
China Rose and AJ designed their 175-square-foot tiny home full of vintage charm. It's 24 feet long by 12.5 feet high by 8.5 feet at the highest point, and due to the bowed vardo-style roofline, it narrows down to 7.5 feet at the wheelbase. Inside they worked to create an open, inviting, homey feel with old-world flair.
To achieve this, they opted for an elevator bed, maximizing the vertical space while keeping the main living space open. Upcycled antique furniture brought their family history into their home while achieving a vintage look & feel. For instance, the buffet from China Rose's great-grandmother that's attached to the wall. It hadn't been used for quite some time, but now, they use it as clothing storage.
They used her great-grandmother's dining table and chairs for their dining area and our workspace. China Rose & AJ modified them to work for a tiny house:
"So in choosing furniture, we knew that we didn't want to go the cookie cutter kind of IKEA approach. We wanted it to feel like home right away. So my mom was actually gracious enough to let us use my great-grandmother's dining room set that was in storage. And it had been used for years and loved for years, but it wasn't being used anymore.

So we are using basically half of the table, both of the chairs. The table, actually, the legs fold up underneath it, and it folds flat against the wall when we're moving so that it protects it. And then, we also took the rest of the pieces of the table and made the cabinet above, which houses all my work equipment, my printer, all our paper and books, and all of that. And we use the buffet actually for clothing storage and shoe storage. It feels like my Nana's with me."
Additionally, they designed the house's functionality around their lifestyle with clever space-efficient features. They attached side tables to their bed frame, for example. These raise and lower with the bed, so they don't have to worry about forgetting stuff downstairs when we're ready to go to bed!
Watch the episode above for a full tour & smart upcycled furniture ideas!