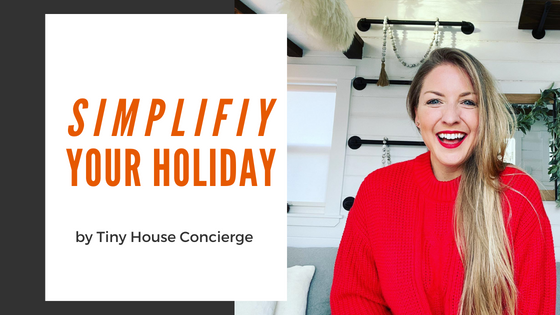 5 Ways to have a Tiny House Holiday That's *Actually* Simple
Hello Friends,
It's me, Alaska, aka The Tiny House Concierge. With the holidays just around the corner, I figured it would be a great time to give you a crash course in celebrating simply. Are you ready? Excellent.
Here are five ways to cut the chaos and enjoy all the good stuff- tiny house style!
Achieving a Truly Simple & Festive Tiny House Holiday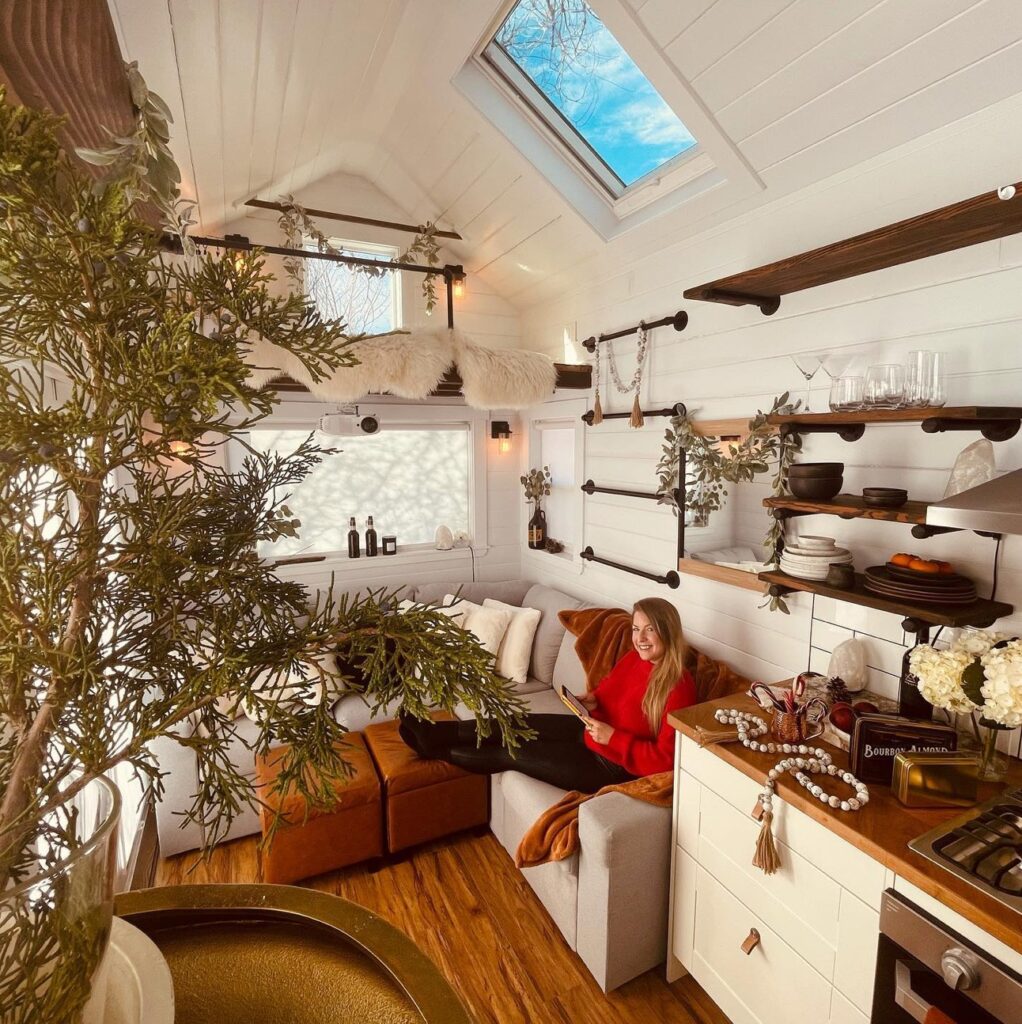 1) "Wrap" gifts differently.
Fact: presents look pretty when wrapped. 
Also, a fact: it's a little crazy that we take an item (that's probably packaged) and then wrap it in more packaging only to enjoy it for ten seconds and throw it all in the garbage.
This year, I suggest we forego this scenario in lieu of one that makes more sense.
Personally, I'll be tying an otherwise unwrapped gift with a ribbon and cinnamon stick and calling it good. Either that or I'll use swaths of velvet as ultra-luxurious, reusable wrapping paper. 
Who's in?
2) Ask your family what they want and get them that.
Before my tiny house life, I used to rush around for a month straight, trying to find gifts, stocking stuffers, and other trinkets for every single person I've ever known.
Never mind that I was using a credit card to make it happen.
Never mind that receiving gifts wasn't their love language.
Never mind that they had enough 'stuff' and the chaos, clutter, and cost were killing the holiday joy.
I thought if I didn't buy a ton of gifts, I'd be a terrible person. Realistically, though, I was spending money I didn't have to buy people things they didn't want and trashing the planet and my financial future in the process.
My tiny house lifestyle has since introduced me to a new perspective: I'm not just giving people gifts; I'm giving them responsibility. They will have to store, maintain, and ultimately dispose of the thing I give them.
So this year I'm just going to buy gifts for my immediate family. I will ask them what they want and get them that.
What if it was that simple?
3) Do cocktail hour instead of dinner.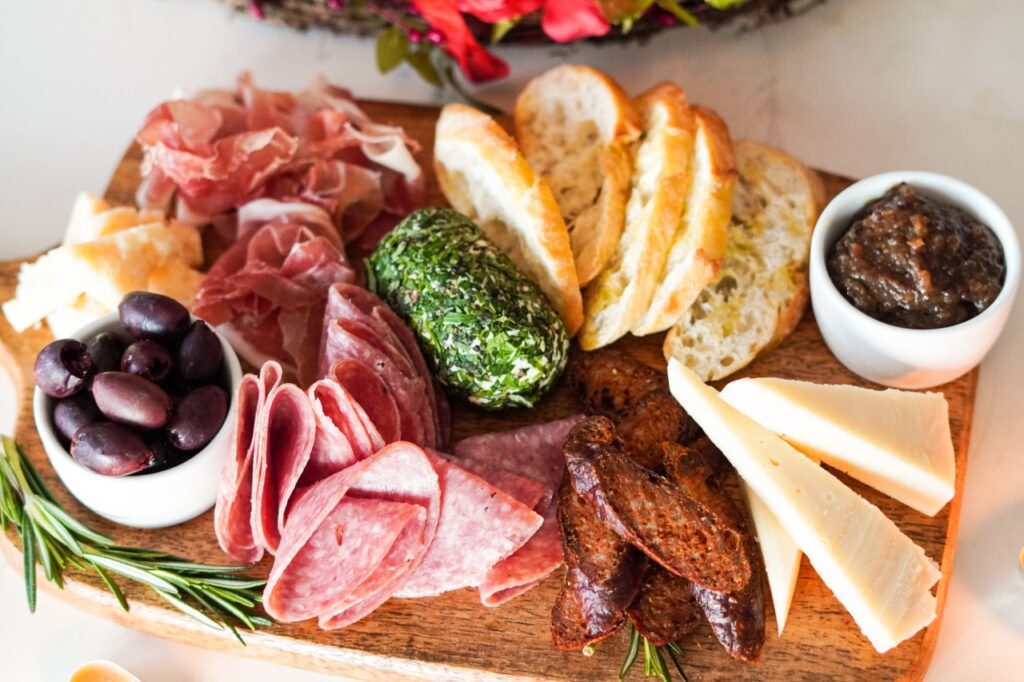 I'm about to tell you one of my family secrets, are you ready? 
My family doesn't have a Christmas eve dinner. Or at least not a big, complicated one.
Instead, we make a huge platter of smoked salmon, cheese, crackers, olives, and veggies with dip. Then we break open the champagne, and the whole thing ends with eating chocolates out of the box.
This tradition is great because no one has to cook, there's minimal cleanup, and everyone loves it.
Technically, we have a Christmas Day dinner, but believe me when I tell you that Christmas Eve is everyone's favorite. So this year, I'm vying to turn our Christmas eve cocktail hour into a two-day event. 
What do you think? Would your family go for smoked salmon, champagne, and no one on kitchen duty?
4) Decorate your tiny house with biodegradable holiday decor.
Once upon a time, in my holidays before tiny house living, I used to choose a different theme every year and buy new decor to match. This practice made Target richer, me poorer, and the world filled with more plastic. Oh, and it made my garage filled with more boxes!
Last year, I learned the glory of biodegradable holiday decor. Here's why it's great:
It makes the house smell good (without chemicals)
It brings life to the house 
It doesn't create waste
It feels super luxurious and fancy
You don't have to store it. Everything goes in the composting bin when the holiday is over. Easiest. Cleanup. Ever. 
If you need ideas, I like to use juniper or pine boughs, color-appropriate fresh flowers, pears, persimmons, pinecones, essential oils, old-fashioned candy canes, sugar crystal sticks, cinnamon sticks, and candles. 
And no, ants won't eat the sugar sticks. Or at least they didn't eat mine.
Trust me, you won't go back once you experience how fancy biodegradable decor feels.
5) Invent some chill holiday activities.
Yes, you could organize an outing where three generations go ice skating at the mall during the busiest shopping season, but you did that last year. And didn't it take you an hour to find parking, and didn't grandma nearly get run over by a reindeer wearing hockey skates?
All traditions were made up at some point, so if you are looking for a little less stress this holiday, maybe it's time to invent a few new ones. For grandma's sake.
I'm thinking a huge vat of peppermint hot chocolate or hot toddies is in order. And then everyone comes over to sit wrapped in cozy blankets in the same room and read books by the fire.
RIGHT?!
Why don't we do that?! But we could do that. Starting this year.
A Simple Festive Fun Tiny House Holiday
Alright, Friends, those are my top suggestions for enjoying a tiny house holiday that's actually simple. 
Feel free to share this article if you think it will help get your family on board. Because presumably, all they want this holiday is to eat candy canes and be together, too, right?
Thanks for reading, and happy holidays.
I'll be back again soon!
-Alaska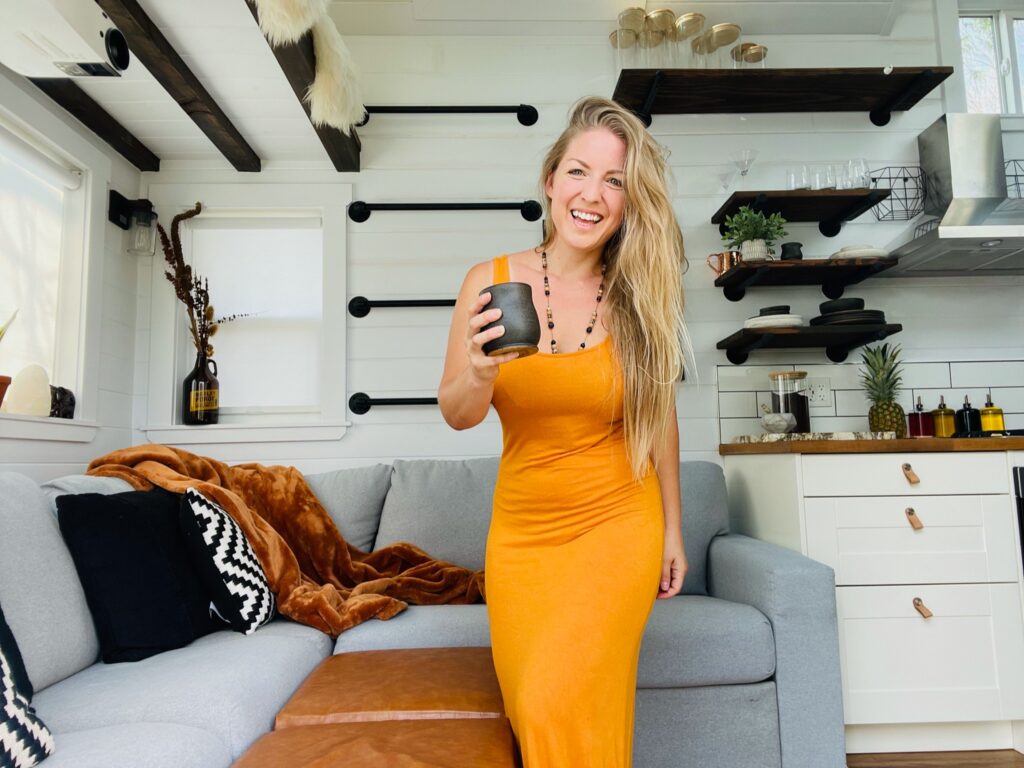 Alaska is a writer, realtor, and tiny homeowner living in the great state of Colorado. She is the founder of The Tiny House Concierge, a company that offers consultation and copywriting services for people looking to rethink their housing and rewrite their lives. In addition to her website, she can be found on Instagram and YouTube.