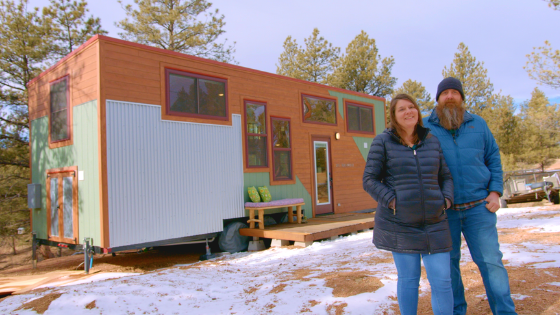 Couple Develops Raw Land for Tiny House
Insight into how they're developing land for their 32-ft tiny house on wheels!
Meet Heather & Nathan, a couple who've been dreaming of a cabin in the woods for many years and are now developing raw land for their tiny house in a rural Colorado county. They're absolutely thrilled but will be first to tell you it's a long, complicated process. Also, it takes a fair amount of cash on hand to pull it all off.  They share a breakdown of costs in the tour video above.
"Advice for people who want to develop land for a tiny home: be patient and do your homework.

The other piece, too, is you definitely have to have cash. Like, one of the things to do in this process is that most people you're paying as contractors you need money. The septic is going to take a credit card, or they'll charge accordingly for it. You have to write a check.

It's pretty cash-intensive. But you have to see it as an investment in your future. And the fact you're making improvements to a piece of land only brings much more value. So let's twenty years down the road, we could be intentionally be selling this land, and that's the other part of it. It's not inexpensive."

-Nathan & Heather, @berthatinyhome
Inside Their Stunning 10-ft Wide Tiny House
Initially, Nathan and Heather planned to build a small cabin, but pandemic complications led them to quickly embrace placing a tiny home on wheels on their land. They lucked out and completely fell in love with a ready-made model at a tiny house festival. It's the 10-ft wide by 32-ft long Homesteader by Indigo River Tiny Homes.
"After viewing various tiny homes at the festivals there were only two manufacturers that we felt were unique and showed a high level of craftsmanship and Indigo River Homes was one of them. You could tell from the moment you walked in that details mattered from the "circular" stairs to the loft, the lovely barn wood finishes, a spa-like full bath, spacious kitchen and a stand up California king loft."

-Heather
Watch the tour above for more of their spacious tiny home!
Follow Nathan & Heather as they continue to develop raw land for their tiny house: @berthatinyhome
Thanks to our sponsor, Bright Cellars!
Get 50% OFF your first 6-bottle wine box: https://bit.ly/BrightCellarsTinyHouseExp!
Our NEW Tiny House Book!
"Alexis and Christian are great people and when they write a book about tiny houses, you can have confidence that it will be jam-packed with valuable information. This book delivers all the info you could possibly be looking for regarding tiny house living. Target for this book is someone that is feeling a bit overwhelmed and isn't sure what they need to consider as they embark on their tiny house journey. This book will provide the info they need and should help anyone in this position. Well done. Well written. 5 Stars."