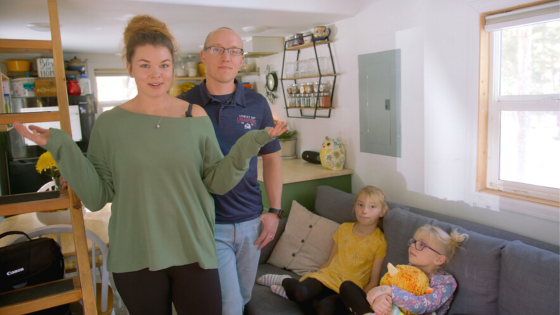 Debt-Free Tiny House Family of 4
Meet Kendra, Josh, Leah, and Aspen, a tiny house family of 4 living in a 270-square-foot home on wheels. After tiring of apartment living, they bought a preowned THOW and moved onto family-owned land. They don't pay rent for their parking spot but help around the property. Another significant benefit is raising their kids in a supportive multigenerational environment.
For them, this provides a priceless stepping-stone to traditional homeownership. They share how their tiny home on wheels helped them gain financial freedom over the past 3.5 years:
"We were struggling with how much rent has been growing throughout the Denver metro area. And we were hating the fact that we were paying somebody else's mortgage. When we found our tiny house, we were looking for listings that were a little under $60,000, and this one was about $55,000.

It was definitely a little bit more because you have to dig a trench up in Conifer for water and electricity. So in the end, it was probably closer to $65,000. But it was all worth it to get where we're at now.

Living in our tiny house has achieved our main goal of financial freedom for us. We are able to pay off student loans. We have paid off credit cards. Eventually, going into owning a big house, it will just really help us move forward as a family."

-Kendra & Josh, @tiny_b_family
Inside Tiny House Family of 4's 270 SqFt THOW
Josh & Kendra's 24-foot-long tiny house comes to 270 square feet, plus their two loft bedrooms. Being located in the Rocky Mountains has its challenges, like having enough available chopped firewood for their Dwarf woodstove—designed for tiny homes. That's where their deck comes in handy for easily accessible storage.
Outdoor living space is always clutch for tiny home families!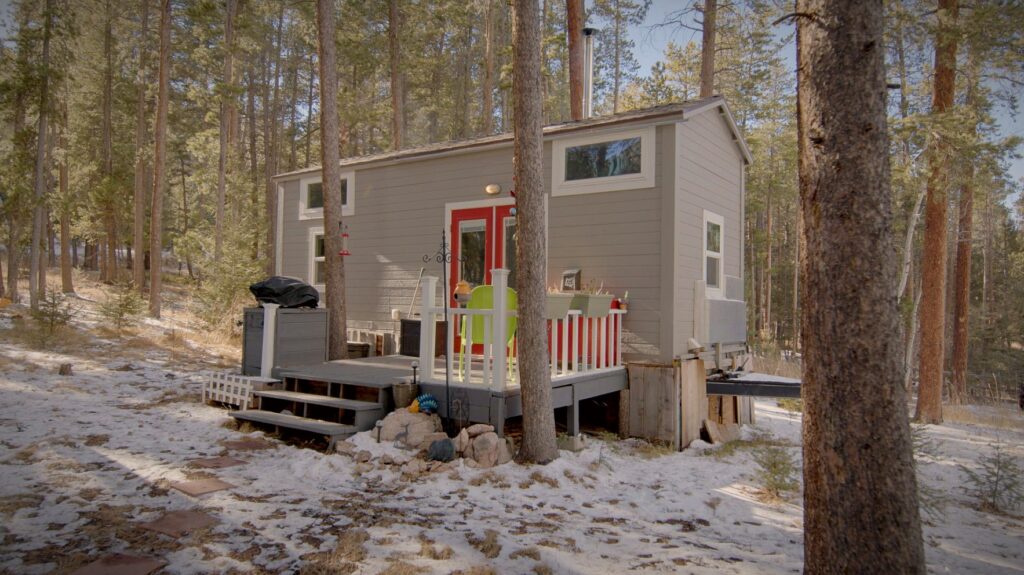 The water line comes in from the back side of their home. Importantly, Josh & Kendra ensure it's always well-insulated to withstand up to minus 20-degree weather in the winter. They use a layered system with exterior hay bales, skirting, and hay bales on the inside. Further, they buried the water line with more insulation.
Like many homes, their kitchen is the heart of their tiny house. An L-shaped counter provides ample prep space for frequent home cooking and baking with the girls. Their top essentials include an apartment-size range, a deep sink with an under-mounted tankless water heater, and a full-size refrigerator.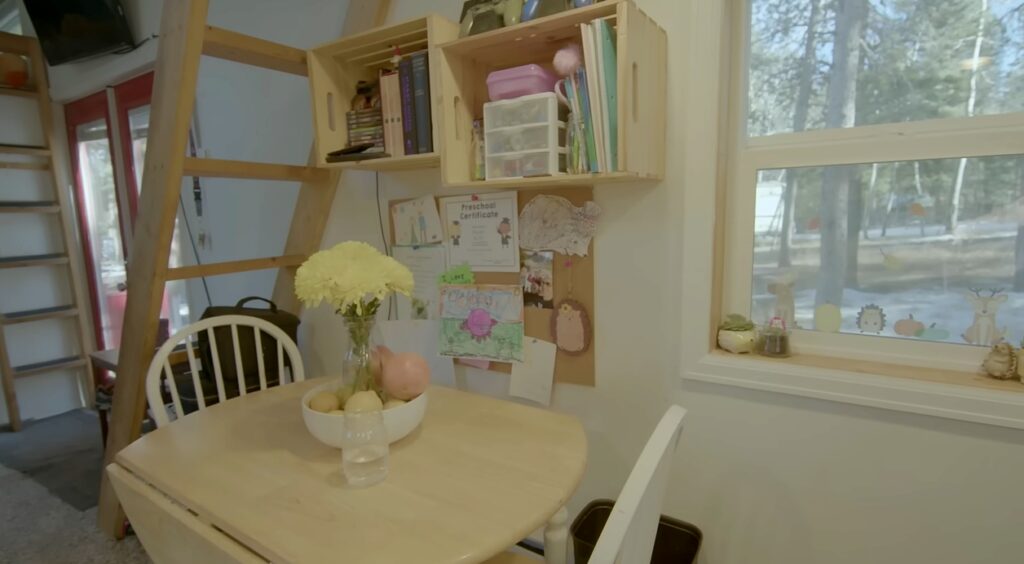 But the one thing they couldn't live without is their dining table.
It's perfectly nestled across from the fridge and below the ship's ladder to the main loft. Besides meal time, the girls used to use this space for homeschooling. Now it's perfect for homework and activity time.
Another family-friendly feature is their living room. Their roomy transforming couch folds into a queen-size bed, perfect for movie night. A large storage compartment is revealed when it's folded out.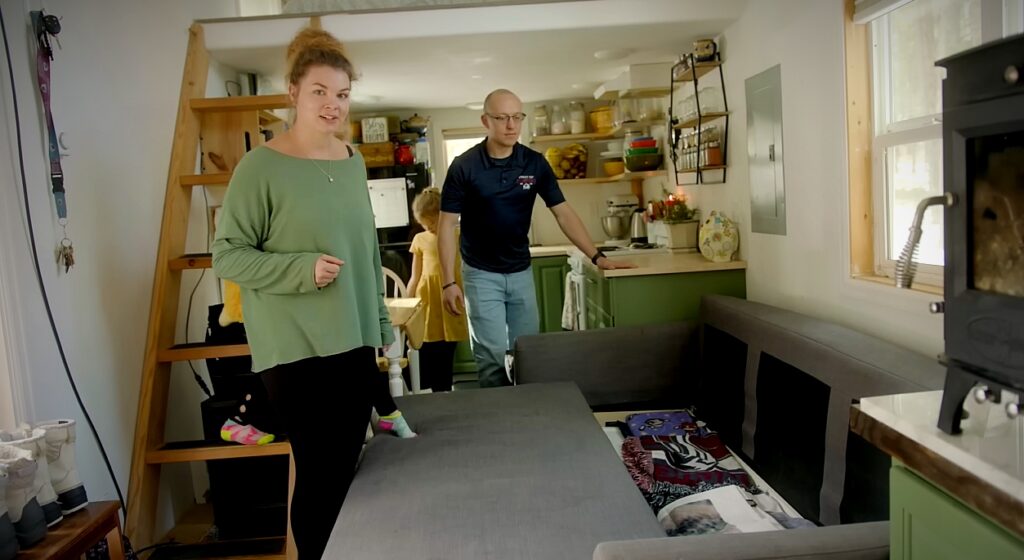 The efficient bathroom design creates adequate storage and maneuvering space to accommodate a family's needs.
A full-size bathtub has been an excellent feature for their girls. In fact, it's one of the main reasons they bought this tiny house. Instead of composting or flushing toilets, they opted for an Incinolet. It burns all of their waste, liquid and solid. That goes into an ashtray to be emptied when full.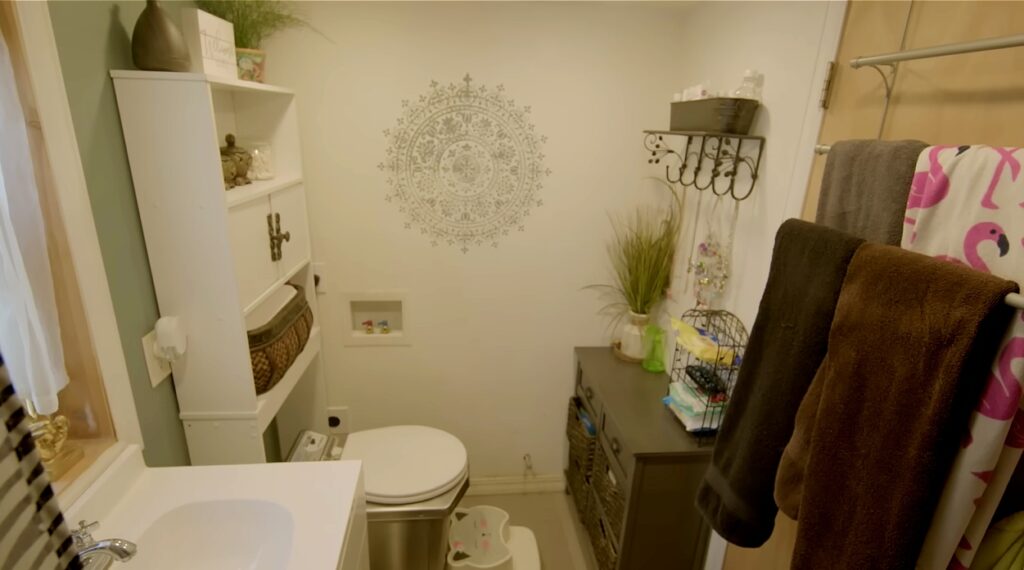 Young Leah and Aspen share a loft bedroom. Each has a single foam bed on either side of the room with a dresser in the middle. There's also room for two toy baskets. To make the ladder safer for the girls, Kendra & Josh added grip tape to the steps for traction. Unfortunately, they learned that socks are very slippery when climbing up & down.
Watch the tiny house family of 4 TOUR above for more of their charming debt-free home!
More clever design ideas & planning tips for tiny house living with kids!