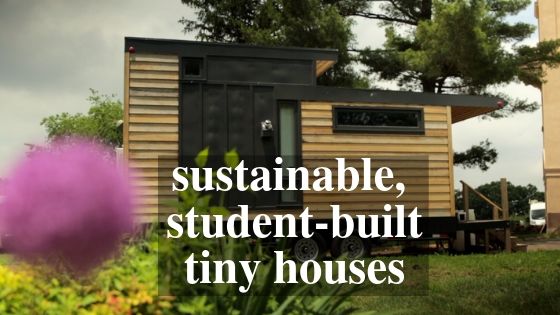 Energy Efficient Tiny House Built by Baltimore Students
Fact: tiny houses make you smile. And that's exactly what's happening at Civic Works Tiny Homes, a training program for Baltimore youth.
They built the incredible Clifton, a 200-square-foot tiny house on wheels. It features more than a dozen environmentally-friendly materials. Also, it incorporates energy-saving technologies, including rain catchment system, a "pedal generator," a cool roof and a solar-powered ventilator.
Simple, sustainable, and lovely.
The young builders work under the guidance of trained professionals. Together they build tiny homes to RVIA certification standards. As a result, financing and insurance are more accessible for potential buyers. They plan to produce four different models of affordable tiny homes for people to choose from while integrating design requests from the community.
Their first tiny house, the Clifton currently serves as Civic Works Tiny Homes model tiny home and as the city of Baltimore's mobile energy education center. You can find it parked next to the Clifton a historic mansion, which is now Civic Works HQ.
For over 20 years, Civic Works has pioneered community engagement tools via education initiatives, skills development, and service. By investing in their hometown, they've helped more residents achieve a higher quality of life. And now through their YouthBuild program, Baltimore's youth are being given a significant opportunity to learn construction skills and professional development basics, while earning a GED.
When we set out to travel across North America almost four years ago, we planned to share stories about people and grassroots projects inside the tiny house movement, especially those making a positive impact in their community. That's just what Civic Works Tiny Homes is doing in Baltimore.
We love how they are providing valuable training to YouthBuild participants while promoting sustainable, affordable housing. The city is slowly working with them to pre-approve tiny home designs. These could then be used as infill on the city's many vacant lots or possibly in a pocket neighborhood. LEARN MORE