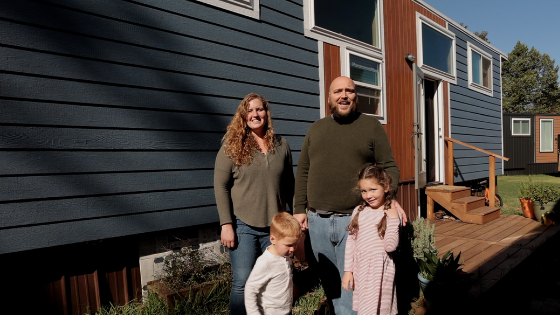 Family of 4 in 3-Bedroom Tiny House
One of the Best Family Tiny Homes We've Seen!
Meet the Schraubs, a family of four living in a 36-foot three-bedroom tiny house. Finding the right design was crucial because of their two opposite gender young kids. Because they found an ideal floorplan, the Schraubs see long-term living in their little abode as entirely feasible.
"We were a little worried about as they age and things like that. Again, this lifestyle lends itself to being out of the house more. That's something we accepted. Kids don't know any different. They grow up in their home, and this is our home.

It's really hard to tell what kids growing up in a tiny house will feel when they get older. We're also not naive about it. We've never had teenagers before, so when we get there, if things change or there are different challenges, then we'll take care of it then. Right now, this allows us to do exactly what we want to do and to save for the future. We'll see what happens."

— Kaitlin & Zack Schraub
Inside Their 3-Bedroom Tiny House
The Schraub's 309 sqft gooseneck tiny house on wheels features three private bedrooms. Impressively, they can stand up in each! It was built by Indigo River Tiny Homes, who designed the Tetris-style kids' rooms to accommodate twin beds, open floor space, a large wardrobe, and room for a folding desk.
Other family-friendly aspects of their home include room for a folding dining table and a sizable sofa. Fortunately, Lake Dallas Tiny Home Village offers a laundromat for residents. This allows the Schraub's to use the space in the bathroom intended for a washer/dryer to be used for additional storage.
Their parking spot backs up to the shared village backyard—perfect for playtime with the neighborhood kids. Further, their close-knit tiny home community is their favorite part of this lifestyle. Like-minded neighbors helping neighbors create a supportive environment perfect for families.
Watch the tour of their 3-bedroom tiny house to see more!
Thanks to our video sponsor, UGears!
Their Neighbors at Lake Dallas Tiny Home Village
Have you ordered our book yet?
Learn the history of the modern movement, get a breakdown of tiny home styles, and meet the passionate tiny community. The Beginner's Guide to Tiny Houses also discusses the pros and cons of micro-living―is a tiny house right for you, right now?
What people are saying:
"Most books about tiny homes are really just about the fantasy, with beautiful pictures in far-off places, but they don't tell you how to get from point A to point B. That's where this book comes in and fills in all the gaps!"