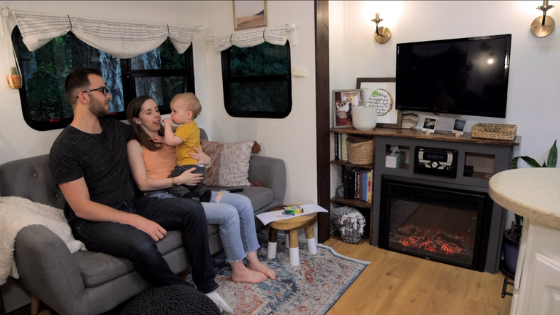 Family's 5th Wheel Renovation to Create Gorgeous Tiny Home
Gorgeous Tiny Home RV Renovation
Joy and Austin decided to pursue a 5th wheel renovation enabling them to own a home to help save for the future and provide a better environment for their young son, Elliot. Fortunately for them, their parent's offered them a parking spot on their wooded land where they live outside of Portland, Oregon. This provides the best of both worlds—their own space and quality time together. Elliot loves spending time with his grandparents!
"The idea that you can live more with less is really neat and has been something that I've been interested in even before we started living tiny. Just that lifestyle that you really don't need that much to live a happy and full life. And look at how much more you can do with your life because you're not tied down to maybe a mortgage that you can't even pay for because you've spent outside your means. With this, you're spending within your means. And it opens opportunities for adventuring, for taking vacations, for spending more time with your family, so that's really cool."

-Joy, @tinyrohmhome
Inside Their 5th Wheel Renovation
Impressively, Joy and Austin renovated a $26k 2013 Keystone Sprinter 5th wheel RV for just $2,000. As a result, their small space went from dark and clunky to a bright, stylish, and cozy tiny home. Though they are very satisfied with the layout of their fifth wheel with three slide-outs. It allows them to have two separate, private, standing-height bedrooms.
They both greatly appreciate the inspiration, tips, and advice from the tiny living community on Instagram.
"There's a huge desire of people who live in small homes to share knowledge that will help other people out."

-Austin, @tinyrohmhome
Watch the tour for tiny home RV for 5th wheel renovation ideas!
Contact Joy and Austin on Instagram with questions: @tinyrohmhome
Have you ordered our book yet?
Learn the history of the modern movement, get a breakdown of tiny home styles, and meet the passionate tiny community. The Beginner's Guide to Tiny Houses also discusses the pros and cons of micro-living―is a tiny house right for you, right now?
What people are saying:
"Most books about tiny homes are really just about the fantasy, with beautiful pictures in far-off places, but they don't tell you how to get from point A to point B. That's where this book comes in and fills in all the gaps!"