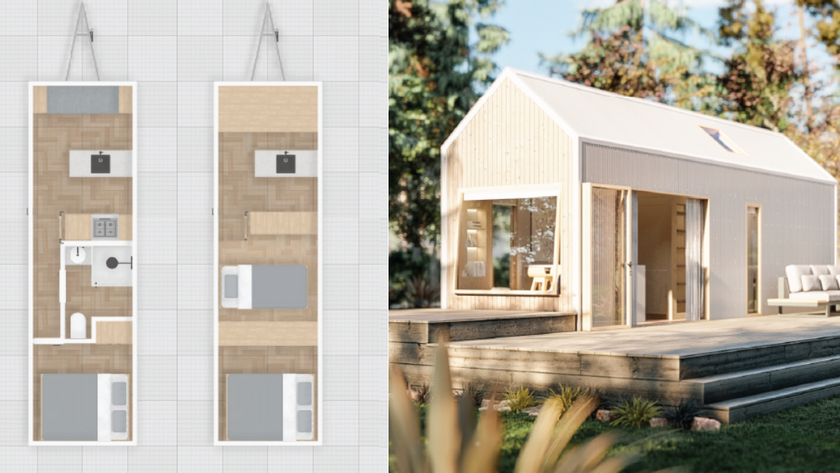 How To Design A Tiny House In 2022?
The 6 easy steps to design a tiny house perfect for you.
Guest Post by Tiny Easy Co-Founder Eujenne
Building a tiny house is becoming more and more popular. More people are downsizing and looking for creative ways to make the most out of their small spaces. But, finding the tiny house design that's right for you can be nearly impossible.
So why not try to design it yourself?
If you're looking to design your own tiny house, there are a few things you need to know. In this blog post, I'll walk you through the basics of designing a tiny home, no matter your budget or lifestyle.
Read on for tips and tricks (plus some freebies) to help you create your dream tiny home! 
The first steps of designing a tiny house:
Before we jump into it, there are a few tips I would love to share with you before you get into designing your tiny home.
Tip 01: Get Inspired.
Before starting the design process. You first need to understand what you want for your tiny home. So the first step is to find some inspiration!
Inspiration is such a powerful source to get your creative juices flowing. Here's one of my favorite places to find inspiration:
Pinterest:
I love using Pinterest to collect inspiration. It's such a great platform to store all your findings, and it has inspired many of my design choices. 
Create a board on Pinterest and find what you would love to include in your tiny house. Your boards can include anything from Exterior Design, Interior Layouts, Interior Design Styles, + Cool Features you would love to see included in your tiny home.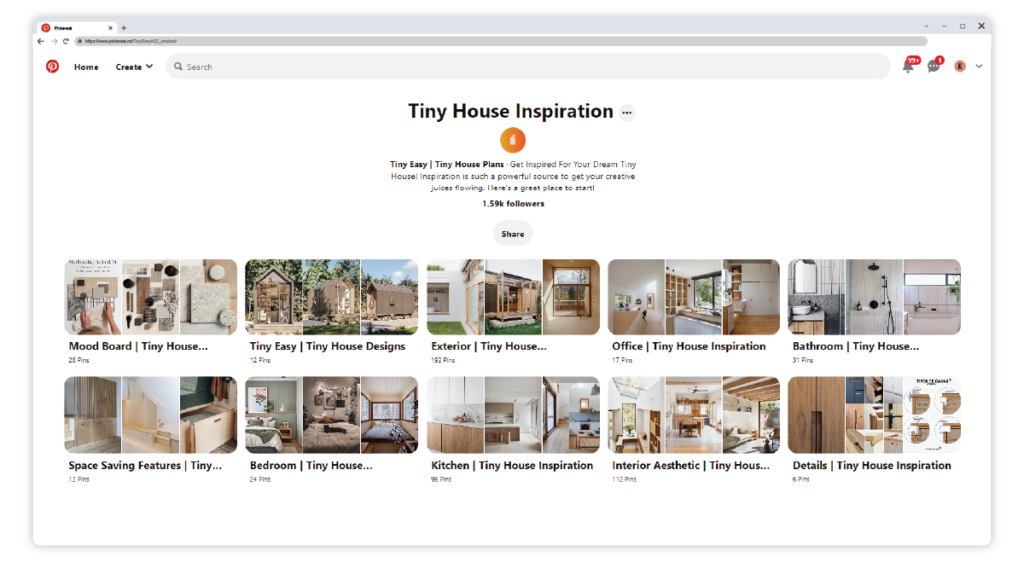 I'll pop a link down at the bottom of this blog post of all my favorite places to get inspiration for your tiny house design. 🙂
Tip 02: Think about what goes into your tiny house.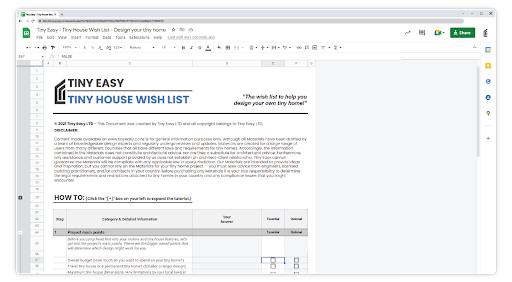 Now we know you're just brimming with inspiration and creativity, but it's VERY important to not skip this next step.
One of the most crucial tools you need before designing your tiny house is your brief! I know, crazy right? (Briefs are so underrated…)
Your brief is so important to understand what you need in order for your tiny house to work around your daily life and habits. This will help you understand what your priorities are for your tiny home, what size to think about, what you need to plan for your budget etc.
To make life easy, I want to give you a free tiny house wish list to fill out to start building your brief. Find the link at the bottom of this blog.
Great, you're all set; let's get into the six easy steps to design your tiny home!
The six easy steps to design your tiny home.
01. Tiny House Size/Dimensions.
The first thing you want to do is establish your tiny home's dimensions. Use your brief as a reference to understand what goes into your design; from here, you will be able to figure out a rough ballpark for the size of your tiny home.
Here are some tips to consider for tiny house dimensions:
Width, Length & Height - Check your local road regulations and council to understand the maximum dimensions you can use in your country.
Weight - The longer and wider your tiny house, the heavier your tiny home, so keep this in mind when you're deciding on dimensions for your tiny home.

If your tiny house accommodates a family of 4, you'll end up with a larger tiny house than for a couple or a single person. 

Use a small design to start with. If you need more space, you can still make your design bigger later on. This will force you to think more space efficiently!

02. Exterior Shell & Roof Types.
Now that you understand your basic dimensions, you can start by thinking about your exterior shell and what roof type you want to go with.
The two standard roof types you can choose from are:
Gable

Mono-Pitch
By keeping the roof style consistent, your tiny house will be easier to build, cost less money, and the exterior will look more minimalistic! Before getting into more crazy roof shapes, it's a good idea to start with a simple roof shape like a gable or mono-slope. 
Tip: Mono-Pitch roofs work best if you need to maximize the loft space as it will give you more head height to play with and work great with traditional stairs. Gable designs work best if you have a loft bedroom accessed by a ladder.
03. Interior Layout.
The next step is the interior layout for your tiny house. The tiny house interior is an exciting stage of your design process as you get to visualize and plan how your tiny house can be customized to fit your unique lifestyle. So let's get started.
An exercise I like to use is a bubble diagram (see image below). Start off with the base dimensions, then draw boxes/circles of zones or rooms to understand the basic layout of your tiny home.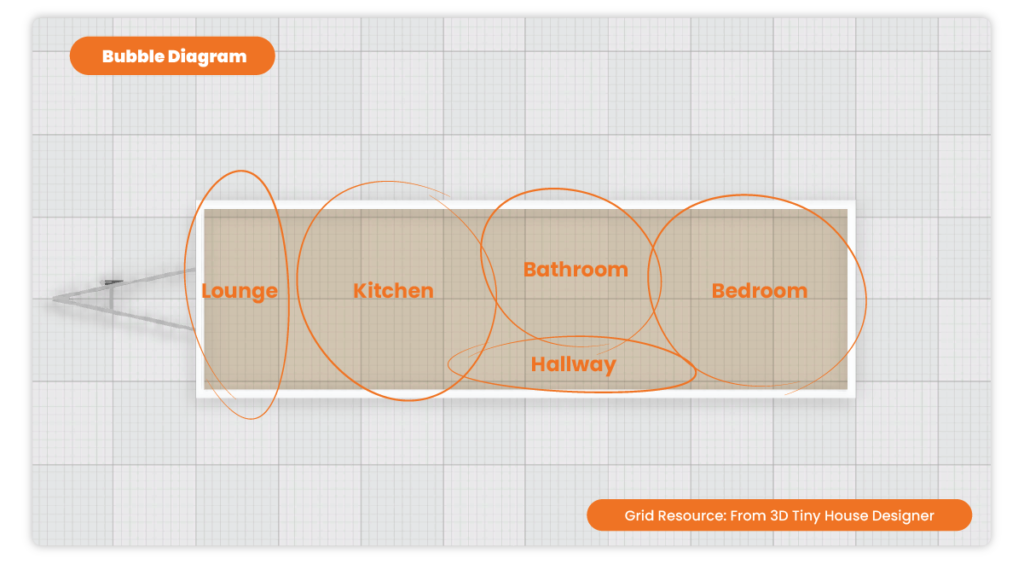 Create a few of these "bubble diagrams" until you have a well-functioning layout. Designing your tiny house is all about experimentation, so it's okay if you come up with five different layout ideas! You can explore each layout further and decide which one feels best.
If you're considering a double-story design (a tiny house with a loft), here are a few tips to consider for loft placement:
Roof Pitch:

Whether you have a gable or mono-pitch, you need to keep in mind head clearance for accessibility to the lofts.
Tip: To utilize as much head space as possible, place your access to the highest point based on your roof pitch.
Your loft needs entry access:

If your access is by ladder or stairs, consider the placement of where these should go
04. Cabinetry Placement.
Great, your interior layout ideas are sussed! Now let's move on to cabinetry and furniture placement. This is where you can visualize and understand how your space can work with those extra nitty gritty details.
To get your ideas down quickly, I'd love to share this awesome resource with you that allows you to put together your tiny house ideas in minutes called the 3D Tiny House Designer: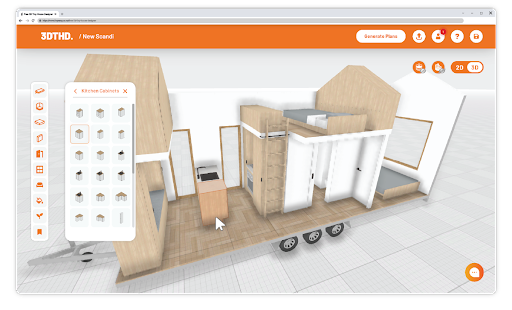 It's a simple "Drag & Drop" system that's super easy to use, even if you're a beginner, giving you the flexibility to brainstorm your tiny house layouts quickly.
It comes with lots of pre-set tiny house objects & space-saving furniture you can drop into place, so you don't forget anything important!
You can try out the free version right now here, so have a go and play around with different layouts.
05. Window & Door Placement.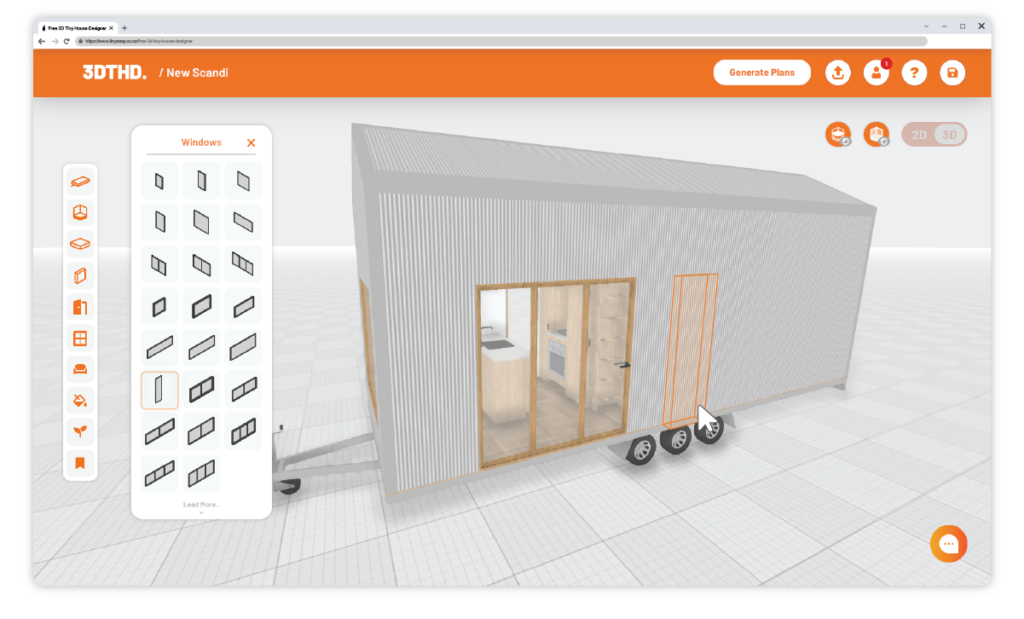 Let there be light! It's time to consider window and door placement. This can be added or altered in two stages of your design.
Before designing your interior layout.

After designing your interior layout.
It's a personal choice when you wish to add your windows and doors. For example, I like to mix it up, add some at the start, and then once I'm set on my interior layout, so everything flows nicely. Another approach is to design from the outside in and place windows at the start of the design process.
Here are some tips to consider when you're placing windows and doors in your design.
Natural Airflow

| Cross-ventilation in a tiny house is great to circulate air and create an efficient method to cool your tiny home without electricity. 
Tip: Try to place at least one openable window on each wall of your tiny house to achieve good cross-ventilation for your home. Have at least one window in the loft space because heat rises up!
Clearance

| For both doors and windows, allow for opening and closing clearances.

Weight

| Windows, and Doors contribute a lot of weight to the final weight as glass can get really heavy. So don't go too crazy on the amount or size of windows.
Tip: The larger the doors and windows, the higher the price will get, so keep this in mind if you're on a tight budget 🙂 Using timber windows & doors can also make your tiny house much more expensive. (But they look great!)
06. Materiality.
This is where your personality really gets to shine and add character to your design, and it's one of my favorite stages of designing a tiny home! This stage is where your Pinterest board will come in handy again…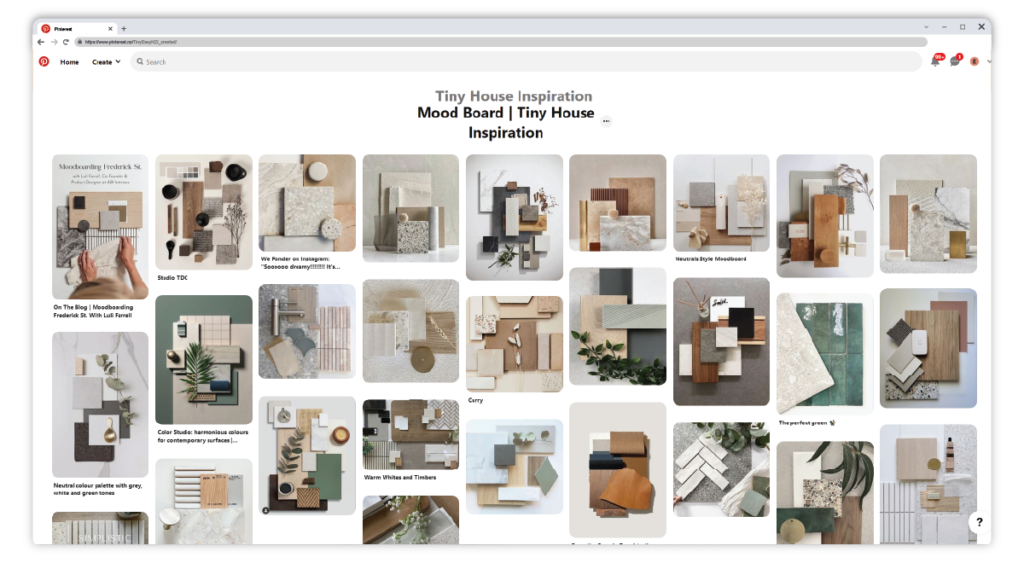 Here are a few tips to consider:
Less is more:

Keep it simple; go easy on textures and different colors. Keep it coherent if you can; this will help create visual harmony and allow your design to breathe and avoid feeling claustrophobic and cluttered…

Use Dark tones wisely:

I love black cabinetry, but I would advise using darker tones sparingly in smaller spaces. Otherwise, you could unintentionally cause your space to feel smaller than it is.
Tip: Use darker tones on cabinetry in combination with some whites to help open up the space. Or use it as a feature wall, as seen in our Alpine Haus.
Consider lightweight Materials:

If you're serious about keeping to weight restrictions (which I strongly advise), consider your material options.
Timber is a beautiful natural material that can make your tiny house shine. However, it can be heavy, and timber, such as cedar, can be pretty pricey. 
If you're looking for a lightweight, affordable timber cladding option, I would strongly recommend Lunawood. A Nordic Pine with a zero-carbon footprint, and it looks incredible.
Metal Tray Claddings can also be a bit pricey, depending on what type you get. Instead, corrugated panels can be a beautiful cladding to add to your design; it's affordable and easy to install.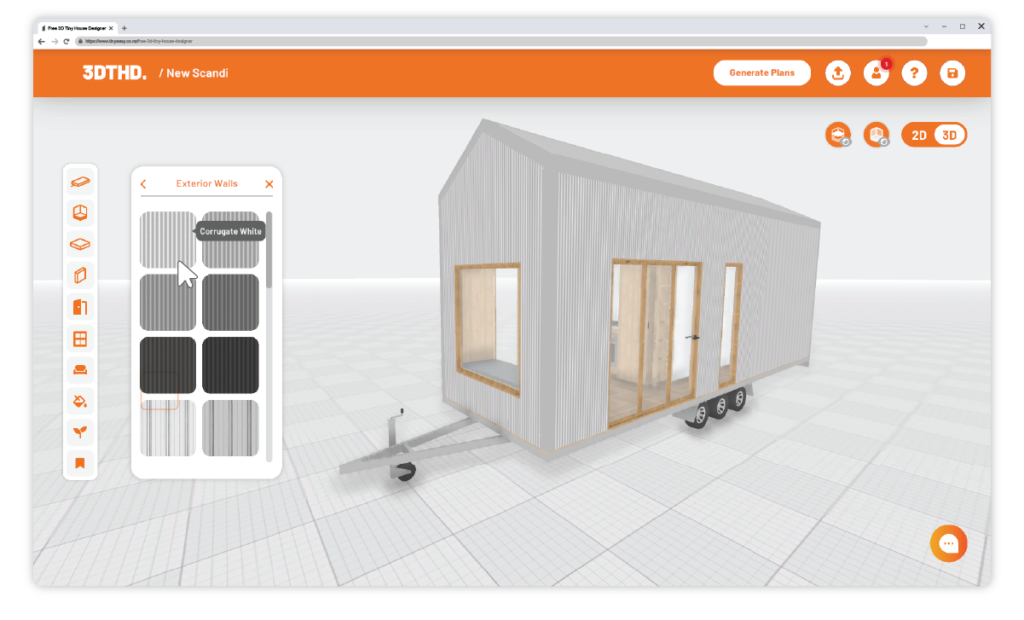 To Sum up How to Design a Tiny House in 2022:
You've learned the basics, and now you're finally ready to get started designing your tiny house.
Before you go, I'd love to share some free resources you can try out to help you design your tiny home.
As mentioned above:
And an extra freebie💖: 
Like I mentioned before, if you're looking for a tool to get your ideas down quickly, then check out the free version of our brand new 3D Tiny House Designer. 
The 3D Tiny House Designer is a new online software that lets anyone design a tiny house on wheels without any design knowledge. You drag & drop "building blocks" to arrange your unique tiny house in minutes and share the design with friends and builders. It takes the best parts from programs like "SketchUp," "Floorplanner," and "Sims" and makes them optimized specifically for tiny homes on wheels!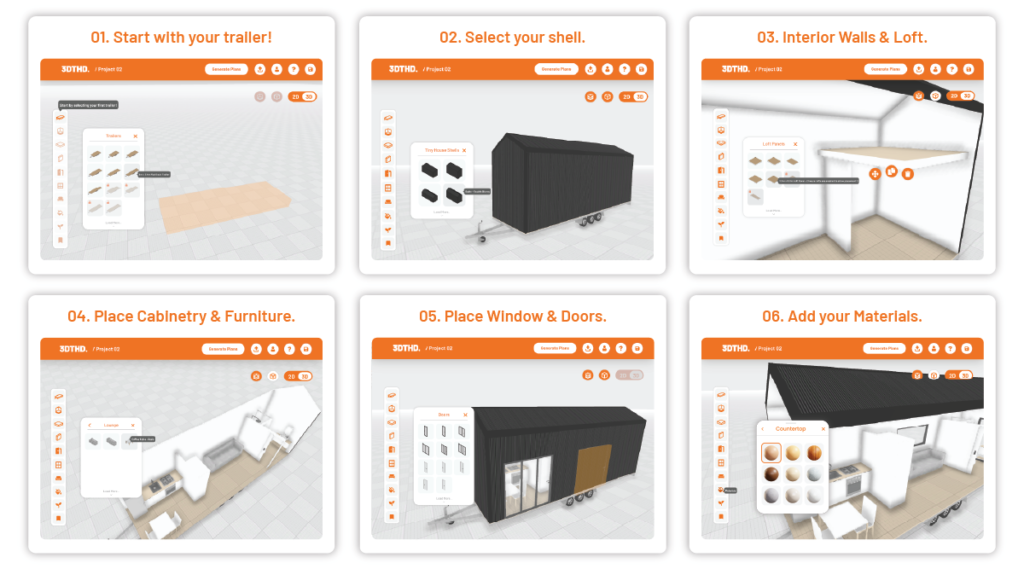 One of the best things about the 3D Tiny House Designer is you can try it out for free! So if you're unsure if this software is for you, you can try it for free without having to pay a cent. You can try it out HERE:
So what are you waiting for? Start designing your tiny house today! 🙂
Thanks for reading.
About the Author: Eujenne
Tiny Easy Co-Founder Eujenne is passionate about small space design. She is currently building her own tiny house together with her partner Laurin. Their ultimate goal for tiny living is to live a sustainable and financially free lifestyle. 
"I hope to inspire and encourage as many people as possible to get started on their tiny house journey."
Our Mission at Tiny Easy is to make going tiny easy. So we're doing everything we can to make the start of your tiny house journey easy and affordable.
We hope our resources and tools help you to stop dreaming about your tiny house and start taking your first steps today!
Have you ordered our book yet?
Learn the history of the modern movement, get a breakdown of tiny home styles, and meet the passionate tiny community. The Beginner's Guide to Tiny Houses also discusses the pros and cons of micro-living―is a tiny house right for you, right now?
What people are saying:
"Most books about tiny homes are really just about the fantasy, with beautiful pictures in far-off places, but they don't tell you how to get from point A to point B. That's where this book comes in and fills in all the gaps!"