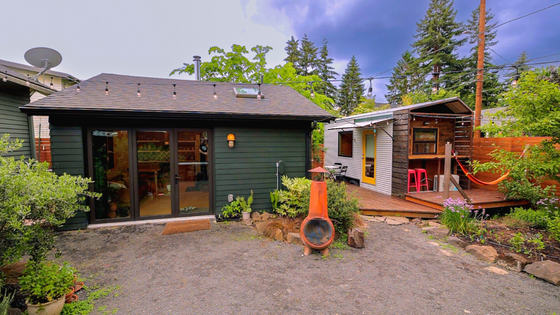 Mini Urban EcoVillage with 2 Tiny Homes
Meet best friends Becca & Anthony and Kate & Brad created a mini urban ecovillage of sorts. Their little tiny home community is in a lush backyard oasis, featuring their respective tiny homes—a garage conversion ADU and tiny house on wheels. Importantly, this is all legally possible in Portland, Oregon, due to their progressive relaxed land use rules.
"Portland has been very progressive in alternative living situations and alternative kind of dwellings. This being one (their garage conversion home), an accessory dwelling unit. And so that was definitely a factor in us moving to Portland is we wanted to be able to set this community up but do it legally.

The last thing you want is to get a letter in the mail saying all of your hard work is not able to be done here. And there's a fine. Or you just can't inhabit the building.

And what was really cool is as we were hoping that our friends would bring their tiny house up here, that's when the city of Portland started looking at tiny houses differently as well. Whereas they were kind of in a gray area to where you didn't know if you were going to be able to keep a tiny house on the property or not. They started to pass some legislation that allowed tiny houses to actually be legally parked on properties."

-Anthony, co-property owner
Inside their Urban EcoVillage
Several years ago, Anthony and Becca bought a 1925 craftsman bungalow fixer-upper. After renovating it, they converted their dilapidated garage into a 370 sqft accessory dwelling unit tiny home. They live it full-time and rent out the main house on Airbnb.
Next up, they began working on transforming a barren backyard into a lush oasis. Using permaculture principles, they developed landscaping to feed native wildlife and the people who live on the property. They were also really intentional about how to utilize their outdoor space to make sure that it provided privacy. Everybody enjoys communal space. But there are also individual spaces like Kate & Brad's semi-private tiny house deck.
Kate & Brad are now expecting a baby, so they are selling their incredibly efficient 17-ft tiny house on wheels. Check out the listing to learn more. Moving away is bittersweet after building a tight-knit community with their best friends, Becca & Anthony.
Watch the full tour to see more of their mini urban ecovillage & tiny homes!
Thanks to our video sponsor, Skillshare!
The first 1,000 folks to use our link will get a 1-month FREE trial: https://skl.sh/tinyhouseexpedition03221