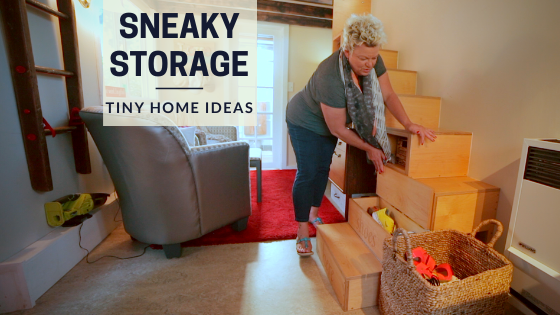 How To Sneak Extra Storage Into Your Tiny Home
Sharing tips for maximizing & adding extra storage for your tiny home.
Storage space is limited in a tiny home—just facts. The decreased amount of storage helps you adhere to the minimalist principles the tiny house movement sprang from. However, your life needs storage. Living clutter-free in your tiny house requires enough storage space so that every you own can have a designated home.
The longer you in your tiny home, new storage needs might pop up. For instance, new families may need the extra storage for infant supplies that tend to pile up. When thinking of expanding storage, the amount of available space is your biggest issue.  Since everything in a tiny home is measured and fitted in, adding new storage puts a considerable constraint on moving around space.
So what are some sneaky ways to add storage that take much less space than you think?
Use Your Support Beams
If you have walls that divide the space in your tiny home, you can utilize that to increase your storage. Strip down the finishing on one side of the wall to expose the support beams. Put shelves between the beams and dress it up whichever way you want. You can polish it so it looks more refined with wallpaper, paint, or wood stain unless you like the unfinished look.
We created a secondary pantry space between the studs on the wall separating our kitchen and the bathroom. The shallow shelves fit Mason jars perfectly!
If you usually move with your tiny home, make sure to add some way to secure items on these shelves while traveling. You can just put a strip of wood across the frame or add more sophisticated ways to secure your items. An innovative idea is to use magnets to keep everything secure.
Under Stairs Drawers
One easy way to add storage into a tiny home is using the space under the stairs. You can use the width of each stair to store small items like shoes, crafts supplies, and other paperwork. This is an excellent option if you need access to whatever you plan to store on a regular basis.
Instead of drawers, you can also put lockable cupboards on the stairs. This is an excellent option for a secure lockbox as well, as it is easy to hide and access. If you are a gun owner, this is also an ideal place for a secure and accessible gun safe. Ensure it stays hidden by covering these containers with removable carpeting.
Sideboard
If you don't want to make renovations to your tiny house, a plug-and-play option would be sideboards. Sideboards are narrow pieces of furniture with drawers and cupboards built-in. These can sit in any corridors or long spaces that you might have. The best part about this option is that you can simply make the purchase and have the storage option the next day.
You can also use this opportunity to change the aesthetic of your tiny home. Furniture is an easy way to give your home a little makeover. If you have a modern home, add a bit of coziness with an ornate sideboard. Remember that the best oak sideboards are the ones that fulfill your purpose and fit your tiny house.
Hooks and Hanging Options
Do you know the most under-utilized part of your tiny home? The walls! The walls of your home are large spaces that could be put to better use if you're falling short of storage. If you think that wall options are limited to hooks, think again! With a bit of imagination, you can find opportunities to suit many aesthetics.
If you're looking for temporary options, then stick to removable hooks. However, you can also use wire grids to hook things on. Another option is to use magnetic shelves. This way, you can stick your spice jars to the shelves and use the counter space for other ingredients. You can also use pegboard to increase storage.
Sofa Storage
Instead of investing in a full-size sofa, you can choose a multifunctional small-space couch to increase storage in your tiny home—like the Ikea couch seen in so many tiny homes. This is an excellent option for those who don't plan to have a lot of people over and would rather have the storage space. Use wooden boxes with upholstered tops to make a multifunctional sofa. You can do this with different furniture in your home. You can turn your bed into a pullout bed under a step.
You can also recess your bed into the floor and put a cover over it during daylight hours to maximize how much space you have in the rest of your house. This is an especially good option for those living alone. Instead of a recessed bed, you can also have a blow-up or roll-up bed. This frees up a massive chunk of space that can be used for a lot of other things.
The ColOregon Tiny Home maximized their storage space—watch the tour for ideas!
Digital Magazine Dedicated to Tiny Home Living
Do you have more time at home? Enjoy some inspirational reading from Tiny House Magazine!
Discover different types of tiny homes from liveaboard boats to Alaskan yurts, converted school buses, and more.
Try recipes from a tiny house kitchen. Each month we feature a recipe from the Tiny House Foodie. Learn to make it work and still cook like a pro.
Read excerpts from books on tiny houses, downsizing, and a host of other related topics.
Each month brings new topics and new, exciting articles!