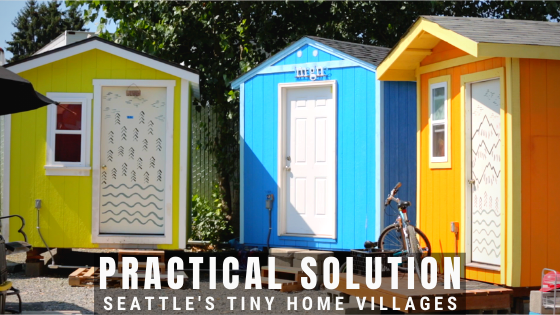 Seattle's Tiny Homes for the Homeless
Tiny homes for the homeless are proving to be an effective solution for emergency shelter and transitional housing.
Seattle, like many US cities, is experiencing a staggering homelessness crisis. Innovative, affordable housing and transitional shelter solutions are needed, and that's where the Low Income Housing Institute comes in. In partnership with the city and other nonprofits, especially Nickelsville, they create tiny shelter villages for individuals and families experiencing homelessness.
Tiny home villages are helping to lift people out of the streets into practical, safe, and secure transitional housing. Three key factors for success:
City sanction encampments on private land and on available city-owned vacant lots.
Readily available case management social workers to help connect village residents with healthcare needs, job search tools, and guidance for transitioning to permanent housing.
Village self-management, with nonprofit guidance to follow basic city rules, helps build confidence, people skills, and investment in the success of the tiny home community.
Learn more and apply for a tiny home​ shelter: https://lihi.org/tiny-houses
Now Low Income Housing Institute, in partnership with the Cities of Seattle, Tacoma, and Olympia, and other organizations, provides tiny homes for the homeless in thirteen shelter villages.
Exclusive Content
Monthly LIVE tiny living discussions with extended Q&A, plus BONUS content, like behind-the-scenes filmmaking and tiny home life insights.
Early Access
See new videos first, get first dibs on new online courses and more!
Exclusive Giveaways & Discounts
Win tiny living festivals passes, and more!
Join today!